THE LORD OF THE RINGS:
THE TWO GERBILS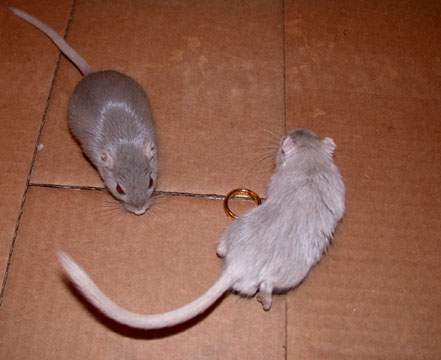 Our sons named their gerbils "Aragorn" and "Boromir" -- which of course led to some entertaining commentary on their adventures together. Here are a few photos with dramatic interpretation.
---
LEAVING LOTHLORIEN
Boromir and Aragorn prepare to set sail in an Elven boat.
BOX ENCOUNTER
Aragorn, Boromir and a Kraft Macaroni and Cheese box.
THE ONE RING
Aragorn and Boromir face the ultimate test of evil.
THE GERBILS OF MORIA
While traversing the Mines, Boromir encounters the Ringbearer...and the Ring!
DOMESTICITY
How the Men of Gondor live their daily lives when not off on adventures.
THE TRUTH ABOUT CATS AND GERBILS
In which a cardboard box and a plastic ball become battlegrounds.
THE GREAT BREAKUP
The One Ring separates our protagonists, though not forever.
MORE CATS, MORE GERBILS
Cinnamon and Rosie demand some brag time.
A TAIL OF ARAGORN AND BOROMIR
Warning: faces are groomed and butts are sniffed.
JOMMY'S ILLUSTRATED SAGA
A talented Japanese artist drew Aragorn, Boromir, Rosie and Cinnamon plus some guest stars in these stories about the gerbils.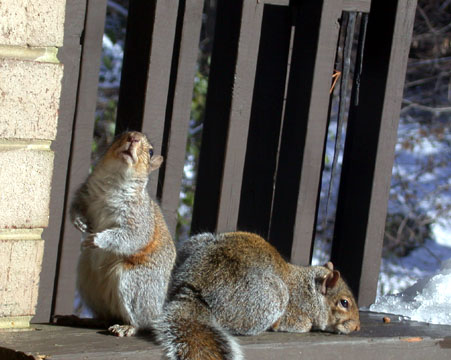 Here are the squirrels who visit on the deck outside. Due to the popularity of the gerbil tales, I named them after Jack Aubrey and Stephen Maturin from Patrick O'Brian's novels and the film Master and Commander: The Far Side of the World.
---
SEPARATED AT BIRTH?
Meet Jack and Stephen. And Jack and Stephen.
THE TRUELOVE
In which Jack and Stephen groom each other while no one is looking.
BLUE AT THE MIZZEN
Jack goes crawling through the rainforest searching for a new mast.
VIOLATING THE ARTICLES OF WAR
The captain and the doctor should know better than to do this on deck.
DESOLATION ISLAND
In the midst of a winter storm, a foreign invasion!
THE BIRDSEED OF CONSOLATION
Jack and Stephen demonstrate the myth of the squirrel-proof birdfeeder.
INVASION!
Boarded by a foreign squirrel!
CONTRAPTION!
Jack and Stephen very nearly fight a duel!
JACK AND HIS NAMESAKE
A man, a squirrel, a scowl, a very big hat.
ADMIRALTY SPIES
Jack in the crow's nest and Stephen down on deck.
JACK, STEPHEN AND THE BLUE DEVILS
After lying around waiting for the sun to come out, a little birdie appears.

Other Animals
---
GLADIATOR
A mighty groundhog fixes his beady eyes on defending his homestead.
MAXIMUS!
The grandest of all groundhogs escapes human bondage and rules the hill.
INVASION OF THE GOSLINGS
A gaggle of baby geese enjoys the kingdom of heaven around a manmade lake.
RETURN OF THE GOSLINGS
Under scrutiny there appears to be evidence of mixed parentage in the family.
ATTACK OF THE GOSLINGS
And the geese share their home with a others of varying species.
REVENGE OF THE GOSLINGS
As they lose their baby feathers, the goslings' true colors are revealed!
BATTLE OF THE GOSLINGS
And lo, there are Goose Wars.