WOMANLY ART OF SELF-DEFENSE


These photos come from the September 2-8, 1963 issue of The Detroit Free Press TV Channels. They belong to the studios that created them. They are here for the enjoyment of fans, not for profit. The Louise Fletcher Appreciation Page apologizes for the howlingly politically incorrect sentiments of this feature.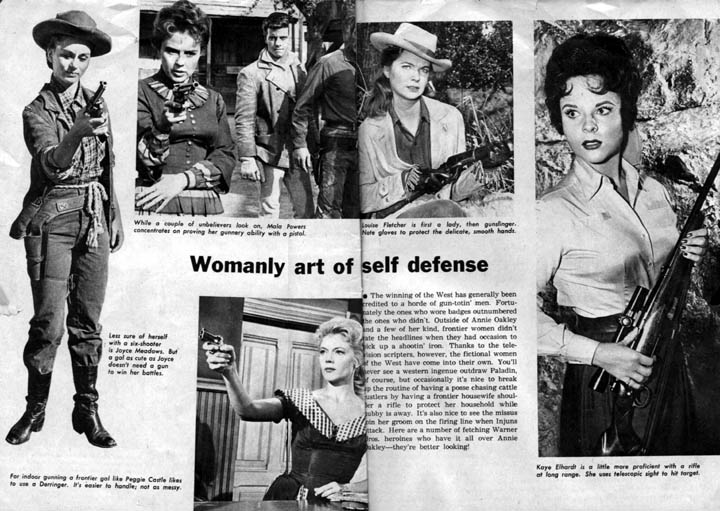 Captions, counter-clockwise from top left:

While a couple of unbelievers look on, Mala Powers concentrates on proving her gunnery ability with a pistol.

Less sure of herself with a six-shooter is Joyce Meadows. But a gal as cute as Joyce doesn't need a gun to win her battles.

For indoor gunning a frontier gal like Peggie Castle likes to use a Derringer. It's easier to handle; not as messy.

Kaye Elhardt is a little more proficient with a rifle at long range. She uses telescopic sight to hit target.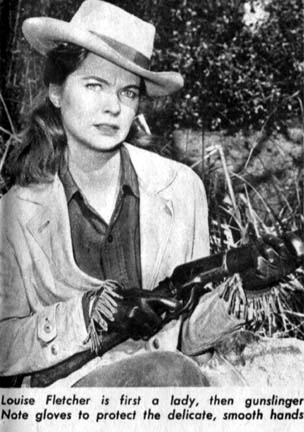 The winning of the west has generally been credited to a horde of gun-totin' men. Fortunately the ones who wore badges outnumbered the ones who didn't. Outside of Annie Oakley and a few of her kind, frontier women didn't rate the headlines when they had occasion to pick up a shootin' iron. Thanks to the television scripters, however, the fictional women of the West have come into their own. You'll never see a Western ingenue outdraw Paladin, of course, but occasionally it's nice to break up the routine of having a posse chasing cattle rustlers by having a frontier housewife shoulder a rifle to protect her household while hubby is away. It's also nice to see the missus join her groom on the firing line when Injuns attack. Here are a number of fetching Warner Bros. heroines who have it all over Annie Oakley -- they're better looking!




PUBLICITY PHOTOS OF LOUISE FLETCHER
MORE PUBLICITY PHOTOS OF LOUISE FLETCHER
CASUAL PHOTOS OF LOUISE FLETCHER
LOUISE FLETCHER AT THE ACADEMY AWARDS
ASSOCIATED PRESS PHOTOS OF LOUISE FLETCHER
SHOOTING STARS PICTURES OF LOUISE FLETCHER
COLOR PICTURES OF LOUISE FLETCHER
DRAWINGS OF LOUISE FLETCHER
LOUISE FLETCHER AT FANTASTICON
LOUISE FLETCHER AT DESTINATION TEROK NOR
LOUISE FLETCHER AT GRAND SLAM
LOUISE FLETCHER AT CREATION




MAIN CONTENTS FAQ RESUME PHOTOS DS9 CONS ART BOOKS LINKS