THIEVES LIKE US


With Shelley Duvall, Keith Carradine, directed by Robert Altman. A country boy from Mississippi escapes from prison with two bank robbers, falling into trouble with them as he falls in love with a woman who cares for him when he is injured. IMDB.
From Pauline Kael's summary in 5001 Nights At the Movies (Henry Holt, 1991), and from Kael's New Yorker review reprinted in Reeling (Warner Books, 1976):
Robert Altman finds a sure, soft tone in this movie and never loses it. His account of Coca-Cola-swigging young lovers in the 30s is the most quietly poetic of his films; it's sensuous right from the first pearly-green long shot, and it seems to achieve beauty without artifice. Keith Carradine is Bowie, the boy who escapes from prison with two bank robbers, Chicamaw and T-Dub (John Schuck and Bert Remsen), and Shelley Duvall is Keechie, the girl whose drunken father runs the gas station the convicts hide in.
The film is adapted from a neglected 1937 novel by Edward Anderson, which also served as the basis of the Nicholas Ray 1948 picture They Live By Night. Although Calder Willingham gets a screen credit for the script, his script didn't have the approach Altman wanted, and Altman's former script girl, Joan Tewkesbury, devised another script, in collaboration with the director, which stays on Edward Anderson's narrative line and retains much of his dialogue.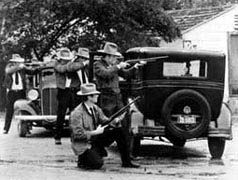 Made in the vegetating old towns of Mississippi, the movie has the ambiance of a novel, yet it was also the most freely intuitive film Altman had made up to that time. Carradine and Duvall have the easy affinity that they showed in their much smaller roles in McCabe & Mrs. Miller; when Keechie and Bowie fall in love it's two-sided, equal, and perfect.
As the heavy-drinking, half-mad Chicamaw, Schuck -- who has a suggestion of bulldog in his face -- gives a performance that in some scenes rivals Bogart's Fred C. Dobbs in The Treasure of the Sierra Madre; he has a comic, terrifying scene when he's in a home and insists on playacting a robbery with a couple of small children and then explodes in a murderous rage when the kids lose interest. Louise Fletcher is impressively strong as the kids' mother -- the no-nonsense Mattie, T-Dub's sister-in-law.
Altman often picks up part of his cast on location, or puts members of the crew to work; the writer Joan Tewkesbury turns up here as the woman in the train-station sequence. Louise Fletcher had been a TV actress in the early sixties and had retired, but she [was] married to the film's producer and was on location in Mississippi. Altman asked her to play the small part of Mattie, and then, when he saw the presence she brought to it, he enlarged the role. Louise Fletcher has a full, strong body and great rounded arms; her Mattie is a no-nonsense woman who looks as if she had lived through what women in soap operas prattle about. She's a tough-broad earth mother with a coating of banal respectability -- an authentic American-woman character.
MAIN CONTENTS FAQ RESUME PHOTOS DS9 CONS ART BOOKS LINKS