A SUMMER TO REMEMBER


These photos belong to the studios and photographers who created them. They are here for the enjoyment of fans, not for profit.

With Tess Harper, James Farentino, directed by Robert Michael Lewis. A young deaf boy with a despised new stepfather communicates with an orangutan via sign language. IMDB.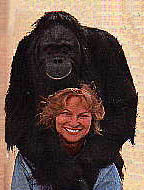 People
by GUY D. GARCIA

"I've finally met Mr. Right," muses actress Louise Fletcher, 48. "I was really amazed at his work discipline. When the director told him to hit his mark, he was right there."

Fletcher's co-star is obviously a seasoned pro; indeed, C.J. the orangutan, 13, has charmed moviegoers as the swinging simian in Clint Eastwood's Any Which Way You Can (1980), and starred last year in the short-lived Mr. Smith television series.

He and the huggable Fletcher met on the set of My Secret Friend, a TV movie to be aired on CBS this winter. In an unusual bit of cross-casting, he plays a gorilla. She plays a scientist who teaches him to communicate in sign language, which comes in handy when the primate is eventually befriended by a young deaf boy (portrayed by Sean Gerlis, 12, who is deaf in real life too).

Fletcher figures there was no way to avoid being upstaged. Says she: "I mean, you put together an innocent little child's face and an animal acting like a human, and they're irresistible."

Copyright Time, November 5, 1984.




MAIN CONTENTS FAQ RESUME PHOTOS DS9 CONS ART BOOKS LINKS