FLETCHER BACK TO '2 MOON JUNCTION'
A HOLLYWOOD REPORTER ARTICLE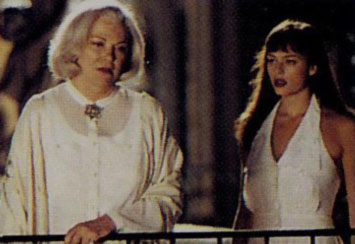 By KIRK HONEYCUTT
June 16, 1993
Louise Fletcher will star in Trimark Pictures' Return to Two Moon Junction, which rolls the first week of August in Los Angeles. The Oscar-winning actress will reprise her role from the 1988 film Two Moon Junction.
Farhad Mann will make his feature directorial debut in the film written by Dyanne Asimov and produced by Mel Pearl. The film's budget is less than $5 million. Mann helmed the Emmy Award-winning film Frames, the pilot for Max Headroom and the CBS telefilm Face of Fear based on Dean Koontz's novel.
"We are very excited to be working with Farhad on his theatrical directorial debut," said Trimark senior vice president production Andrew Hersh. "He is an extremely visual director and one that we believe will bring an exciting element to this feature."
Pearl, who executive produced the original film, produced Weeds (1987) and was involved in the financing of such films as The Front (1976), The Deer Hunter (1978) and Death on the Nile (1978).
Return to Two Moon Junction is a love story about a successful fashion model who returns to her Southern hometown hoping to recapture the happiness and memories of her childhood.
The original film, produced by Lorimar, also starred Sherilyn Fenn, Richard Tyson, Burl Ives and Kristy McNichol.
Copyright June 1993 The Hollywood Reporter. Photos copyright Vidmark Entertainment. IMDB.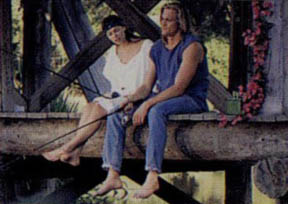 CLICK HERE for photos from the prequel, Two Moon Junction.

MAIN CONTENTS FAQ RESUME PHOTOS DS9 CONS ART BOOKS LINKS