STARBURST REVIEW OF MAMA DRACULA

By BOBBY DUPEA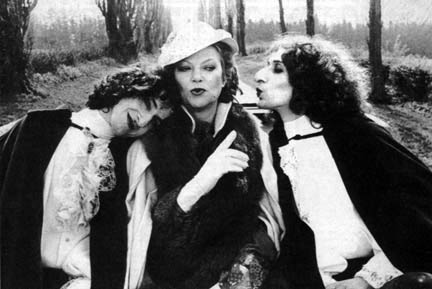 Louise Fletcher, such a blood-sucker as that harridan of a Nurse Ratched in One Flew Over the Cuckoo's Nest, goes the full route in her latest film of what appears to be a world tour. Since the Cuckoo Oscar, followed almost immediately by the forgettable Exorcist II -- The Heretic, she has steered clear of Hollywood and made movies in Germany, Canada...and now here she is in Belgium, of all countries, playing the Renaissance countess who has remained forty for the last four centuries.

We know her best as Countess Dracula. Louise's version, though, is called Mama Dracula. And where Ingrid Pitt merely dropped her clothes (as often as possible) in the Hammer film, Louise Fletcher drops laughs. For this is the female lib (I suppose) version of Love At First Bite. And anything George Hamilton can do, Louise Fletcher can do just as well -- in places, even better.

She's supported by a Mel Brooks-style ensemble casting, including a mute maid, who's played by a man...a mad professor trying to find a way of making fake blood (virgins just aren't so plentiful anymore, and their blood is required for Mama's rejuvenating baths)...Mama's twin sons, Vladimir and Ladislas...and a couple of interfering cops, including Last Tango's Maria Schneider outfoxing Angie Dickinson as a policewoman named Nancy Hawai!

Slyly funny, more than wickedly outrageous, rather more controlled than if Brooks or Wilder had got hold of the script -- Mama Dracula stems from the fertile comedy brain of Brussels-born Boris Szulzinger, the co-director of the Franco-Belgian Tarzoon, Shame of the Jungle send-up which has finally reached Britain, after a five-year legal battle, as Jungleburger. (Oh, that Boris Szulzinger!)

As with the cartoon ape-man caper, Boris had got one of his National Lampoon chums, Tony Hendra, to script the English language version. This could mean that Belushi, Ackroyd and company will eventually be supplying the English -- well, American -- soundtrack. (Dubbing what we know as Jungleburger was one of John Belushi's first film jobs, long before the National Lampoon movie, much less 1941 and The Blues Brothers.

Well, there's heaps of good stuff for the Lampoon team to have fun with.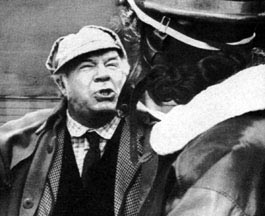 Notably, Mama D's method of hunting out the few remaining virgins left in town, in order to fill her bath. She opens a boutique -- her spider's web for the mind of fresh young flies she needs to keep her beauty lasting for another few centuries.

Then, there's her twin lads, Vlad and Lad. Vlad wants to live up to his name and become, if not a downright impaler, then certainly a worthy member of the Dracula family. Except, poor chap, he can't quite get to grips with the necessary techniques required for the big bite. Shy, you see.

Lad, on the other fang, is quite content with his lot in life. He's busily designing all the outfits on sale in Mama's dress shop, just downtown a trot or two from her castle.

These lads are played by the 27-year-old Belgian twin humourists, Marc-Henri and Alexandre Wajnberg. Marc-Henri has a hand in the original script, as well, with Boris Szulzinger and Pierre Sterckz.

Comedy aside, this is really a lushly draped movie. It's shot in sumptuous art nouveau settings, courtesy of several Belgian museums. Furthermore, the man behind the camera is the Belgian ace Wally Kurant. He's worked with just about every top director, from Jean-Luc Godard, Alain Robbe-Grillet and Volker Schlondorff to Roger Corman in Hollywood and two films for Orson Welles.

Maria Schneider enters the plot disguised as one of the actors entertaining guests at Mama's big birthday party. (It's always the same birthday every year, of course -- she's 40 again, quelle bore!) Maria is busy seducing as many men as the countess. A wise move on her part. Being occupied on the night of the festivities means she escapes the bloody orgy that follows...

At one time, she decides to pop into some of the countess' clothes. Once Vlad (or maybe it's Lad?) sees her this way, he's really perplexed. He thinks Maria is his Mama...and can't stop trying to practise his neck biting routine. As Mama says, if at first you don't succeed, try, try again...

Good to see Maria Schneider back on-screen again. She has, apparently, finally been completing a few projects lately, and about time too. This is her seventh film in three years, since her bitter days of forever stalking off the sets of others, Caligula included.

And it's her wedding to Vlad (or maybe it's Lad) that closes Szulzinger's ensuing madness. That's after several local virgins have been found looking a mite paler than usual. After half the town has been up in arms, complaining about her up in her big castle doing away with the local talent.

As Maria Schneider says "I do," and her white dress turns appropriately red, the swimming pool is taken over by a bunch of vampiric swimmers, forming the shape of a heart pierced by an arrow...!

Forget Mel Brooks. Forget Gene Wilder. Forget even Monty P or National Lampoon. This, finally, is Dracula, Busby Berkeley style! And exceedingly jolly stuff it is too. Can't wait to hear the Tony Hendra adaptation, though!

Copyright 1980 Starburst.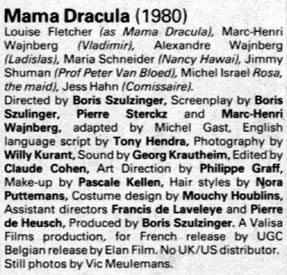 CLICK HERE FOR THE FIRST PAGE OF MAMA DRACULA
CLICK HERE FOR THE SECOND PAGE OF MAMA DRACULA
CLICK HERE FOR THE THIRD PAGE OF MAMA DRACULA

MAIN CONTENTS FAQ RESUME PHOTOS DS9 CONS ART BOOKS LINKS