FLOWERS IN THE ATTIC


These photos belong to R&G Video. They are here for the enjoyment of fans, not for profit.


Four siblings are locked in an attic and tormented by a vicious grandmother while their mother schemes to win back her inheritance. IMDB. A Flowers in the Attic fan page. Thanks to The Louise Fletcher Source for the first two scans.




From the press kit:

Louise Fletcher, whose numerous sterling performances have been overshadowed by her Oscar-winning role in One Flew Over the Cuckoo's Nest, is the Grandmother. She's specialized in playing strong women, though all have not been as evil as Nurse Ratched until her work in Flowers in the Attic.

Fletcher found the role of the tyrannical woman difficult to play from two respects. First, she hated being mean to six-year-old Lindsay Parker and Ben Ganger. "I told them that on stage we play a part, but off stage, we're friends."

Additionally, Fletcher found that the Grandmother's need to block out reality caused her to stay strictly within her character all the time. "I couldn't let myself think about distractions like what a beautiful day or what are we going to have for lunch?"




Louise Fletcher admits that playing the Grandmother in Flowers in the Attic was one of the more challenging roles she's played in her Oscar-winning career.

"For many years, the Grandmother has lived with the knowledge that her daughter has given birth to four children as a result of an incestuous relationship," she says. "She's kept the children a secret from her husband, the grandfather, and that secret is driving her insane. I didn't know anybody like her and that's what made playing the character so difficult for me."

Fletcher is one of the rare breed of actresses who excels as both a leading lady and a character actress, and she has proven so with as diverse a list of credits as any actress can lay claim to.

She is probably best known for playing the dictatorial Nurse Ratched in 1975's One Flew Over the Cuckoo's Nest, a performance that won her both the American and British Academy Awards for best actress, as well as the Golden Globe Award. Upon receiving the Oscar, she gave what has been considered one of the most moving acceptance speeches in the history of the Academy, during which she used sign language to thank her deaf parents for helping her in achieving her dream.

Fletcher has never let her talents be pigeonholed, but rather chooses to take on parts that she finds challenging and worthy. Of her role as Nurse Ratched she says, "To stay in that vise for eleven weeks was one of the hardest things I've ever had to do. It was awful being that person, so different than I really am." Yet her main criteria in selecting a role, large or small, is in its quality. "If a part interests me," she says, "I don't mind how small it is. A lot of work has been available, but it's either not good at all or too similar to what I've already done. People keep telling me that I'll ruin my career, but I like to work. The only way to be an actress is to act."

And act she does, in a long list of films that includes Robert Altman's Thieves Like Us, The Cheap Detective, The Exorcist II, The Lady In Red, Natural Enemies, The Lucky Star, Strange Invaders, Firestarter, Hoover, Brainstorm, Nobody's Fool and The Boy Who Could Fly.

Fletcher, the daughter of an Episcopal missionary to the deaf, was born in Birmingham, Alabama, the second of four children. Both parents are hearing and speech-impaired, and their own success and happiness gave Miss Fletcher the impetus to go after her own dreams. After completing her schooling at the University of North Carolina, she made the move to Hollywood and quickly found television roles in such shows as Playhouse 90, Maverick and Perry Mason. She then married producer Jerry Bick (with whom she has since divorced), had two children, and withdrew from acting. When her sons entered their teens, Fletcher felt the need to break away from being a housewife/cook/chauffeur. "I started my career again as women everywhere were discovering their right of self-identity," she says.

Though considering entering law school at the time, she allowed Robert Altman to press her into service in Thieves Like Us. When Milos Forman saw the movie he was so impressed with her performance that he quickly signed her for One Flew Over the Cuckoo's Nest, disappointing a number of Hollywood's top actresses, who were hoping to get the part of Nurse Ratched for themselves. With Cuckoo's Nest, Fletcher was firmly established as one of today's most gifted actresses.

New World Pictures and Fries Entertainment present a Charles Fries production, a Jeffrey Bloom film, Flowers in the Attic, starring Victoria Tennant, Kristy Swanson, Jeb Stuart Adams Louise Fletcher. Written and directed by Jeffrey Bloom, based on the novel by V.C. Andrews.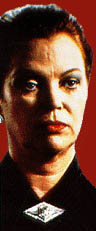 CLICK HERE FOR PRESS KIT PHOTOS FROM FLOWERS IN THE ATTIC
CLICK HERE FOR MORE PRESS KIT PHOTOS FROM FLOWERS IN THE ATTIC

MAIN CONTENTS FAQ RESUME PHOTOS DS9 CONS ART BOOKS LINKS