TV REVIEW - IN A CHILD'S NAME
A HOLLYWOOD REPORTER REVIEW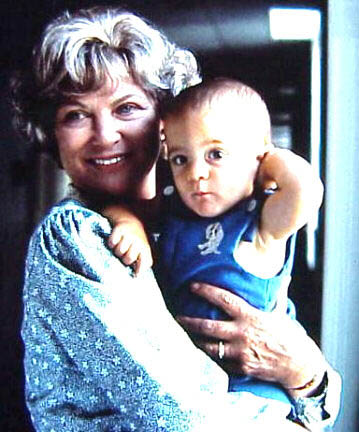 By LAURENCE VITTES
November 15, 1991
Although it is derived from a conventional miniseries formula -- a sensational murder story and its extraordinary consequences, headlined by glittering young stars -- CBS' ''In a Child's Name'' is a dazzling demonstration of the television art.
In an unmanipulative, unblinking style reminiscent of New Wave programs like ''Twin Peaks,'' the four-hour telefilm tells the real-life story of Dr. Kenneth Taylor (Michael Ontkean), the brutal murder of his wife (Karla Tamburrelli) and the efforts of her family, led by sister Angela (Valerie Bertinelli), to gain custody of the Taylors' infant son.
Though there is little real mystery, Daryn Okada's camera pours over each detail with such fascination that Part One crescendos to its horrible climax with the skill of a classical master. Guided by Bill Phillips' and Charles Walker's eloquent script, and aided by the rich colors of a great painting (one shot of a pregnant Bertinelli in overalls is particularly unforgettable), director Tom McLoughlin makes time stand still.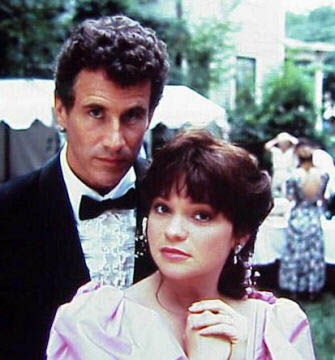 Among the fine cast, Ontkean deserves an award for his knife-edged portrayal of a madman, the charismatic Bertinelli is carefully restrained and surprisingly effective, David Huddleston and Louise Fletcher as the murderer's parents are disturbingly creepy, and Timothy Carhart is absolutely brilliant as the investigating detective, his interviews with Ontkean classic.
Although Bertinelli's supportive family is stereotyped to a probably necessary (Italian-American) degree, John Karlen and Joanna Merlin as her parents and Christopher Meloni as her husband turn the stereotypes into gratifyingly real people. As the victim, Tamburrelli is extravagantly ambiguous.
Ultimately, the necessity of telling a story so rich in complexity in only four hours takes its toll. As a result, Part Two, airing Tuesday night, occasionally loses its dramatic focus. Viewers fortunate enough to have tuned in Sunday night, however, will think Monday a very dull day.
And, regardless of ratings, the style, production qualities and nearly flawless execution of ''In a Child's Name'' will doubtless make it a rewarding subject for film students for years to come.
IN A CHILD'S NAME
CBS
New World Television
Executive producers Dan Wigutowy, Helen Verno
Supervising producers Vahan Moosekian, Dawn Serody, Geoffrey Grimsman
Co-producers Donald C. Klune, Christopher Canaan
Associate producer Julie Cohen
Director Tom McLoughlin
Writers Bill Phillips, Charles Walker
Editors Charles Bornstein, Michael Berman
Director of photography Daryn Okada
Music Richard Stone
Starring: Valerie Bertinelli, Michael Ontkean, Louise Fletcher, Timothy Carhart, Andy Hirsch, David Huddleston, John Karlen, Caroline Kava, Christopher Meloni, Joanna Merlin, Mitchell Ryan, Karla Tamburrelli
Airdates: Part One: Sunday, Nov. 17, 9-11 p.m.
Part Two: Tuesday, Nov. 19, 9-11 p.m.
Copyright November 1991 The Hollywood Reporter.
MAIN
CONTENTS
FAQ
RESUME
PHOTOS
DS9
CONS
ART
BOOKS
LINKS