BIG EDEN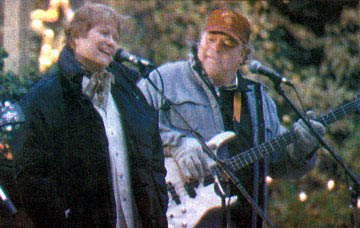 From The Daily Inter Lake, Montana, October 19, 1999: Actress Louise Fletcher sings a part in the film Big Eden, which is being shot in Glacier National Park and around the valley this month. (Photo by Chris Peterson. Copyright October 1999 The Daily Inter Lake).

From Variety, April 24, 2000 (Vol. 378 No. 10):
BIG EDEN
by ROBERT KOEHLER
A Chaiken Films production. Produced by Jennifer Chaiken. Co-producer, John D. Vaughan.
Directed, written by Thomas Bezucha. Camera (FotoKem color), Rob Sweeney; editor, Andrew London; music, Joseph Conlan; music supervisor, Brian Ross; production designer, Stephanie Carroll; art director, Joe Warson; costume designers, Sam Hamilton, Rene Holguin; sound (Dolby), Randall Lawson; supervising sound editor, Christopher Hogan; choreography, Alex and Melanie Parkhurst; assistant director, Jeanine Rohn; casting, David Bloch. Reviewed at L.A. Independent Film Festival (closing night), April 18, 2000. Running time: 119 MIN.
Montana may be the home of the Unabomber and the macho, wildcat characters of Thomas McGuane, but in tyro writer-director Thomas Bezucha's mild-mannered "Big Eden," the Big Sky Country is a fantasy land where gay men can come gracefully out of the closet and easily mingle with even the crustiest cowboy types, some of whom know how to brew up espressos. Capping the L.A. Indie fest and befitting fest's agenda of stressing character-oriented pics, this tale of a New York artist rediscovering his roots in woodsy lakeside hamlet of Big Eden would be an ideal entry on the Pax web if not for its gay heroes, and is much too mainstream in both style and storytelling for gay film fans demanding stronger, punchier work. Thus wedged in its uneasy niche, pic will have a hard time breaking out, but the sheer class of the production will surely draw distrib interest, if not commitment.
Having made an uncommon leap from corporate design for such firms as Coach and Polo/Ralph Lauren to filmmaking, Bezucha demonstrates impressive skills and control of both material and camera, while projecting a fair-minded humanist attitude that's as American as Thanksgiving dinner (which is lovingly depicted here). Story of how and why painter Henry Hart (Arye Gross) makes the shift from go-go Gotham lifestyle to a satisfying life in Montana is far from convincing, however, raising serious questions about motivation and intent at almost every juncture. Pic's excessively sober approach finally becomes a problem, since it is depicting as unreal a West as "Northern Exposure," but without that series' deliberate exaggerations.
Opening is, in retrospect, the start of the problems: Henry's rising art career -- the Whitney, for goodness sake, is interested in his bland abstracts -- is glossed over in the time it takes to roll down opening credits. All that's required is a phone call from Grace (Louise Fletcher) in Big Eden, with bad news that grandfather Sam (George Coe) has had a stroke, to put Henry on a plane west. This despite the reality -- as his obnoxious gallery manager, Mary Margaret (Veanne Cox), notes -- that he's leaving just before the biggest opening of his career. Henry hardly struggles with what should be an enormously vexing decision, suggesting 0not only that he doesn't care much for New York or his art future, but that he's the only person on the planet who can take care of Sam.
Circumstances also stack the deck in favor of Montana, and the view of the idyllic town set on a glassy lake bordering Glacier National Park makes one wonder why Henry left in the first place. Indeed, the folks of Big Eden are uniformly kind, mannerly, hospitable, if not a bit pushy (as in the case of Widow Thayer, care of perennially showstopping thesp Nan Martin) and seem unanimously happy to see Henry back. He's nervous when Grace tells him that his old high school heartthrob, Dean (Tim DeKay), the is-he-gay-or-not dad of two is back in town, but he's also looking forward to reviving a dormant, 18-year-old crush on the near-mid-aged stud muffin.
Things are testy between Henry and Dean, but there's an unexpected romantic angle in shy Native American big man Pike (Eric Schweig). Because Henry doesn't cook, Pike tries to impress him by secretly prepping gourmet meals for recovering Sam under the guise that they're the product of Widow Thayer, frustrated in her attempts to match Henry up with a local gal.
Script's signature is the quiet, understated way in which Pike's love interest in Henry gradually develops, partly reflecting the local culture's reluctant attitudes about gays and also Bezucha's strongest card, as a writer who crafts with as much subtext as possible. Equally indicative of pic's feel-good fantasy p.o.v., though, is how the widow turns on a dime and easily arranges a party of local gay men to meet Henry. That there isn't one renegade nasty in town who objects to this robs pic of conflict, juice and any sense of real dashes in American culture.
Emotions are allowed to surface at rare points, as when Dean and Henry have a final Thanksgiving day faceoff (in a closet, no less), and Schweig's low-keyed perf as Pike suggests a deeply buried level of passion ready to break out, but finale plotting resorts to extremely predictable Hollywood twists and resolutions that send pic to a level of unreality surpassing anything that's gone before.
Fortunately, what could have been another terminally talky indie movie is well balanced between reflective and slightly droll moods, and often the most effective points are hit when the least is said. What emerges, however, is a case in which subordinate characters' desires are clearer and better dramatized than those of Henry, whose inner confusion and backstory lack any weight or conviction.
Gross carries this burden, but his perf offers no further insight into what makes Henry run. In what may be the first case of a gay Native American realized onscreen, Schweig makes his fledgling Cook's struggle to embrace Henry ultimately rewarding, even as we realize this could happen only in the movies. DeKay, as the spurned Dean, delivers a turn as vanilla as the pic itself, until he finally speaks his piece. Martin, a great stage vet, commands her every screen moment.
Pic's overall tech work betrays at no moment that it's a first-timer's work, buttressed by exceptionally crisp lensing by indie vet Rob Sweeney, steady pacing care of cutter Andrew London and gentle underscoring by composer Joseph Conlan.
Copyright Variety April 24, 2000.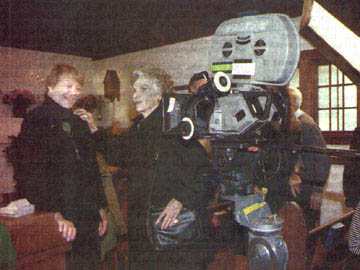 From The Daily Inter Lake, Montana, October 17, 1999: Louise Fletcher, far left, is congratulated after her singing performance during a funeral scene at the church. Fletcher won an Academy Award for her performance in the film One Flew Over the Cuckoo's Nest. (Photo by Karen Nichols. Copyright October 1999 The Daily Inter Lake).

From Variety, October 12, 2000:
THOMAS BEZUCHA
by RAMIN ZAHED
Thomas Bezucha, who penned and directed "Big Eden," one of this year's most popular films at the gay and lesbian fests around the country, certainly could take the prize for the most unusual career trajectory. The soft-spoken Amherst, Mass. native used to be the VP of creative services for Coach and senior director of creative services for Polo/Ralph Lauren for over a decade before he decided to listen to his muse.
"I knew I wanted to be a writer or director when I was a kid," he says. "It just took me 23 years to get there."
Bezucha worked on the script for "Big Eden" in "total secrecy at home, without telling anyone about it." He says he had been wanting to write a film about gay characters that weren't normally depicted onscreen.
"I'm very close with my family, and I really wanted to have a story about gays who are over 30, aren't completely ghettoized, and spend time with their family and straight friends," Bezucha says.
Set in a small Montana town, "Big Eden" stars Arye Gross as a New York artist who returns to his hometown to take care of his ailing father. There, he comes to terms with the object of his unrequited love, and finds a surprise happy ending to his quest. Screen veteran Louise Fletcher also has a crowdpleasing role in the film.
"I needed the film to explore some mature issues, but the most gratifying thing about the project is that the response has been as strong from lesbian women as from gay men," Bezucha says.
Made for over $1 million, the film is still shopping for a distributor, and Bezucha hopes that his film will make an appearance at Sundance next year.
Meanwhile, the busy scribe has finished two other scripts: "The Tree Army," about Montana's Civilian Conservation Corps. during the Depression, and "Fucking Hate Her," a contempo romantic comedy. He says he's also itching to adapt a classic novel in the future.
Of course, on the glamour scale, anything that Bezucha will do behind the camera will have a tough time competing with the kind of projects he worked on during his designing days: This, after all, is the man who created and installed Sharon Stone's screening room in Beverly Hills.
Bezucha is repped by Diverse Talent Group's Sheryl Peterson.
Copyright Variety October 12, 2000.

Bob Erck forwarded the following from the Montana film office:
"The filming of a feature-length movie, Big Eden, begins this week in Glacier National Park. Big Eden is being produced and shot by Big Eden Productions of San Francisco, California. The size of the movie crew is approximately 40-45 people. The crew and ten actors/actresses and will be in the park and surrounding area until approximately October 25. Most filming will occur on several pieces of land inside Glacier National Park that are privately owned. Several other filming locations are adjacent to the park as well, as in and near Kalispell, Somers, Swan Lake, and Whitefish. Though filming will occur mostly on private property inside Glacier National Park where public viewing opportunities will be limited, there will be an opportunity to observe filming on public land within the park. The public is welcome to view filming at these public locations such as Apgar Village."
Click here for Big Eden press photos.
Click here for a Big Eden review.

MAIN CONTENTS FAQ RESUME PHOTOS DS9 CONS ART BOOKS LINKS