LOUISE'S WORST NIGHTMARE
A TV GUIDE INSIDER ARTICLE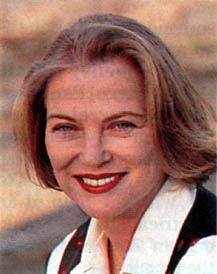 By MARILYN BECK
Ever wonder what gives Oscar-winning actress Louise Fletcher nightmares? She says singing on last week's episode of CBS's The Boys of Twilight triggered a recurring bad dream.
"I'm on-stage in this musical," says Fletcher. "I get all dressed up in an elaborate costume, then I realize it's wrong. After a long effort to get changed, I rush out on stage, only to realize that every item of clothing -- jewelry, hat, gloves, shoes -- has a HUGE tag with my name on it. I'm in total humiliation."
Copyright March 21-27 1992 TV Guide. This feature appeared in the "Grapevine" column. Photo by Stephan Schacher.
MAIN
CONTENTS
FAQ
RESUME
PHOTOS
DS9
CONS
ART
BOOKS
LINKS