PHOTO SCREEN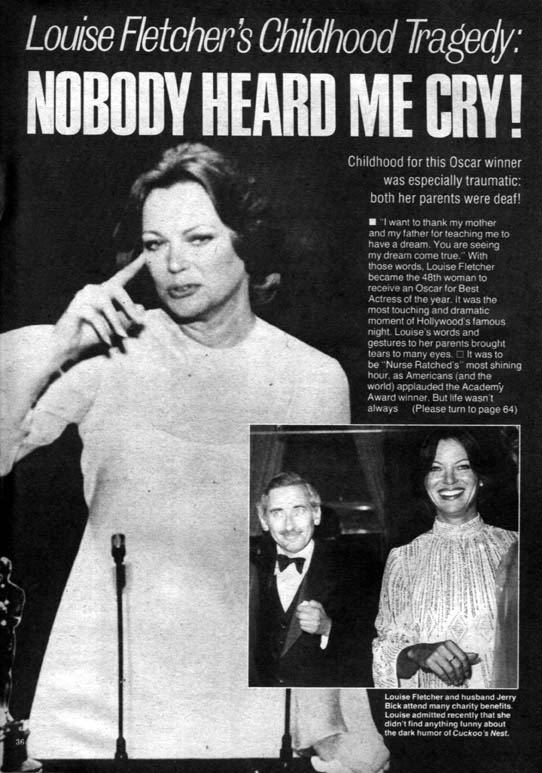 Louise Fletcher's Childhood Tragedy: Nobody Heard Me Cry!
Childhood for this Oscar winner was especially traumatic: both her parents were deaf.
"I want to thank my mother and my father for teaching me to have a dream. You are seeing my dream come true." With those words, Louise Fletcher became the 48th woman to receive an Oscar for Best Actress of the year. It was the most touching and dramatic moment of Hollywood's famous night. Louise's words and gestures to her parents brought tears to many eyes.
It was to be "Nurse Ratched's" most shining hour, as Americans (and the world) applauded the Academy Award winner. But life wasn't always applause for Louise. Hers is an unusual success story for Hollywood and virtually no other can come close to the poignancy of her triumph. Louise has finally climbed the long hard road to stardom from her often sad and lonely childhood days in Alabama.
41 years ago, Louise was the second child born to Robert and Estelle Fletcher. Like her brother and sisters (there were four little Fletchers in all) she was a normally healthy youngster. There was only one difference in the Fletcher household -- mother and dad were deaf. They hadn't been born deaf. Both were victims of tragedy as children. Mr. Fletcher when four was struck by lightning and subsequently went deaf. His wife lost her hearing under circumstances that to this day, still remain a mystery. Doctors are only sure that she lost her hearing at 6 months of age.
But somehow human nature always seems to triumph over adverse conditions and both were raised to lead full and useful lives, despite this severe handicap. Robert, a Baptist minister, met and fell in love with Estelle when both were in a special school. Little did they dream in those early days of marriage, that one day a daughter of theirs would bring home a golden Oscar. When that moment finally did come, it was of such emotional intensity for them that both of Louise's parents cried, a sound seldom heard in the Fletcher house.
"You didn't cry. There was no reason to cry if you fell and hurt yourself. There was no one to hear you. You couldn't explode and have the sheer magnitude of your voice understood," Louise's younger sister, Georgianna, said recently. In a way, it's a wonder that a woman who could never use the normal emotions of childhood, who could never enjoy the simple pleasure of crying when in pain to bring the soothing warmth of a mother's hand, should become such an extraordinary actress. That is a profession which demands a full range of emotion.
Fortunately, her parents realized the importance of having the children experience a more usual household, so as each grew old enough to leave home, they were sent in turn for a year to an aunt and uncle with normal hearing. It is only now that Louise really knows what an emotional hardship that was on her parents. However, despite all the Fletchers' efforts to bring up their children as normal as possible, life in a house of silence left its mark on some of the children, including Louise, who admits she spent years in psychotherapy to heal the wounds.
As you can see, Louise Fletcher is almost the direct opposite of the Nurse Ratched she plays so devastatingly onscreen. Louise is warm, funloving and has a winning smile. Although like Ratched, she is usually under control, she has never been a driven woman, one who must put herself and her career first. "I wanted to be a wife and mother" is the way she explains an 11 year absence from acting. Which is why her name and face are so unfamiliar to most of America. Louise had other priorities as a young woman.
Shortly after Louise arrived in Hollywood to launch her career, she began dating Jerry Bick, now the producer of such top films as Farewell My Lovely, and she married him. When her two sons arrived, Louise felt they needed her more than she needed acting. "I could not handle going away day after day. The thought of going away before they got up and getting home after they were in bed was intolerable." Louise remembered all too well her own childhood, when she had been taken away from her parents and the isolation of not being able to chat about school and her day with anybody. She wanted to spare her children that loneliness.
However, in the last two years, she has slowly reactivated her career. The children are in school and able to cope with her absence. She started with one of her husband's productions, a small role in Thieves Like Us. Then came Cuckoo's Nest. Although you couldn't tell it from Cuckoo's Nest, Louise is a highly sensitive person, so sensitive, in fact, that she became emotionally upset during filming at the Oregon mental institution where the movie was made. "I lost 14 pounds. Couldn't eat. Couldn't sleep during the asylum," she admits. The cast lived and worked among the regular inmates of the institution, and that intimacy took its toll. Besides, Louise was the only woman in the cast as well as the "meanie" and she again felt the same kind of isolation as in her childhood. But, what was happening to her personally on location, was utilized for what happened on the screen!
Louise has no admirer more fierce than her co-star, Jack Nicholson, who is also an old friend. The two have kept pretty quiet about it, but they first met years ago, before either had appeared in a film, in an acting school. They've changed a lot through the years.
After getting her Oscar, Louise got to a phone as quickly as possible and called her folks. Georgianna, who teaches at Gallaudet College for the deaf, was there to do the talking and interpreting for both ends. Louise's father was so pleased by her Award speech to them that he told her, "That was some smart acting." At that point, her voice soft and loving, Louise told the father and mother who helped her to a full and enriched life in spite of their own hardship: "That was no acting." The thank-you to them was spoken directly from her heart.
Copyright August 1976 Photo Screen.
MAIN
CONTENTS
FAQ
RESUME
PHOTOS
DS9
CONS
ART
BOOKS
LINKS