THE OSCAR ACCEPTANCE SPEECH:
BY AND LARGE, IT'S A LOST ART
A WASHINGTON POST ARTICLE

By SHARON WAXMAN
Washington Post Staff Writer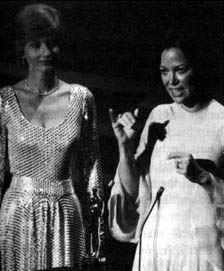 LOS ANGELES, Sunday, March 21, 1999
Forty-five seconds. One billion viewers. Your moment of glory.
Most people blow it.
At its best, the Oscar acceptance speech is its own kind of art form.
It can be a haiku of humility, a lyrical insight or a heartfelt flight of emotion.
"I accept this very gratefully for keeping my mouth shut for once," said Jane Wyman, accepting an Oscar in 1949 for playing a mute character in "Johnny Belinda." "I think I'll do it again." And she sat down.
There was tiny Ruth Gordon, aged 72, saying in 1969, "I can't tell you how encouraging a thing like this is," for "Rosemary's Baby." We loved that.
"I was going to thank all the little people, but then I remembered I am the little people," deadpanned the diminutive composer Paul Williams in 1977 on receiving his Oscar for writing "Evergreen" with Barbra Streisand.
Louise Fletcher, deeply moved on winning the Oscar for best supporting actress for her turn as cruel Nurse Ratched in "One Flew Over the Cuckoo's Nest" said, "I've loved being hated by you."
Then there was Cuba Gooding Jr. in 1997, Best Supporting Actor for "Jerry Maguire," whose speech made the history books for its pure comic intensity. "I love you!" he shouted, as the music cued. "Tom Cruise! I love you, brother! I love you, man! . . . Everybody, I love you. I love you all. Cameron Crowe! James L. Brooks! James L. Brooks, I love you. Everybody who's involved with this, I love you. I love you. Everybody involved."
Those are some of the best. But then there's poor Laurence Olivier, remembered for holding forth on the "great firmament of your nation's generosities," moving on to the "prodigal, pure human kindness of it," coming round the turn with "a beautiful star in that firmament which shines on me at this moment," before wrapping it up with "the euphoria that happens to so many of us at the first breath of the majestic glow of a new tomorrow."
But at least he's Laurence Olivier. The record for the longest Oscar acceptance speech is still held by Greer Garson, accepting the Best Actress award for "Mrs. Miniver" in 1943. It was after 1 a.m., the last award to be handed out that night. She cleared her throat.
"I'm practically unprepared," Garson began. And she went on. And on. She murmured something about the arbitrary nature of awards. Presenter Joan Fontaine took a seat. Still Garson went on. The speech clocked in at seven minutes, according to Patrick Stockstill, historian at the Academy of Motion Picture Arts & Sciences.
Garson never won an Oscar again.
But nowadays most Oscar speeches are even worse, a waste of the rapt attention of much of the Western world. A tiny piece of paper emerges. Mom's name is on it. And Almighty God's. A billion pairs of eyeballs roll.
Please! Is it too much to ask? A little humor? A little pathos? Histrionics are fine, even hubris is welcome – as long as it's different. Rod Steiger thanked the Maharishi. Fine. Vanessa Redgrave scored the "Zionist hoodlums." Whatever. Anything, anything, ANYTHING but thanking your agent.
Who can forget director James Cameron declaring, "I am the king of the world!" last year, right after requesting a moment of silence for the victims of "Titanic." Sure, we thought he was a jerk, but at least it was more interesting than listening to his co-producer Jon Landau reel off an endless list of names we'd never heard.
The best speeches . . . we remember those. They slide into the lore of our popular culture. They cement a public moment, crystallize a feeling in which millions of television viewers share.
"You like me, you really like me," trilled Sally Field in 1985, accepting her second Oscar in five years. Except she didn't say that, precisely . . . but that's what we recall. (See below for exact text.)
"I want to thank . . . everybody I ever met in my entire life," said a breathless Maureen Stapleton in 1982, winning for supporting actress in "Reds."
In the end, tonight's Oscar winners might want to aim for the elusive, resonant note struck by Shirley MacLaine at the very end of a long speech after winning Best Actress for the 1983 film "Terms of Endearment."
"Films and life are like clay, waiting for us to mold it," she said. "And when you trust your own insides and that becomes achievement, it's a kind of principle that seems to me is at work with everyone. God bless that principle. God bless that potential that we all have for making anything possible if we think we deserve it."
And then she added: "I deserve this."
Here follows a list of notable Oscar acceptance speeches, gleaned from academy records.
Candid
-- In accepting Best Screenplay for "Philadelphia Story," Donald Ogden Stewart notes that he and only he was responsible for the film's success. (1941)
-- Robert De Niro, accepting best actor for "Raging Bull," thanks Jake LaMotta, "even though he's suing us." (1981)
-- Louise Fletcher, in addition to saying she loved being hated in "One Flew Over the Cuckoo's Nest," thanked Jack Nicholson for making "being in a mental institution like being in a mental institution." (1976)
-- Steven Spielberg, for "Schindler's List," after years of being passed over by the academy: "Oh, wow. This is the best drink of water after the longest drought of my life." (1994)
-- Dianne Wiest, Best Supporting Actress for "Hannah and Her Sisters": "Gee, this isn't like I imagined it would be in the bathtub." (1987)
Poignant
-- Sidney Poitier, Best Actor for "Lilies of the Field" and the first black man to win that Oscar: "It has been a long journey to this moment." (1964)
-- Whoopi Goldberg, Best Supporting Actress for "Ghost": "I want to thank everybody who makes movies. . . . As a little kid, I lived in the projects, and you're the people I watched. You're the people who made me want to be an actor. I'm so proud to be here." (1991)
-- Mickey Rooney, Honorary Oscar: "When I was 19 years old I was the number one star of the world for two years. When I was 40 nobody wanted me." (1983)
Shallow
-- Cher, Best Actress for "Moonstruck": "I'd like to thank everyone I worked with on the movie. They were really fabulous. It was really a great experience for me. My makeup man, who had a lot to work with. My hairdresser. My assistant . . ." Somehow she failed to thank her co-stars and her director. (1988)
Heartfelt
-- Sally Field, Best Actress for "Places in the Heart," after having won in 1980 for "Norma Rae": "I haven't had an orthodox career, and I've wanted more than anything to have your respect. The first time I didn't feel it, but this time I feel it, and I can't deny the fact that you like me, right now, you like me!" (1985)
Pretentious
-- Rod Steiger, Best Actor for "In the Heat of the Night," thanks the Maharishi. (1968)
Succinct
Jane Fonda, Best Actress for "Klute": "There's a great deal to say, but I'm not going to say it tonight." (1972)
Funny
-- Jessica Yu, accepting for Best Short Subject Documentary: "What a thrill. You know you've entered new territory when you realize that your outfit cost more than your film." (1997)
-- Robin Williams, Best Supporting Actor for "Good Will Hunting": "Most of all, I want to thank my father, up there, the man who when I said I wanted to be an actor, he said, 'Wonderful, just have a back-up profession like welding.' " (1998)

Maurice Jarre, accepting Best Score for "Passage to India," the year "Amadeus" won Best Picture: "I was lucky Mozart was not eligible this year." (1985)

Political
-- Vanessa Redgrave, Best Supporting Actress for "Julia," praises Hollywood for having "refused to be intimidated by the threats of a small bunch of Zionist hoodlums . . . whose behavior is an insult to the stature of Jews all over the world and to their great and heroic record of struggle against fascism and oppression." (1978)
-- Elizabeth Taylor, accepting the Jean Hersholt Humanitarian Award in honor of all the "men, women and children with AIDS": "Tonight I am asking for your help. I call upon you to draw from the depths of your being to prove that we are a human race. To prove that our love outweighs our need to hate. That our compassion is more compelling than our need to blame. That our sensitivity to those in need is stronger than our greed. . . . Thank you and God bless." (1993)
-- Tom Hanks, Best Actor for "Philadelphia," thanks "Rawley Farnsworth, who was my high school drama teacher, who taught me, 'To act well the part, there all the glory lies,' " and former classmate John Gilkerson, "two of the finest gay Americans, two wonderful men that I had the good fortune to be associated with." (1994)
-- Sacheen Littlefeather, accepting the Oscar on behalf of Marlon Brando, Best Actor for "The Godfather": "I think awards in this country at this time are inappropriate to be received or given until the condition of the American Indian is drastically altered. If we are not our brother's keeper, at least let us not be his executioner." She turns out not to be Native American. (1973)
-- Director Richard Attenborough, for "Gandhi," in the longest speech after Greer Garson's: "Gandhi simply asked that we should examine the criteria by which we judge the manner of solving our problems. That surely in the 20th century, we human beings, searching for our human dignity, could find other ways of ultimately solving our problems than blowing the other man's head off. He begged us to reexamine that criteria . . ." (1983)

Incoherent
-- Laurence Olivier, Honorary Oscar: "In the great wealth, the great firmament of your nation's generosities this particular choice may perhaps be found by future generations as a trifle eccentric, but the mere fact of it . . . the prodigal, pure, human kindness of it . . . must be seen as a beautiful star in that firmament which shines upon me at this moment, dazzling me a little, but filling me with warmth of the extraordinary elation, the euphoria that happens to so many of us at the first breath of the majestic glow of a new tomorrow." (1979)
-- Director Jonathan Demme, accepting for "The Silence of the Lambs," used the word "uh" almost 40 times in a five-minute speech. (1992)

Copyright 1999 The Washington Post Company.


WHERE HAVE ALL THE WINNERS GONE?
OR WHAT IF YOU WON AN OSCAR AND NO PRODUCERS CALLED?

By DANNY PEARY

Oscars may have elevated the profiles of such actors as Katina Paxinou, Paul Lukas, Josephine Hull, Donna Reed, Lila Kedrova, Joel Grey, Eileen Heckart, Linda Hunt, Haing S. Ngor, Shirley Booth, George Chakiris, Miyoshi Umeki, Estelle Parsons, Marlee Matlin, and Louise Fletcher, but it didn't catapult any of them to prolonged cinematic glory. Some were offered roles similar to the ones that won them their Oscars; others weren't offered anything at all.

"Most of the time, I have to remind myself I have an Oscar," admits Fletcher, the 1975 Best Actress winner for her portrayal of the soulless Nurse Ratched in One Flew Over the Cuckoo's Nest. "I never thought that would be the case when I won it."

Not that Fletcher's ungrateful; in fact, she credits her victory with giving her a career at all. "You have to remember that I was probably the least-known actress ever to have won the award," she explains. "It was a dream come true to win, and everything else has been dessert, Because of the Oscar, I have worked steadily."

Not all winners can make that claim. In fact, some Oscar victories have actually hastened the end of movie careers. If he hadn't made such an indelible impression as the malevolent emcee in Cabaret, 1972's Best Supporting Actor, Joel Grey, might have developed into a versatile movie star, but myopic producers refused to picture him in any other role. Shirley Booth won the 1952 Best Actress Oscar by reprising her Broadway role in Come Back, Little Sheba, only to discover that Hollywood had few major roles tailored to her talents -- and no one dared offer character parts to a Best Actress winner. "I wish it hadn't happened so soon, so fast," Booth later confessed. "I wish I'd been given a chance to do more films, to work up to this."

Copyright March 1989 Cosmopolitan.


OSCAR NOMINEES

by MICHAEL SAUTER

If Billy Bob Thornton and Emily Watson win on Oscar night, they'll become the latest unknowns to burst into the big time by grabbing the prize. Heck, just being nominated has put them on the map--but will that make them bankable? Consider these four actors whose post-Oscar career paths have not yet led them back to the dance.

Louise Fletcher: For the former '50s TV actress who had quit for over a decade to be a full-time mother, winning an Oscar for her Nurse Ratched in One Flew Over the Cuckoo's Nest (1975) was like "being thrown an explosive." But at 41, what followed was more fizzle than boom. After a starring role in 1977's Exorcist II: The Heretic, she got mostly supporting parts, too many of them lab-coated doctors (Brainstorm) or mean grandmas (Flowers in the Attic)--not to mention the tough principal she played in last year's High School High. "I'm not going to be a person who complains about roles for women," she has said. "I'm working."

Linda Blair: Nominated for her head-turning performance in The Exorcist (1973), the 15-year-old Blair segued into strong TV roles (Born Innocent, Sarah T. -- Portrait of a Teenage Alcoholic), then found herself typecast in "trashy" exploitation films. Since then, she has often found more fulfillment in championing animal rights and training and showing horses. Still, she hasn't given up on acting. Currently visible in Wes Craven's Scream, she also has plans to produce her own TV movie. "[Hollywood will] only hire the top ten people of the moment," she says. "Everyone's fighting to get good work."

Justin Henry: As the towheaded tyke of Kramer vs. Kramer (1979), the 8-year-old Henry was the youngest Oscar nominee ever. But Henry would only appear in a few more movies (most notably 1984's Sixteen Candles), opting instead to grow up normal. "I put acting on hold," he has said, "but always knew I'd come back." After finishing college, he did just that. Heading out to Hollywood in 1994, he landed a part in the TNT Civil War drama Andersonville, and has just wrapped the feature film Groupies, with Ally Sheedy.

F. Murray Abraham: Before winning his Oscar as Mozart's archrival in Amadeus (1984), Abraham was a New York stage actor who did occasional movie work (Serpico, Scarface) and, most infamously, played a leaf in a Fruit of the Loom commercial. But his Oscar win didn't make him a star. 'What it does is help you find work for the rest of your life," he has said. Sure, the movie roles are still mostly in the supporting category (Mobsters, Mighty Aphrodite)--but he'll never have to do another underwear ad.

Copyright March 21, 1997 Entertainment Weekly.




MAIN CONTENTS FAQ RESUME PHOTOS DS9 CONS ART BOOKS LINKS