RAMBLING REPORTER -- OSCAR 'CUTS THE DULL' WITH HIGHLIGHT VIDEO
A HOLLYWOOD REPORTER ARTICLE

By ROBERT OSBORNE
January 13, 1992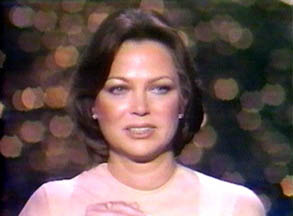 Some of the most tempting, rarely seen, star-chocked treasures imaginable are going to be available to us come February when the Academy lets loose (for the first time ever) glimpses from the vault of past Oscar shows via Oscar's Greatest Moments, the video compilation long anticipated, but finally here. And the Academy's not going to let this prize package sneak into the marketplace either, especially since proceeds from the sales of the video will benefit fund-raising to endow the Academy's Center for Motion Picture Study on La Cienega and its Margaret Herrick Library and film archive. So that's why if you see a monster party tent in full flower Wednesday night on La Cienega, next door to the Academy's Center, you'll know what's up. And why all those photographers are out front, snapping away. And why all those cars being parked are not Geos or Yugos...
Inside the tent, plenty of good things will be going on since Karl Malden, Bruce Davis and the other Academy honchos will be welcoming many of the stars who are part of Oscar's Greatest Moments -- like former A.A. winners Charlton Heston, Faye Dunaway, Marlee Matlin, Ben Kingsley, Kathy Bates just for starters -- at a big dinner and dessert that'll include a premiere glimpse at that tape, the beginning of what a lot of us hope will be many, many chances to look at those historic Academy Awards telecasts of the past...
The Academy Awards telecasts didn't begin until 1953, Oscar's 25th year, so except for newsreel footage and other film clips from those very early years, what's in the archives is sparse; what is there, however, is a king's ransom. This first Oscar tape from the AMPAS covers the last two decades -- which means the eras of Brando's Oscar snub, Louise Fletcher's poignant thank-you in sign language to her deaf parents, Sally Field's "You like me, you really like me!," even Katharine Hepburn's one-and-only Oscar show appearance (in 1974, to present the Thalberg award to an ailing Lawrence Weingarten). The tape should be one for the books. Actually: one for the VCR.

January 17, 1992
"We've done what everybody always wanted to do with Oscar shows: cut the dull moments," Karl Malden told the 500 or so Hollywoodians gathered Wednesday night to help celebrate the Academy's release of the videotape Oscar's Greatest Moments. And then samples of the tape rolled: there was Miss Piggy having an exchange with Johnny Carson. (She: "Don't you think I'm right for an Oscar?" He: "Maybe Oscar Meyer.") Also Whoopi Goldberg, grasping her Oscar and exuberantly exclaiming "I'm so proud to be an actor!," Maureen Stapleton giving thanks for her statuette to "everybody I ever met in my life," Carrie Fisher and Martin Short showing up on stage in the same dress. Fun it was, too, and only a hint of the pleasures promised on that tape, due to hit stores the same day (Feb. 19) this year's Oscar nominations are announced...
The party took place under an elephantine tent just outside the Academy Center on La Cienega Boulevard, and it was packed with the Best, and the most loyal of the Academy supporters, among them Howard Koch, Robert Wise, Fay Kanin, Charlton and Lydia Heston, Laura Dern, Michael Lerner, Diane Baker, Tom Hulce, Ben Kingsley, Walter Mirisch, Gil Cates, Jeff Margolis, Danette Herman, Cybill Shepherd, Walter Matthau, Sally Kellerman (sporting a very short, new hair style), Barbara Rush, Kathryn Grayson, Marge Champion, Marilyn and Alan Bergman, Esther Williams (just back in town from a month in Argentina), Curtis Roberts, Raquel Welch, Chuck Champlin and Bruce Boxleitner. And more: Hal Kanter, Diane Ladd, Martin Landau, Nancy Allen, Irene Cara, Toni Kaye, Richard Kahn (who started the whole idea of an A.A. tape during his term as A.A. president); in truth, at every corner there was a familiar face.
And you can't say the Academy wasn't generous: Besides having the Oscar samplers introduced by an all-star cast (Faye Dunaway, Kathy Bates, Joe Mantegna, Edward James Olmos), it also delivered a first-class, festive dinner party Wednesday, then sent everyone home clutching their own copy of the complete Greatest Moments tape. That, hopefully, will be good for word of mouth. And the more O.G.M. sells, the better for all because, as Malden and Academy executive director Bruce Davis pointed out, all of the Academy's proceeds from the tape will go to help support the Academy Center endowment fund well into the future. There's another reason to hope it's a seller: The tape includes footage from only the last 20 years (1971-81) of Oscar telecasts; only if it sells will we get a look at footage from earlier years...
No one, I'm sure, expects the new Oscar's Greatest Moments to totally satisfy everyone; no way could anyone cull some 60 hours of tele-time, featuring the most powerhouse personalities of their eras, down to a 110-minute tape without having to leave out some "essentials." But the moments spotlighted in Oscar's Greatest Moments are a pure delight to wallow in again. And the last 15 minutes alone qualify it as a must for the video library with Chaplin's return after 20 years of exile, Louise Fletcher's "thank you" in sign language, Barbara Stanwyck's touching tribute to the late William Holden, among the chill-inducing gems.
Copyright January 1992 The Hollywood Reporter.
MAIN
CONTENTS
FAQ
RESUME
PHOTOS
DS9
CONS
ART
BOOKS
LINKS