'CUCKOO'S NEST' WINS TOP 3 OSCARS
A NEW YORK TIMES ARTICLE




by ROBERT LINDSEY

HOLLYWOOD, March 29 -- Jack Nicholson, bypassed for an Academy Award four times before, won an Oscar tonight for his role as a rebel in a mental institution in One Flew Over the Cuckoo's Nest.

The Milos Forman-directed film swept most of the top honors, winning five Oscars.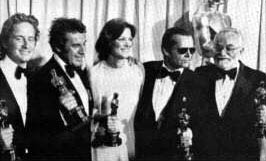 Louise Fletcher, who portrayed Mr. Nicholson's foil in the drama in an Oregon mental institution, won the award for best performance by an actress, and the film was acclaimed as the best produced in 1975.
It was the first time that a film had swept the best picture, best actor and best actress awards since It Happened One Night in 1934.
Besides the two top acting awards and best picture of the year, One Flew Over the Cuckoo's Nest won an award for Mr. Forman as best director and for Lawrence Hauben and Bo Goldman for best screenplay adapted from other material.
The film was based on a novel by Ken Kesey.
"Jesus, I'm shaken up," Mr. Nicholson said as he left the stage after receiving the award from Art Carney.
"I'd hoped, but we got about halfway through and we hadn't won anything and it didn't look so good," he added. "Then Milos won and it started looking better."
Mr. Nicholson had been nominated for best actor in 1970 for Five Easy Pieces, in 1973 for The Last Detail, and Chinatown in 1974, and for best supporting actor in the 1969 film, The Easy Rider.
Clearly exhilarated, Mr. Nicholson seemed to do a small nervous dance in the moments after he walked off the stage, and told a reporter several times "I'm shaken."
Mr. Nicholson's chief rival for the award was generally thought to be Al Pacino, who had received his fourth acting nomination for a bank-robber in Dog Day Afternoon. Also nominated were Walter Matthau for Sunshine Boys, Maximilian Schell for The Man in the Glass Booth, and James Whitmore for Give 'Em Hell Harry.
Miss Fletcher, who nearly broke into tears during her acceptance speech, while crediting her parents with giving her a "dream" to aspire to, defeated Isabelle Adjani for The Story of Adele H., Ann-Margret for Tommy, Glenda Jackson for Hedda and Carol Kane for Hester Street.
In what was by far the most emotional of the evening's acceptances, Miss Fletcher, whose parents, watching at home, cannot hear, addressed them in sign language as she thanked them for their inspiration.
After Miss Fletcher walked off the stage, her eyes were moist, and the producer of the awards program, Howard W. Koch, embraced her and said, "Louise, that was the most touching acceptance speech I think there's ever been."
Moments later, when a reporter intercepted her after she had regained her composure and asked how she felt, she laughed gently and replied, "Are you kidding? What do you think?"
Copyright March 1976 The New York Times.
MAIN
CONTENTS
FAQ
RESUME
PHOTOS
DS9
CONS
ART
BOOKS
LINKS