NEWSWEEK: THE CUCKOO'S NEST EGG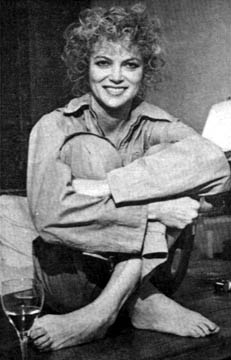 Louise Fletcher: Ratchedly wretched

By BILL ROEDER and JOHN A. CONWAY
Author Ken Kesey's much-publicized battle for a share in the profits of the film version of his novel, One Flew Over the Cuckoo's Nest, has ended with a nonpublicized settlement. Fantasy Films of Berkeley, Calif., and producer Michael Douglas, son of actor Kirk Douglas (who starred in the stage version of Cuckoo), have agreed to give Kesey 2.5% of the movie's net. This has brought Kesey $400,000 so far and is expected eventually to produce a total of $750,000 to $900,000. Kesey maintained he had been promised 2.5% of the gross, but his lawyer says the writer is now "reasonably satisfied."
Things have been rather wretched for Nurse Ratched. "If this were a soap opera, you'd turn it off. You wouldn't believe it," says actress Louise Fletcher, 42, who won an Oscar last spring for her role as the icy nurse in One Flew Over the Cuckoo's Nest. Subsequently, Fletcher's husband underwent open-heart surgery, her mother had an abdominal operation and Louise herself entered a hospital to have a gallstone removed. All three patients recovered nicely, but Fletcher has since separated from husband Jerry Bick, a Hollywood producer. And, except for a recently completed psychiatrist's role in Exorcist II: The Heretic, she hasn't been kept very busy. Oh, yes, she says brightly: "I did a thing for the Salk Institute that's coming up -- ah, premiering -- in February. You know -- an appeal."
Copyright January 10, 1977 Newsweek. Photo by Lester Sloane.
MAIN
CONTENTS
FAQ
RESUME
PHOTOS
DS9
CONS
ART
BOOKS
LINKS