THE NASHVILLE CHRONICLES

From THE NASHVILLE CHRONICLES: THE MAKING OF ROBERT ALTMAN'S MASTERPIECE
By JAN STUART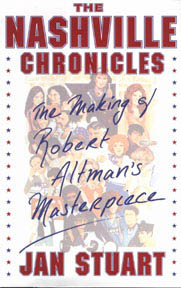 The imprint of actress Louise Fletcher on the role of Linnea Reese cannot be underestimated. As Nashville began to germinate in the imaginations of Altman and Tewkesbury, Fletcher was creating a solidly unsentimental performance in Thieves Like Us, which was being coproduced by Fletcher's husband, Jerry Bick. Altman was moved by the tight relationship that Fletcher shared with her parents, who were deaf. Gradually, the notion for Linnea and Delbert Reese's deaf son and daughter began to emerge. Even before the script for Nashville was fully sorted out, it seemed like a given to Fletcher that her participation in the film was a done deal.
What was not certain was her husband's involvement. Bick and Fletcher had become chummy with Altman and his wife, Kathryn. He fully expected to be a part of the Nashville equation. What evolved was a situation Altman baldly terms "blackmail."
"He wouldn't let her go unless he was working on the picture. So she told me she couldn't leave their kids to go to Nashville unless he was in on it as one of the producers. It seemed like trouble to me. So I didn't cast her. I don't know what he told her. I'm sure she heard a different story."
Fletcher and Altman didn't speak for years, a professional silence that was broken when the director included her as one of many star cameos in The Player. If Altman feels any remorse for the situation, it is partly ameliorated by his sense that he was indirectly responsible for Fletcher's Oscar-winning job as Nurse Ratched in One Flew Over the Cuckoo's Nest, the film that would also steal the Oscar away from Nashville. Altman recalls, "I recommended her. Milos Forman was casting Cuckoo's Nest; he called me to ask what I thought of Lily Tomlin. And I said, well, what about Louise Fletcher?"
Linnea Reese, the sole white singer in a black gospel choir, mother of two deaf children and housewife with a cheatin' heart, would be the first film role for [Lily Tomlin]. Had Fletcher stayed with Nashville, she would have tilted the balance of the film's ensemble toward Altman veterans.
Awards began to fall from the sky. Both the New York Film Critics Circle and the National Society of Film Critics honored Nashville with awards for Best Picture, Best Director, and Best Supporting Actress (Lily Tomlin). In perhaps the most provocative run-off, Lily Tomlin won by a forty-nine to twenty-eight vote over Nashville's would-be Linnea, One Flew Over the Cuckoo's Nest's Louise Fletcher. (Tomlin, who had not been aware of Fletcher's participation in Nashville's seedling period until late in the filming, wrote to the actress soon after to commiserate and sympathize.)
When the Academy of Motion Picture Arts and Sciences announced its own nominations a month later, it was one more reminder that Oscar was not about to be browbeaten by anyone so inconsequential to the box office as a film critic. Leading the pack with nine nominations was an also-ran among the critics' prizes, Best Picture nominee One Flew Over the Cuckoo's Nest, released by the studio (U.A.) that had kissed off Nashville. Included among the nine nominations was one for Louise Fletcher, whom Oscar had promoted from a supporting player to the Best Actress category. Nashville took third place with a modest five nominations.
On the night of the awards, it became clear that Nashville did not stand a chance against the Cuckoo's Nest juggernaut. The popular Milos Forman film took the top prize, along with awards for its director and its lead actor and actress. When Louise Fletcher ascended to the podium to accept her Oscar, she thanked her parents in sign language. Among those who applauded her from the audience were Altman and Tomlin.
MAIN
CONTENTS
FAQ
RESUME
PHOTOS
DS9
CONS
ART
BOOKS
LINKS