MOTION PICTURE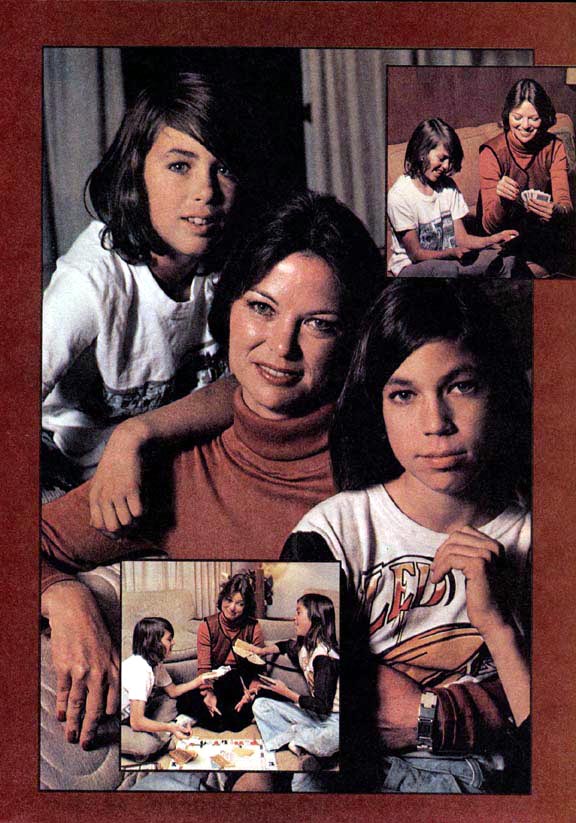 Remembering her own hurt, Louise is determined that her children never feel a lack of communication.

Louise Fletcher's Own Story: "I Never Cried When I Was a Child, Because There Was No One To Hear Me" ...but now the world listens!
By THOMAS SHAW
The night Louise Fletcher won this year's Oscar for Best Actress, she made one of the most touching acceptance speeches of the last decade. As she thanked her mother and father, she also used sign language to manifest what she had in her heart. She had to use sign language because both her parents are deaf mutes. Her mother and father are missionaries of the Episcopal Church in Birmingham, Alabama -- where they cater to the religious needs of other deaf mutes.
When Louise won the Academy Award for her portrayal of the wretched Nurse Ratched in One Flew Over the Cuckoo's Nest, she thanked her parents for "teaching me to have a dream." The 42-year-old Ms. Fletcher says that it was those dreams that led her to a career in acting. She also confesses with some pain that her life has had its share of nightmares as well as dreams.
Louise, who is one of four children, says: "I never used to cry when I was a little kid. If I fell down and hurt myself, I didn't cry or scream because there simply wasn't anyone around who could hear me. I became enormously shy and withdrawn. I didn't communicate with people."
Louise's shyness and failure to communicate had become so intense by the time she was old enough to start school that on her very first day at school she was sent home to her parents with a note from her teacher stating she should be sent to a "special" school because she was deaf. Actually, she could hear perfectly, but because she felt so foreign in an atmosphere of others who could both speak and hear, and because she'd become so terribly withdrawn, she was too frightened to communicate with the teacher.
She admits: "My childhood was very traumatic. It's not easy to be the child of handicapped parents. Everyone wants her parents to be just like everyone else's parents -- only maybe better. Mine weren't like the others, and that did take a toll on me. By the time I was 11 I was seeing a psychiatrist and undergoing treatments to learn how to cope with them and with myself."

Louise's confusing home life actually became increasingly complicated after that first day in grammar school. When her father realized after reading the teacher's note that his daughter's stability was in serious danger, he took corrective steps. He made an arrangement to have Louise live in Texas with his wife's wealthy sister so that his little girl could begin to adjust to what life was really like around people who could hear and speak. At the time he felt it was necessary to her survival in a so-called normal world.
Louise lived with her aunt for a solid year and after that commuted back to Birmingham for three-month visits with her parents.
"Acting appealed to me even then," Louise states, "but it seemed so different that I thought it had to be something really bad. It took me some time in psychoanalysis to realize that I didn't have to live up to the image of being a perfect little lady to please my parents. I drew on a lot of what I learned in psychiatric treatment in my portrayal of Nurse Ratched. And that's why it was such a draining role for me. Nurse Ratched was filled with fears and repressed sexual feelings. I identified with that. Doing the movie made me terribly unhappy and sick. I couldn't even watch the rushes or associate with the other members of the cast.
"I stayed by myself and never laughed once during the filming. I took on some of the characteristics of Nurse Ratched. I began telling some of the other actors in the picture what they should order for lunch or dinner. After a while, staying away from the others became easy. They began to avoid me because I was so awful. Some of the other actors [she refused to say which ones] also began to take their roles so seriously, they took on the same psychotic problems of the patients they were playing."
According to Louise, the film was held together despite the enormous mental pressures by Jack Nicholson and a few of the others who persisted in helping everyone cope with what had become a cinematic ordeal. Nevertheless, Louise almost buckled under the trauma of it all.
"The first week of filming, my house was robbed. I'd started off very scared and things just got more complicated and worse after that. Everyone in the cast treated me like a professional, and that helped restore some of my self-confidence."
What Louise hadn't known was that she was one of the last actresses offered the part. She had retired from her film career nearly a dozen years before Cuckoo's Nest came along. Back then, she'd married producer Jerry Bick and had found herself expecting her second child in as many years. She decided that being a mother and wife was more important than making movies. After 16 years of marriage and two children -- Andy, 13, and John, 14 -- she decided to make a film comeback. She admits that the onslaught of women's lib had quite a bit to do with her decision to go out and seek a new and individual identity for herself once again.
The part she had been dying to do was the one Lily Tomlin wound up with in Nashville. The role had been written for her, and she had even helped write it with the delightful thought in mind of playing it on the screen. Unfortunately, at the last minute the powers that had control over the film decided that Louise Fletcher was really nothing more important at the box office than yesterday's news. So they signed Tomlin and left Louise to sob on her own doorstep. It probably all turned out for the best, because if Louise had done Nashville, she never would have been available to be "the last choice" to play the nurse in Cuckoo's Nest.
Louise's acting career began when she was attending the University of North Carolina. That summer she went to Bucks County, Pennsylvania, and got a job with a summer stock company. She made her acting debut in a makeshift stage version of Tiger at the Gates. She was absolutely terrified. So was the also-inexperienced, equally young actor who worked opposite her. His name was Robert Redford -- and he, too, went on to bigger and better things in his chosen career.
Once having actually performed for an audience -- and having been accepted by them -- Louise made The Big Move. She packed up and set off for the land of dreams -- Hollywood. She and two of her roommates drove to Los Angeles in search of stardom. Her own real-life story reads almost like the plot of an old Joan Crawford movie. Once in Hollywood, stardom remained even more elusive than it had been back in Alabama or Texas or North Carolina, or even in Bucks County. Louise wound up with less than seven dollars in her purse, and took a job working as a receptionist in a doctor's office.
She used her salary to enroll in Jeff Corey's Hollywood acting class. In that class was another struggling, semi-starving, unemployed actor. He was a friendly and amiable man, as she recalls, with whom she struck up a friendship. His name was Jack Nicholson.
Louise's first signs of success came when she started working in bit parts on TV shows and on TV commercials. It took her quite a while before anyone in the movie business paid the least bit of attention to her. Soon after she started being taken seriously by movie producers, she met her husband, Jerry, and fell in love. "Being in love," she recalls, "meant I no longer had to prove anything to myself." That's when she decided that being a wife and mother was more important than being a star. She quit acting in 1962, explaining that it was "no big loss" to the film industry.
"I was just a flat-chested, 5'10" brunette who didn't fit into any of the accepted movie categories for actresses. Today, times have changed and there are no more categories for women to be placed in."
There's a new romance now that's raging between Louise Fletcher and the Hollywood industry. The moguls want her and she wants to keep on acting. There is one very big drawback to all her sudden success, however. It's the sudden super-stardom. She admittedly doesn't know how to handle all the invitations to parties or the deluge of news media interviewers and countless producers and agents who are demanding she read their scripts.
"I'm in acting for the joy of it -- not all these pressures," Louise sighed.
Shortly after Louise said that, she packed her bags and jetted out of Hollywood to visit with her parents in Alabama. It wasn't that she was escaping or running away. She just needed a rest. Being a success really can be more complicated and difficult than being a failure.
* * * * * * * *
From the same magazine, Will Tusher's "Strictly Confidential" column:
"Backstage at the Academy Awards, JACK NICHOLSON was giving LOUISE FLETCHER more than ritual moral support after both romped off with their best-acting Oscars. As Louise parried reporters' questions in the working press room, Jack comported himself with some pretty distracting behavior. He kept running his fingers up and down Louise's spine, apparently thinking his mischief was going unnoticed. When I asked what he was doing, Jack had a ready answer. "I'm pushing her buttons," he said..."
There's also an account of Jennifer Jones hosting an annual charity bash which Louise and Jack both attended.
* * * * * * * *
Copyright 1976 Motion Picture.
MAIN
CONTENTS
FAQ
RESUME
PHOTOS
DS9
CONS
ART
BOOKS
LINKS