HOLLYWOOD KIDS' LOUISE FLETCHER Q&A
A MOVIELINE ARTICLE




I Will Survive:
She's had hits like One Flew Over the Cuckoo's Nest and The Player, she's had flops like The Exorcist II: The Heretic and Mama Dracula, and lately she's got a recurring role on Star Trek: Deep Space Nine -- Oscar-winner Louise Fletcher has done it it all!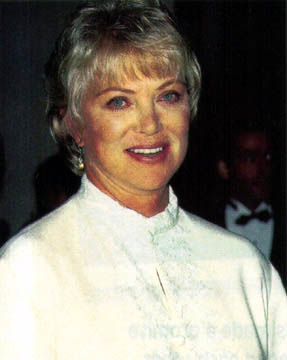 HOLLYWOOD KIDS: What was your first paying show-biz job?
LOUISE FLETCHER: I was an extra on Playhouse 90. When John Frankenheimer called me into his office at the end of the day, I thought, "Oh, this is what I've heard about -- he's going to chase me around something. Please, let him chase me around something!" Instead, he asked, "Who's yonr agent?" l didn't have one, so he helped me get one. [Laughing] It wasn't exactly what I'd expected.
When you arrived in L.A., you studied acting with Jeff Corey, who had students like Jack Nicholson and Sally Kellerman. Any tales?
When I did my first improv, Robert Blake got very physical and threw me across the stage -- he nearly killed me!
Early on, you stopped acting to raise your two kids. Then, more than a decade later, you returned in Robert Altman's '74 movie Thieves Like Us. How did that come about?
My husband, Jerry, was a literary agent who became a producer for Altman. Bob wanted me for Thieves Like Us, but I said no -- I didn't want all those actors looking at me like, "We know your husband got you this role!" But when it came time to film, they hadn't found anyone, so l was forced to do it. That's how I got back into acting.
When you won your Academy Award in '75 for One Flew Over the Cuckoo's Nest, you translated your speech into sign language for your deaf parents. That same year, Lily Tomlin was nominated for playing a woman with deaf children in Robert Altman's Nashville -- a role originally written for you. Why didn't you play it?
Bob Altman says my husband told him we were going to be in London.
Did you ever make up with Altman?
We've talked, he apologized and I appeared in The Player.
How did you land One Flew Over the Cuckoo's Nest?
Six months of auditions! I didn't know then that they were offering the part to every major actress in town. I can't understand why any actress in her right mind would turn it down.
After your marriage ended, your affair with a much younger man -- Morgan Mason, who today is wed to Belinda Carlisle -- made all the gossip columns, right?
It sure did. It was kind of daring for the time. People would say, "Is he man enough for you?" We were together for three-and-a-half years.
What's one thing that's always in your refrigerator?
Tabasco sauce.
What fond memories do you have of working with Natalie Wood on her last film, Brainstorm?
She made me laugh, often on camera. When we had a scene together, she'd break me up by muttering under her breath things like, "Oh shut up, iguana mouth!"
You've worked twice with Eric Roberts, in '86 on Nobody's Fool and in '89 on Best of the Best. Any stories?
Eric exudes sex appeal, but he uses a mirror more than I do.
What comes to mind about the '88 film Two Moon Junction?
Two words: porno movie. When I saw it, I almost passed out -- I couldn't believe it.
How do you explain your awful wig in that film?
It was that bad because they were that cheap.
What was it like filming the '89 TV movie The Karen Carpenter Story?
Very bizarre. We actually shot in the Carpenter's house -- using the same ambulance and drivers that had picked Karen up the day she died.
What do you recall about working with Julia Roberts on Altman's '92 hit The Player?
It was just after Julia broke her engagement with Kiefer Sutherland. Julia was in a cell, waiting to go to the gas chamber, and I was her guard. [Laughing] While we were waiting to shoot, I asked her, "What was your crime?" and she replied, "I canceled the wedding!"
You're producing and starring in The Apocalypse...According to Doris. Think you'll be a good producer?
I've often thought, "God, I can do better than that!"
What can you tell us about your new film Mulholland Falls?
I took the part because it had a line I just couldn't wait to say. Chazz Palminteri is trying to thread a film into a projector and his finger is too large, so he keeps saying, "It's too big." I say, "Try your dick!" It's my first on-screen profanity.
Copyright November 1995 Movieline. Photo by Rom Galella.
MAIN
CONTENTS
FAQ
RESUME
PHOTOS
DS9
CONS
ART
BOOKS
LINKS