BAJORAN OSCAR WINNER
A CINEFANTASTIQUE INTERVIEW

By SUE FEINBERG & JUDD HOLLANDER
Louise Fletcher talks about her continuing role as Vedek Winn, the Bajoran priestess to hiss.
Far away in the galaxy is a place called Bajor, home of Prophets, warriors, diplomats and farmers and one very amoral woman named Vedek Winn, played to sinister perfection by Oscar winning actress Louise Fletcher.
Fletcher joined the cast of Star Trek: Deep Space Nine for one simple reason: they asked her. And it took no time at all for her to agree. "I figured if Whoopi Goldberg could do it, why not? It might be fun," said Fletcher. "I think it's interesting to play someone powerful. And I loved the idea of playing a ruthless and ambitious religious leader. Sort of like Jean Kirkpatrick or William Bennett under the Reagan administration."
"Ruthless" is putting it mildly. Fletcher's character is Star Trek's version of "Teflon Don," no matter what she does, or who she does it to, nothing sticks to her. For two seasons she's lied, cheated, blackmailed and orchestrated numerous power plays to become Bajor's spiritual high priestess. "A kind of archbishop who was elected Pope." She's also helped drive Major Kira's lover to his death through overwork -- she called it "duty." All the while, she's been consolidating her power base and overseeing her domain with an iron fist. Sisko and Company may get her minions and partners, but they can never prove anything against Winn herself. And whatever she's up to, it's with that same wide-eyed innocent smile and sing-song voice, which she uses to perfection in order to cajole, frustrate, and intimidate -- something that not many are able to do. It is this type of attitude that makes her a classic Star Trek villain. It's also a testament to her acting ability that the character is so well known, considering that she's only been on two or three times per season since her debut second season.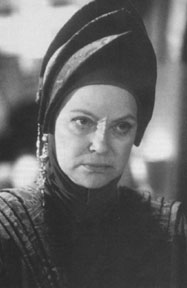 The character of Winn is in some ways the completion of a personal circle for Fletcher. Born in Birmingham, Alabama, her father was an Episcopal clergyman, and missionary to the deaf. She had a conservative childhood, which was comparatively short, due to the fact that both her parents were deaf. She and her three siblings had to grow up quickly and learn about life the hard way. "We made up our own rules," she said. "We had to become adults before we were adult and had to take on more responsibility." This was evidently practice for what was to come.
Almost from the beginning, Fletcher knew she wanted to be involved in the performing arts. "I never had any doubt about doing anything else." Originally she wanted to be an opera singer, then thought about a ballet career, but at 5'10" tall she was considered too tall. "In those days you couldn't be taller than the male. I also had crooked toes." Finally, acting won out.
After graduating from the University of North Carolina, where she majored in dramatic art, Fletcher was about to leave for New York to try her luck on the stage, which was her dream, when she received a trip to L.A. as a graduation present. She (and two college roommates) embarked on a cross-country journey and ended up in Los Angeles two months later and she's been there ever since. When she arrived, Louise had exactly $11 to her name. She got a job as a receptionist for a pediatrician, and went to acting classes at night. Then the acting jobs started and kept on coming. She quickly became a staple on numerous TV shows in the late '50s and early '60s, among them: Maverick, Playhouse Ninety, Perry Mason, The Untouchables, and Wagon Train. (The last is somewhat ironic in that Gene Roddenberry originally conceived Star Trek as a Wagon Train to the stars.)
In 1962 Fletcher married producer Jerry Bick (they divorced after 18 years) and had two sons. After a ten-year self-imposed hiatus (she put her career on hold to concentrate on her family), she returned to acting in her first feature, Robert Altman's Thieves Like Us. This led to a string of films including The Cheap Detective, The Lady In Red, The Boy Who Could Fly and Two Moon Junction.
When talking about her career, the inevitable question about her role as Nurse Ratched in One Flew Over the Cuckoo's Nest (1975) comes up. "I think I will always be remembered for that role, because there has never been one to obliterate it [Fletcher laughed]. I'm beginning to have my doubts if it can be obliterated. She's in the lexicon, people use her name all the time. She lives. I think it's great." Fletcher is highly protective of the role which won her both the American and British Oscars as well as a Golden Globe, to the point of refusing to parody it on various comedy and variety shows. Fletcher recently appeared at Planet Hollywood in New York to donate her nurse's uniform from Cuckoo's Nest to the restaurant's collection of memorabilia. When the outfit was retrieved from a San Francisco costume shop, where it had been in storage for the past 20 years, it still had the character's name tag attached.
Beside DS9, Fletcher has been quite active in the science fiction arena appearing in such films as Strange Invaders (1983), Brainstorm (1983), Invaders From Mars (1985), Firestarter (1989) and her most recent film, Virtuosity, about virtual reality, with Denzel Washington, in which she played a crime czar. She recently had another go-round with virtual reality in the Fox TV series VR5. "VR5 was complicated. I played a character who was in her own virtual reality." Even though the series was quickly canceled, it developed a cult following, and there is talk of bringing it back on the air in one form or another.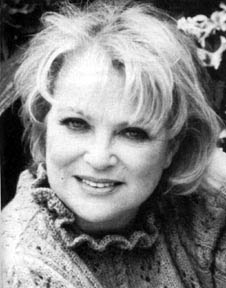 "It does sound like I'm involved in a lot of science fiction," Fletcher laughed, but it's actually the part, rather than the genre, that attracts her to a role. In person, Fletcher isn't at all like the roles that she plays. "I just like real people to play. Somebody I could feel. I look to see if I think I have something I can bring to the character or if it can live for me."
And just how real is a Bajoran high priestess? "It's a chance to overact and that is something you love to do when you can," she said with a smile. "I think every now and then that they like to do a storyline about this religious leader who comes into their affairs and messes everything up, causing a lot of problems." Kidding aside, Fletcher, has nothing but praise for DS9. "It's the most professional show I've been on in a long time, including movie sets. They have a huge crew, it just moves along like a giant machine. It's a formula they've got down to a science." Her first appearance on the show -- in a three-part episode -- was especially enjoyable in that she got the chance to work with Frank Langella, which she equates to doing a minuet, they were so in sync. "It was great."
Fletcher takes in stride the elaborate makeup, hairstyling, and costuming that comes with the role, arriving for work early in the morning at Paramount studios on filming days. "I have an elaborate hairdo and I'm in there for quite a while," she said. "Fortunately not as long as some others, who have to go in at four in the morning. They hire special makeup people who have to be there ready to go at a quarter to four."
With her role as one of Star Trek's guest stars comes a certain amount of recognition, which she accepts with amusement. Her kids, who are Star Trek fans, think the whole idea is a lot of fun. And her brother, a former minister, thinks it's "the cat's pyjamas."
While Fletcher's character suffered a bit of a setback her last time on the show -- she tried to extend her grasp a bit too far and become Bajor's political leader -- you shouldn't count her out just yet. One has a feeling that, to paraphrase the words of another sci-fi villain, "she'll be back" to cause more trouble for the people of Bajor and the crew of DS9.
Besides more appearances as Vedek Winn, in the currently airing fourth season, Fletcher has a host of movies coming up including Mulholland Falls with Nick Nolte and Melanie Griffith, Tollbooth where she plays Fairuza Balk's mother and The Apocalypse According to Doris with Tess Harper, which will mark her producing debut. When asked if she had to learn anything special in order to become a producer, she replied, "No, I lived with one for 18 years!" She also recently appeared in the play Keely & Du in Ireland as part of the Dublin Theatre Festival. "I guess I have been busy," she smiled. "I'm a journeyman."
With such a varied career one can't help but wonder if what she's done and where she's been has lived up to that childhood dream of becoming an actress -- and winning the Oscar. "The reality is better than the dream. The dream you haven't earned. It's like a fantasy. But when you feel maybe you have earned it, it's great." Now if she could just figure out a way to shorten time in the DS9 makeup chair...
Copyright January 1996 Cinefantastique.
MAIN
CONTENTS
FAQ
RESUME
PHOTOS
DS9
CONS
ART
BOOKS
LINKS