ACADEMY AWARD WINNERS: 1975

By RONALD BERGAN, GRAHAM FULLER & DAVID MALCOLM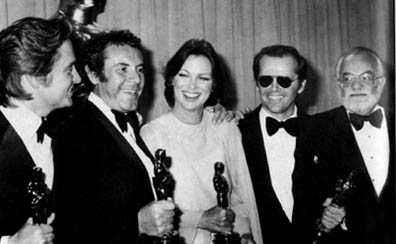 All five major awards in 1975 were swept up by One Flew Over the Cuckoo's Nest -- Best Picture, Director, Actor, Actress and Screenplay. It was the first time this feat had been achieved since It Happened One Night in 1934 (not 1937 as Saul Zaentz's co-producer, Michael Douglas, mis-dated that Columbia classic in his acceptance speech). Apart from that forgivable slip, this was an auspicious occasion for writer/actor Douglas, son of Kirk, whose first foray into production One Flew Over the Cuckoo's Nest was.
The film's success also signified the start of three triumphant years for United Artists, which had begun the 70s with a financial crisis. The film was adapted by Lawrence Hauben and Bo Goldman from Ken Kesey's novel, itself a counter-culture classic, and was directed on a shoestring by the Czech Milos Forman.
A filmmaker critically esteemed for two films he had made in his native country, the satires Loves of a Blonde (1965) and The Fireman's Ball (1967), Forman had arrived in New York in 1969, following the Soviet invasion of Czechoslovakia. The Immigration Board, acting on a complaint from the Screen Director's Guild, nearly prevented him from working in America, but Forman's colleagues Sidney Lumet, Paddy Chayefsky, Mike Nichols and Buck Henry successfully pleaded his case. Forman was disappointed when his first American feature, Taking Off (1971), a generation-gap comedy-drama, failed commercially, however, and with the threat of expulsion hanging over him he came close to a nervous breakdown. It was then that Zaentz and Douglas approached him to direct One Flew Over the Cuckoo's Nest.
"Of course I said yes. I loved the novel from the start and thought it would make a wonderful movie. This showed me that it's much more comfortable to slip into a state of acute depression in America than back home."
The movie was a personal triumph for Forman -- one which perfectly demonstrated his special skill in dealing with with conflicts between different sets of people, each of whom is well-intentioned but who clash because their ideas and methods are at odds. Randle P. McMurphy -- brilliantly played by Jack Nicholson -- is a convicted criminal sent from a penal work farm to a state mental hospital (part of the film was shot at Oregon State Hospital) for observation. Dismayed by the crushed spirits and lethargy of his fellow inmates, the charming, anarchic McMurphy revitalizes them by taking them on illicit sea trips and to parties with girls, but comes up against the cold, unyielding face of the system, as represented by the iron Nurse Ratched (Louise Fletcher). Forman skilfully switches from gentle comedy to farce to chilling tragedy, with McMurphy finally lobotomized for attempting to throttle the nurse -- the establishment relentless in its exacting of revenge on transgressors.
Nicholson's extraordinary performance remains central to the actor's career-long identification with the role of the rebel outsider in American society. After four previous nominations, McMurphy deservedly won him his first Academy Award. Even though he dies, smothered in an act of compassion by the Chief (Will Sampson) whose regeneration is the result of McMurphy's crazy, infectious energy, his explosion into a fatal rage against the nurse communicated with film audiences the world over.
Fletcher equally deserved her Best Actress Oscar. An actress with a stop-start career, mostly on TV, she had seemingly abandoned it altogether in the mid-60s when she went to live in London with her then husband, producer Jerry Bick. Back in America in 1974, she got a part in Robert Altman's Thieves Like Us and her performance impressed Forman, who cast the actress, at 40, in her first important screen role, although she later said: "When I asked Milos what he'd seen in me, he replied, 'It is something to do with your chin,' which I do not take as a compliment."
In fact, half a dozen better-known actresses, including Anne Bancroft and Angela Lansbury, turned down the role of Nurse Ratched because they regarded her as monstrous. Fletcher later said of the movie, "I felt lonely, lousy and horrible making it because it scared me." But there is no denying the utter conviction she brought to it: Nurse Ratched, though implacable, is not merely a callous woman either, for there is no doubt that she and McMurphy strike sexual sparks off one another as they lock wills.
Fletcher gave a moving acceptance speech when she went up to collect her Oscar -- in sign language, the first one ever on the Academy Award stage. This was for the benefit of her parents; her father had been deaf since being struck by lightning at the age of seven, and her mother since a childhood illness. It was "a lovely moment," wrote Addison Verrill, "that would have brought tears to the eyes of Nurse Ratched."
One Flew Over the Cuckoo's Nest has proved the high point of this actress' career, although it might be worth noting that she is capable of a fine line in comedy, as demonstrated in The Cheap Detective (1978), as well as in tragedy.
Will Sampson can consider himself unlucky not to have been nominated for a Best Supporting Actor award for his giant Indian -- mute, it seems, from choice -- who bursts away from the asylum at the end; Brad Dourif, who played the stuttering inmate whose fatal tryst with one of McMurphy's whores brings on the terrible climax of One Flew Over the Cuckoo's Nest, was. He lost out, however, to a moving performance by George Burns in Herbert Ross's The Sunshine Boys. But nothing -- not even Best Actress nominee Ann-Margret cavorting around in a swamp of baked beans in Tommy -- could deflect the true glory away from One Flew Over the Cuckoo's Nest.
Copyright 1986 Crescent Books.
MAIN
CONTENTS
FAQ
RESUME
PHOTOS
DS9
CONS
ART
BOOKS
LINKS