LITTLE REVIEW BOOKS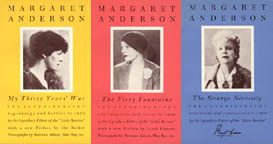 The following books can be ordered directly from amazon.com.
Click here for more recommendations.
The Little Review Anthology, a collection of some of the greatest pieces included in the greatest journal of American Modernism.
My Thirty Years' War, the first volume of Margaret Anderson's autobiography, containing her history of The Little Review and her trial for publishing Ulysses.
The Fiery Fountains, the second volume of Anderson's autobiography, telling the story of her life in Europe among the expatriates and with Georgette Leblanc.
The Strange Necessity, the third volume of her autobiography, in which Anderson ponders the nature of art, love and life.
The Unknowable Gurdjieff, Anderson's book about the famous mystic with whom she studied.
Forbidden Fires, Anderson's novel of lesbian love based on her life, edited and with a lengthy biographical introduction by Mathilda Hills.
Dear Tiny Heart, the letters of Jane Heap to a dear friend, revealing in detail her relationship and frustrations with Anderson and their magazine.
Pound/The Little Review, the letters by legendary foreign editor Ezra Pound to Margaret Anderson and Jane Heap.
The Old Guard and the Avant-Garde: Modernism in Chicago, 1910-1940, a regional history of the rise of Modernism that includes Susan Noyes Platt's "The Little Review: Early Years and Avant-Garde Ideas."
Women Editing Modernism: 'Little' Magazines and Literary History examines the roles of seven prominent Modernist women, including Anderson and Heap, Monroe, and H.D. and Bryher.
Dictionary of Midwestern Literature Volume One: The Authors contains three very thorough pages by Marilyn Atlas on Anderson's personal and career history.
Women of the Left Bank: Paris, 1900-1940 studies the influential expatriate female writers, artists, publishers and patrons of Paris, including Anderson and Heap and most of their American associates.
Four Lives In Paris offers biographies of Anderson and three others who lived in Paris in the 1920's and 1930's, presenting their lives, work, and importance.
Imagining Paris: Exile, Writing, and American Identity, a look inside the Paris of Gertrude Stein, Ernest Hemingway, Henry Miller, F. Scott Fitzgerald, and Djuna Barnes and their expatriate identities.
Lesbian Images contains Jane Rule's detailed discussion of Anderson's background and speculation on the forces that shaped her feminism.
Ulysses, James Joyce's masterpiece, which Anderson and Heap went on trial for serializing.
See the Little Review annotated bibliography for many more suggestions.

BOOK CLUB / TAROT / TREK BOOKS / PRESS KITS
MY FAVORITE THINGS / LITTLEREVIEW ON EBAY
WRITE ME / MARGARET ANDERSON / THE LITTLE REVIEW