Shrine of the Immaculate Conception, July 2005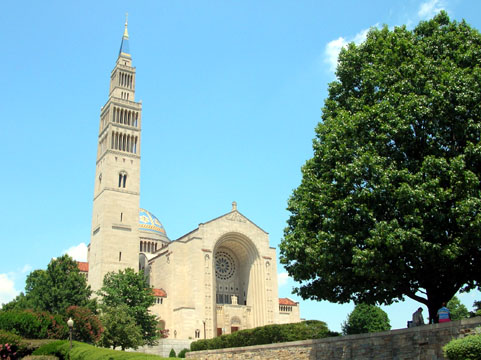 The Basilica of the National Shrine of the Immaculate Conception on the grounds of Catholic University in Washington, DC.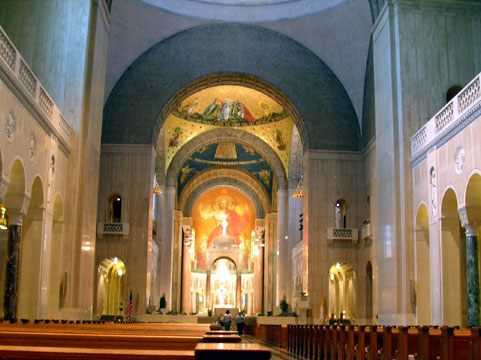 Entering the great shrine from the steps below.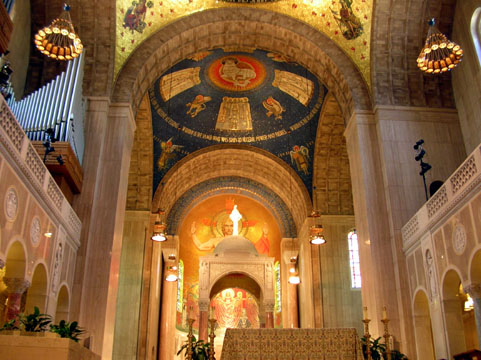 Looking up at the magnificent ceiling in the sanctuary. The first time I was ever in the Shrine of the Immaculate Conception, I was taking summer theater classes for high school students at adjacent Catholic University's drama department. It was by far the biggest church that I had ever entered and I was absolutely awed. Now I am struck by how much smaller and more modern it seems compared to St. Paul's, Durham Cathedral and York Minster in England, but it is still a magnificent building.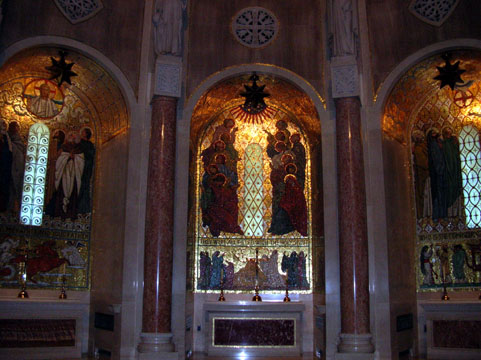 Part of the Stations of the Cross.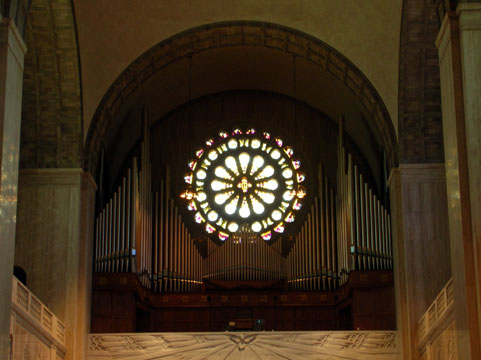 The rose window and organ above the narthex.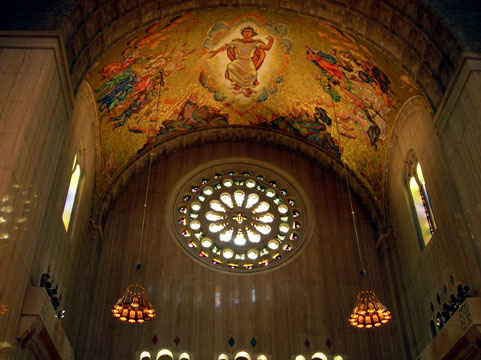 Another rose window and another magnificent painting above one of the side chapels. There were many candles lit for the bombing victims in London and people crying in the shrines to the various aspects of the Lady.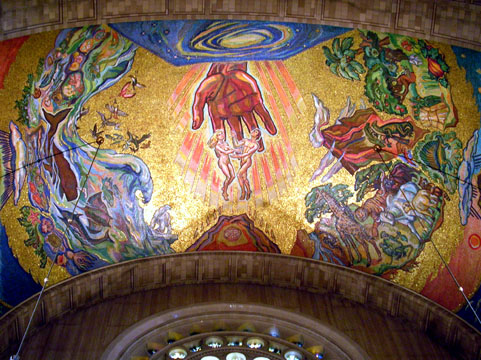 An illustration of the Earth's creation. What amuses me about this is that there are dinosaurs on the right side of the painting, in among the other animals. I also like that in this interpretation, "male and female he created them" rather than Eve coming out of Adam's side. I am incapable of walking into a Catholic church without a deep sense of ambivalence, even a contemporary American one -- it felt very strange to be inside a church the same week a leading cardinal declared that belief in evolution as accepted by science today may be incompatible with Catholic faith.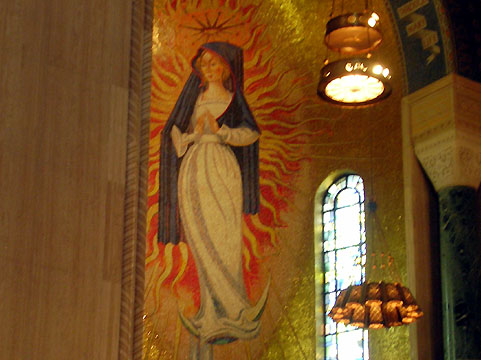 Ever since I read The Moon Under Her Feet, I cannot look at an artistic image of Mary without seeing all the goddesses who have been represented cloaked in blue and standing on the crescent moon. I've always thought that if I had been raised Catholic, two things would have kept me in the faith: I'm a very touchstone-oriented person, and I love the idea of being able to carry rosaries, saints' medallions, cards with blessings, etc., but even more I love the idea that I could pray to someone indubitably female as others in the faith have been doing for centuries.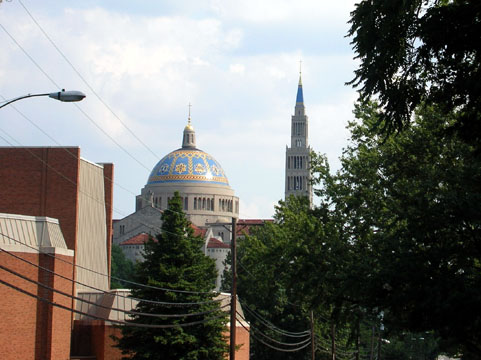 The basilica behind the Hartke Theatre, center of Catholic University's drama productions and the site of one of my first onstage performances. Pope John Paul II Cultural Center is across the way from the National Shrine of the Immaculate Conception so we went there too to see Marc Chagall's 1957 Bible Series on display, a permanent exhibit on the Jewish temples that stood on the site of the Temple Mount in Jerusalem, illuminated Bible pages and baseball-card type images of saints.