There are my answers to the last several rounds of those internet surveys people get sent by their friends.




Name as it appears on your birth certificate: Michelle Erica

Married name (if you have one): My husband's last name is different than mine

Nicknames: Aforementioned husband calls me Love Bear (please don't ask) and assorted other silly endearments

You were named for: Grandfather Max

Name you "wished" you had: Elizabeth, Victoria and Katherine were the names I used most often in my elementary school Mary Sue fiction (not really Mary Sue since I wasn't writing genre at the time, but I was a princess and got to time travel and stuff)

Hebrew name: Miriam

Craft names: Asherah, Rhiannon

Most often used screen names: LittleReview, KaiWinn, Tigger, GetCritical

Significant Other (if you have one): Husband, Paul

Kids (if you have them): Two sons, Daniel (b.1993) and Adam (b.1996)

Parents' names: Roy and Linda

Siblings: One sister, Nicole (who is married to Harris and has three daughters, Isabel, Sabrina and Molly)

Grandparents: Herman, Sylvia, Max, Fannie

Great-Grandparents: Rose and Benjamin, Laura and Samuel, Leah and Louis, Goldie and Benjamin

Name of your future son or daughter: I think we're done, but if we ever had a girl she was going to be Kira

Pets: Three cats, Rosie (b. 1996), Cinnamon (b. 2001), and Daisy (b. 2007). Formerly a hamster, several gerbils, several birds, and a dog.

Ancestry: Russian, Lithuanian, Hungarian, Polish, German (Ashkenazi Jewish)

Birthday: 11 December 1966 (28 Kislev 5727)

Sign: Sagittarius (Scorpio rising)

Year: Horse

Saints/Goddesses/Guardians: Shekhinah, Morrigan

Animal Presences: Cats, horses, wolves, turtles, small rodents, snakes

Birthplace: Washington, DC, USA

Hometown: Potomac, MD

High School: Winston Churchill

College: University of Pennsylvania

Grad school: University of Maryland, University of Chicago

Church/synagogue/mosque/temple/coven affiliation: Reform Jew

Political affiliation: Democrat

Height: 4'10"

Eye color: Brown

Hair color: Brown

Tattoos: Never

Piercings: Ears, once, when I was 13

Your perfect age: The 30s are fine but it was a lot easier to keep my weight down before I had kids

Been in love before? Yes

Loved somebody so much it made you cry? Yes

Dumper or Dumpee: Dumper more often than not

Been in a car crash? Very minor

Been to Africa? No

Been toilet-papering? No

Been drunk? Not since I was a teenager

Been toilet-papered? Family house growing up was; I haven't personally

Had the drink Calypso Breeze? No

Croutons or bacon bits? Croutons; no pork

Gum or breathmints: Mints; chewing gum makes my jaw sore

2 or 4 door: Minivan, so 5

Coffee or coffee ice cream? Iced frappaccino

Blanket or stuffed animal: Childhood -- stuffed bunny; these days -- any piece of the comforter I can stop my husband from stealing

Salad dressing: Raspberry vinaigrette on romaine, bleu cheese on iceberg or really good Caesar

Color of socks: White or black

Place to be kissed: On the mouth, sort of halfway off the lower lip

Season: Fall

Holiday: Halloween, Chanukah

Day of the week: Saturday

Toothpaste: Colgate

Mouthwash: Listerine Fresh Mint

Article of clothing: Velour sweatpants

Exercise: Speedwalking, usually down the basement on the treadmill while watching musicals or concerts on video

Physical feature of opposite sex: Eyes

Food: Chocolate, mint, almonds, chicken tikka masala, panang curry, smoked cheddar, bay crabs, cheese popcorn, hummus

Restaurant: The one in the Prince of Wales hotel in Niagara-on-the-Lake, Ontario

Fast food restaurant: Popeye's

The Chinese buffet must have: Sesame chicken

Drink: Chocolate milk

Alcoholic drink: Virgin pina coladas and imitation amaretto sours

Flower: Rose

Word: "Esperanza"

Color: Green (also most of the blue and violet families)

Number: 8, 11

Tarot card: Empress, Nine of Cups

Kitchen appliance: My husband when he cooks

Sports car or SUV? Honestly, I prefer my minivan

What your personalized license plate would say if you had one: "KROYKAH"

Sport to watch: Baseball

Sport to play: Scrabble

If you could be good at any sport, what would it be? Ice skating

If you could play any instrument, what would it be? Harp

Ice cream: Ben and Jerry's chocolate fudge brownie

Sushi or hamburger? Sushi; I don't eat most raw fish but I don't eat any red meat

Favorite zoo exhibit: The little golden lion tamarins that live quasi-free in the trees at the National Zoo

Favorite place to be: By the ocean on a warm but not too hot evening, deep in the woods on a cool but not too cold day, the Blue Ridge Mountains, Broadway, the Northeast in autumn, the Pacific in winter, the Emerald Pool at Yellowstone, the ray tank at the National Aquarium in Baltimore, art museums, great Indian restaurants, the Canadian Rockies, Devil's Tower, fresh produce co-ops, and New Age bookstores burning really good incense

Least favorite place to be: Stuck in traffic

Favorite place to be massaged: All over

Favorite states of mind: Completely engrossed in a book, passionately happy about a political or social event (i.e. spacecraft landing on Mars, fighting ends in Middle East), watching my kids feel good about themselves, in love

Least favorite household chore: Dusting

Least favorite thing: Totally screwing up

What color is your bedroom carpet? Beige

What was the name of your childhood blanket? Didn't have one, had a stuffed rabbit named Big Bunny

The boy or girl you first lost your heart to: My first crush was Matthew Leavitt, who cruelly broke our engagement when we were seven

How many times did you fail your permit and/or drivers license test? Once, three-point-turning

Last time in hospital: Giving birth in 1996

Have you ever been convicted of a crime? No

What do you think of Ouija boards? Little experience, little interest

What's in the trunk of your car? I don't have a trunk, but the back of the van has jumper cables and umbrellas, plus whatever the kids threw back there

Which "real" TV show would you want to take part in: Who Wants To Be A Millionaire -- I could win, too

TV show you wish would be cancelled: I wish Voyager had been cancelled at the end of the third season; now I have learned simply to stop watching when shows suck

Favorite cartoon you loved to watch as a kid: Never watched cartoons, wasn't allowed. Nowadays I like the old Bugs Bunny.

Sesame Street Character: Cookie Monster

Disney heroine: Mulan

Disney villain: Cruella De Vil, Glenn Close version

Snow White or Cinderella? Shrek

Mickey or Donald? Donald

Disney vs. Warner Bros.: Film? Usually Disney. TV? WB over ABC.

Name a song from the seventies: "(Love Is) Thicker Than Water"

Name a song from the eighties: "Flashdance"

Name a song from the nineties: "Let the Music Play"

Name a song for the millennium: "I Hope You Dance"

The CD that best represented you at any point of your life: Indigo Girls (the self-titled album, after Strange Fire), while I was in grad school thinking grad school was bullshit. "Closer To Fine" still epitomizes a lot of my feminist philosophy.

Singer or group that you own the most CD's of: Probably Billy Joel. Maybe Madonna. I own unfortunate quantities of Garth Brooks and Barry Manilow. Overall we have more Beatles CDs than anything else, but if I were not married to Paul I really doubt I would have the remastered German singles in my possession.

Beanie babies/buddies -- collectibles or an annoying fad? Not annoying me, but not important collectibles

Favorite children's book (NOT Harry Potter): Madeleine L'Engle's A Wrinkle In Time

Which store would you choose to max your credit card: Barnes and Noble (or half.com if it counts -- I could get more books for the money)

What do you do most often when you are bored? Read whatever is around -- cereal boxes, ads, etc.

What would be the one thing you would change about you: My talent for procrastination; it could be put to better use elsewhere

If you could have one super power, what would it be? The ability to see the good in everyone

What words or phrases do you overuse? So, like, um, nope, etc.

Can you juggle? Nope

Name the person that you are friends with that lives the farthest away: Veronica in London, unless the Army has sent Annmarie to Iraq or someplace like that.

The one person from your past you wish you could go back and talk to: Both my grandmothers

Most annoying thing is: The universe is not perfect

What makes you really angry: Hypocrisy

Best thing: Chocolate is cheap and readily available

Wake-up call: When the kids start playing computer, when Paul gets in the shower or when the cats decide it's time for breakfast, whichever comes first; uninterrupted I will sleep until 9:30-10

Bedtime: Around midnight depending on if I'm working on something

If your life were a book, what would be the title? Sentimental Shit

Who would it be dedicated to? My favorite college professor, who wouldn't ever read it.

Genre? Allegory

Illustrated by? Ideally, John William Waterhouse. Or Arthur Hughes, who actually illustrated books. Among living artists, I'd love for Jonathon Earl Bowser to paint me. I think DRush has already illustrated some of it though.

If you could build a house anywhere, where would it be? To live permanently? On the shore of Lake Michigan near Chicago. For vacations? Anywhere along the French coastline where there's beachfront.

Where do you see yourself in 10 years? Very, very rich and famous...I have no idea!

Do you believe in afterlife? I don't believe that our spirits disappear and our bodies rot and that's it, but I don't believe in reincarnation or any traditional religious conception of heaven, either.

The friend who knows you best: My college roommate Tracey

Who is the last person you got email from before this survey? Someone at the BBC for whom I did some freelance work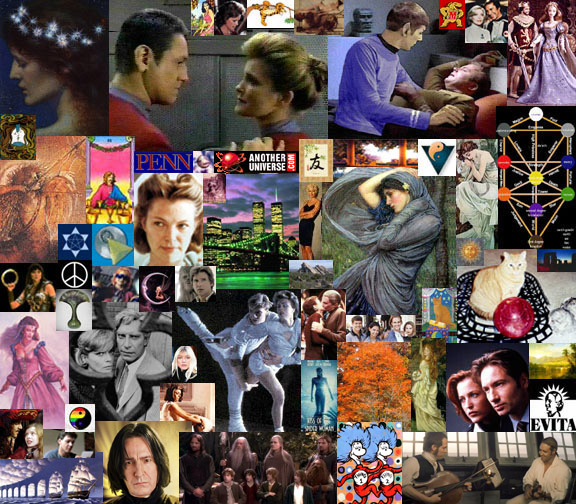 A dorky collage of my favorite things made for an online mailing list in 2001.
Memberships: Washington Hebrew Congregation, JCC of Greater Washington, ACLU, Planned Parenthood, People For the American Way, Smithsonian Institute, Friends of the National Zoo, National Aquarium, Maryland Science Center, USS Constellation, Capital Children's Museum, Port Discovery, Science Fiction Book Club
Internet lists: Aish.com, artmagick, Beresheit, Crowe-Aubrey, Eclectic-Spiritualists, Fanthropology, FellowShip, JetC2, jewitchery, LiveJournal, midnightmuse, RBLS, remusxsirius, teach_yourself_tarot, TikkunMagazine
Authors: Andre Aciman, Margaret Anderson, Marion Zimmer Bradley, Octavia Butler, Susan Cooper, Don DeLillo, Charles Dickens, Carolly Erickson, Jasper Fforde, F. Scott Fitzgerald, Northrop Frye, Janette Turner Hospital, Pauline Kael, Jon Krakauer, Nancy Kress, Jeanne Larsen, Madeleine L'Engle, Ursula LeGuin, C.S. Lewis, Michael Malone, Patrick O'Brian, Constance Penley, Sharon Kay Penman, Anne Rice, J.K. Rowling, William Shakespeare, Amy Tan, Marina Warner, Roger Zelazny, Richard Zimler
Poets: Yosano Akiko, Thomas Bailey Aldrich, Laure-Anne Bosselaar, Constantine Cavafy, Amy Clampitt, Emily Dickinson, John Donne, Rita Dove, Stephen Dunn, Robert Frost, Judy Grahn, Thom Gunn, H.D., Anthony Hecht, Jane Hirschfield, James Joyce, James Merrill, WS Merwin, John Milton, Pablo Neruda, Naomi Shihab Nye, Sharon Olds, Marge Piercy, Adrienne Rich, Rainier Maria Rilke, Arthur Rimbaud, Pattiann Rogers, Muriel Rukeyser, Jalalludin Rumi, Sappho, William Shakespeare, Percy Bysshe Shelley, Jane Shore, Edmund Spenser, Mark Strand, Rabindranath Tagore, Alfred Lord Tennyson, Walt Whitman, William Carlos Williams, William Wordsworth
Novels besides those by favorite authors: The Black Chalice (Jakober), The Da Vinci Code (Brown), The Demolished Man (Bester), Einstein's Dreams (Lightman), Flicker (Roszak), Forever (Hamill), Foucault's Pendulum (Eco), The Fountainhead (Rand), The Giver (Lowry), The Hallowed Isle (Paxson), The Handmaid's Tale (Atwood), I Was Amelia Earhart (Mendelsohn), Illusions (Bach), Lempriere's Dictionary (Norfolk), The Moon Under Her Feet (Kinstler), Possession (Byatt), The Reader (Schlink), The Red Tent (Diamant), The Solitaire Mystery (Gaarder), Summerland (Chabon), The Treasure of Montsegur (Burnham)
Favorite Non-Fiction Book: My Thirty Years' War by Margaret Anderson Favorite Children's Book: A Wrinkle In Time by Madeleine L'Engle Favorite Young Adult Book: Very Far Away From Anywhere Else by Ursula LeGuin Favorite Fantasy Book: The Mists of Avalon by Marion Zimmer Bradley Favorite Science Fiction Book: Beggars in Spain by Nancy Kress Favorite Gay-Themed Book: Call Me By Your Name by Andre Aciman Favorite Collection of Poetry: Song of the World Becoming by Pattiann Rogers Favorite Play: The Tempest by William Shakespeare Artists: Laurence Alma-Tadema, Alfred Bierstadt, Susan Seddon Boulet, Mary Cassatt, Frederick Church, Thomas Cole, Evelyn De Morgan, Frank Dicksee, Arthur Hughes, Edward Robert Hughes, William Holman Hunt, Gustav Klimt, Frederic Lord Leighton, John Millais, Claude Monet, Albert Moore, Thomas Moran, Alphons Mucha, Georgia O'Keeffe, Maxfield Parrish, Camille Pissarro, Arthur Rackham, Pierre Auguste Renoir, Dante Gabriel Rossetti, JMW Turner, Kris Waldherr, John William Waterhouse, Frank Lloyd Wright
Photographers: Berenice Abbott, Edward S. Curtis, Wendy Ewald, Sally Mann, Robert Mapplethorpe, Helmut Newton, Man Ray, Andy Warhol
Filmmakers: Woody Allen, Pedro Almodovar, Paul Bartel, Mel Brooks, James Cameron, John Cassavetes, Alfonso Cuaron, Stephen Frears, Terry Gilliam, Alfred Hitchcock, John Huston, Derek Jarman, Peter Jackson, Neil Jordan, Paul McGuigan, David Mamet, Mira Nair, Ridley Scott, John Waters, Peter Weir
Actors: Anne Bancroft, Antonio Banderas, Sean Bean, Paul Bettany, Cate Blanchett, Jeff Bridges, John Cassavetes, Russell Crowe, John Cusack, Glenn Close, Beverly D'Angelo, Bette Davis, Johnny Depp, Marlene Dietrich, Louise Fletcher, Cary Grant, Rutger Hauer, Katharine Hepburn, William Hurt, Anjelica Huston, Jason Isaacs, Raul Julia, Grace Kelly, Kevin Kline, Viggo Mortensen, Peter O'Toole, Aishwarya Rai, Lee Remick, Alan Rickman, Gena Rowlands, David Thewlis, Kate Winslet
Movies: Amadeus, A Beautiful Mind, Brokeback Mountain, Caravaggio, Casablanca, Crimes and Misdemeanors, The Crying Game, Dangerous Liaisons, Days of Wine and Roses, Evita, Field of Dreams, The Fountain, Gladiator, The Grifters, The Guru, Harry Potter and the Prisoner of Azkaban, House of Games, The Indian Runner, Kiss of the Spider Woman, The Lion In Winter, The Lord of the Rings: The Fellowship of the Ring, The Maltese Falcon, Mary of Scotland, Master and Commander: The Far Side of the World, The Miracle, Monty Python's Life of Brian, Mulan, The Natural, One Flew Over the Cuckoo's Nest, Opening Night, Paul Mazursky's Tempest, The Prestige, Proof, The Prophecy, Queen Christina, Raiders of the Lost Ark, Rear Window, Star Wars (a.k.a. Episode IV: A New Hope)
TV shows: The Avengers, Boston Legal, Commander In Chief, Dallas, Dawson's Creek, The Dead Zone, Deep Space Nine, Doctor Who, Hercules, Heroes, Highlander, La Femme Nikita, Mission: Impossible, Monty Python's Flying Circus, Sharpe, Smallville, Space: 1999, Star Trek, Voyager, VR5, The West Wing, The X-Files, Xena
Musicals: Camelot, Cats, Chess, Evita, Fiddler on the Roof, Godspell, Hair, Jekyll and Hyde, Jesus Christ Superstar, Kiss of the Spider Woman, Les Miserables, Mack and Mabel, Man of La Mancha, Merrily We Roll Along, My Fair Lady, Passion, Pippin, Phantom of the Opera, The Scarlet Pimpernel, Spamalot, Sunday in the Park With George, West Side Story
Desert island pop: 10,000 Maniacs, The Beatles, The Bee Gees, Pat Benatar, Garth Brooks, Mary Chapin Carpenter, Eva Cassidy, Celtic Woman, Beth Nielsen Chapman, Cher, Clannad, Eric Clapton, Marc Cohn, Crosby, Stills, Nash and Young, Bob Dylan, Linda Eder, Melissa Etheridge, Mary Fahl, Fairport Convention, Roberta Flack, Fleetwood Mac, Dan Fogelberg, Lennie Gallant, The Grateful Dead, Great Big Sea, Colin Hay, The Indigo Girls, Jennifer Cutting's Ocean Orchestra, Billy Joel, Janis Joplin, Barry Manilow, Kathy Mattea, Loreena McKennitt, Sarah McLachlan, Madonna, Mary Beth Maziarz, Joni Mitchell, Lisa Moscatiello, Mystic Warriors, The New Saint George, October Project, Peter Paul and Mary, The Police, Kenny Rogers, Russell Crowe and The Ordinary Fear of God, Simon and Garfunkel, Jon Simon, Paul Simon, Sting, Donna Summer, Thirty Odd Foot of Grunts, U2, Vienna Teng, The Village People
Teams: Washington Redskins, Chicago White Sox, Baltimore Orioles, Washington Wizards, Maryland Terrapins, Penn Quakers, DePaul Blue Demons
Favorite Quotes:
Congress shall make no law respecting an establishment of a religion, or prohibiting the free exercise thereof; or abridging the freedom of speech, or of the press, or the right of the people peaceably to assemble, and to petition the government for a redress of grievances.
-- The First Amendment, adopted June 15, 1790
Courage is the price that life exacts for granting peace.
-- Amelia Earhart
When I heard the learn'd astronomer,
When the proofs, the figures, were ranged in columns
before me,
When I was shown the charts and diagrams, to add, divide,
and measure them,
When I sitting heard the astronomer where he lectured with
much applause in the lecture-room,
How soon unaccountable I became tired and sick,
Till rising and gliding out I wander'd off by myself,
In the mystical moist night-air, and from time to time,
Look'd up in perfect silence at the stars.
-- Walt Whitman
God, whose name I do not know, thank you for my life.
I never realized how BIG...
-- Tom Hanks, Joe vs. the Volcano
We are such stuff
As dreams are made on, and our little life
Is rounded by a sleep.
-- William Shakespeare, The Tempest
Books are created from holy letters, just as angels are. An angel is nothing but a book given heavenly form.
-- Richard Zimler, The Last Kabbalist of Lisbon
So on he fares, and to the border comes
Of Eden, where delicious Paradise,
Now nearer, crowns with her enclosure green,
As with a rural mound, the champain head
Of a steep wilderness whose hairy sides
With thicket overgrown, grotesque and wild.
Access denied; and overhead up-grew
Insuperable highth of loftiest shade,
Cedar, and pine, and fir, and branching palm,
A sylvan scene, and, as the ranks ascend
Shade above shade, a woody theatre
Of stateliest view. Yet higher than their tops
The verdurous wall of Paradise up-sprung;
Which to our general Sire gave prospect large
Into his nether empire neighbouring round.
And higher than that wall a circling row
Of goodliest trees, loaden with fairest fruit,
Blossoms and fruits at once of golden hue,
Appeared, with gay enamelled colours mixed;
On which the sun more glad impressed his beams
Than in fair evening cloud, or humid bow,
When God hath showered the earth; so lovely seemed
That lantskip. And of pure now purer air
Meets his approach, and to the heart inspires
Vernal delight and joy, able to drive
All sadness but despair.
-- John Milton, Paradise Lost
You gain strength, courage, and confidence by every experience in which you really stop to look fear in the face. You are able to say to yourself, "'I live through this horror. I can take the next thing that comes along.'
-- Eleanor Roosevelt
For whatever peculiar reasons, we seem condemned to seek the historical past through our own pop images and stereotypes about that past, which itself remains forever out of reach.
-- Frederic Jameson
I went to see the doctor of philosophy
With a poster of Rasputin and a beard down to his knee
He never did marry or see a B-grade movie
He graded my performance -- he said he could see through me
I spent four years prostrate to the higher mind,
Got my paper, and I was free.
-- The Indigo Girls
Whatever our souls are made of, his and mine are the same.
-- Emily Bronte, Wuthering Heights
It costs extra to carve 'shmuck' on a tombstone, but you would be worth the expense.
-- Lee Remick, The Competition
Love cannot fill the thickened lung with breath,
Nor clean the blood, nor set the fractured bone;
Yet many a man is making friends with death
Even as I speak, for lack of love alone.
-- Edna St. Vincent Millay
There can be millions of identical copies of any book, and yet the copy you hold and read is your personal doorway. It is the same when you go to the movie theater: you and the movie have a secret. It might even be a god-awful movie and you could still walk out with this little secret -- or a big secret -- inside you: a discovery that might stay with you for a day, for a month or two, even years.
-- Viggo Mortensen
I write for the same reason I breathe -- because if I didn't, I would die.
-- Isaac Asimov

Haven't had enough yet? A long survey, personal anthems and some memes.