Karen Di Nal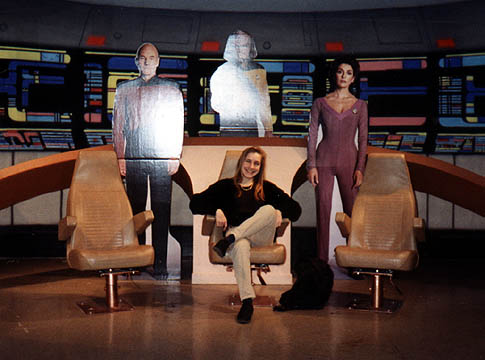 This page is a tribute to my best friend from graduate school in the English department at the University of Chicago, Karen Elizabeth Di Nal. She suffered from cystic fibrosis for her entire life, but people who knew her, worked with her and had fun with her were often unaware of her physical condition, for Karen did not wish to live or be treated as an invalid. Karen was energetic, lively and involved in a wide range of activities, from graduate study at the University of Chicago where I met her to Star Trek fandom through which we bonded. She taught in the university writing program, volunteered at the local hospital, worked in the library and spent her summers camping and hiking, sometimes to assist children with illnesses like her own. Her condition began to deteriorate after a white-water rafting trip, and she chose to die on her own terms, requesting that she be disconnected from life support rather than spending the remainder of her life dependent on a respirator. She died on August 29, 2000, just after her 33rd birthday, spending her last conscious hours eating cake, celebrating and chatting with family and friends.

Karen earned a B.A. from Occidental College in Los Angeles and an M.A. from the University of Chicago. She had taken and passed her oral fields exams in 18th-19th-century literature and was admitted to candidacy for the Ph.D. in December, 1996. Her dissertation was to have been entitled "The State of Her Heart: Female Desire, Masculine Political Virtue, and the English Courtship Novel, 1736-1760." She worked enthusiastically on it in between bouts of weak health and a heavy teaching schedule so that she could maintain the necessary level of medical insurance. When asked how she would like to have her life commemorated, Karen requested that she be memorialized via a fund to be used to help defray the cost of medical insurance for other students. Contributions may be made to the Karen Di Nal Medical Insurance Fund, Department of English, University of Chicago, 1050 East 59th Street, Chicago, IL 60637.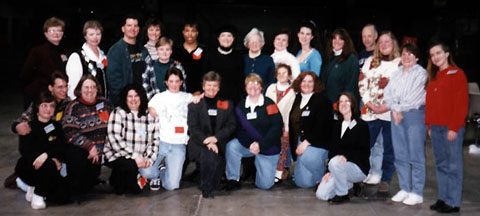 This is Karen along with Kate Mulgrew and other members of Kate's fan club, Now Voyager, at a club meeting in Chicago in the winter of 1996. At the time this photo was taken I had just had a baby and was unable to attend the con, so Karen went as my proxy. In this photo she is on the far right, in red.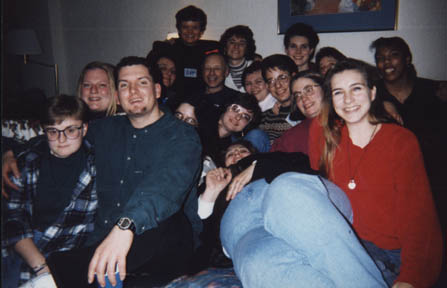 Now Voyager gatherings were infamous for "bed photos," for which all the members present got in bed together. Again, Karen is on the far right, in red. The photo at the top of this page shows Karen--an avowed Trekkie who shared my crush on Jonathan Frakes--in Captain Picard's chair at the Museum of Science and Industry in Hyde Park, which hosted an exhibit on the science of Star Trek in 1993.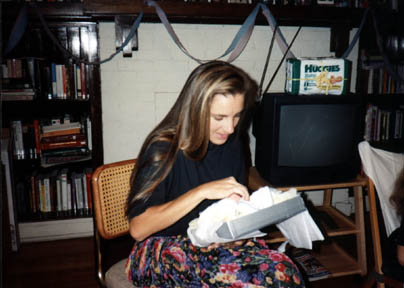 Karen and her roommates Stephanie and Glenn hosted a baby shower for me before the birth of my son Daniel in 1993. Here she is admiring a gift someone brought.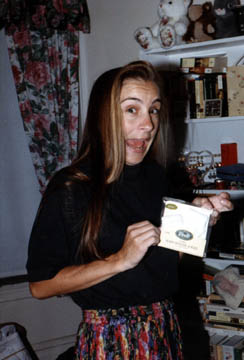 Unfortunately I can't find any photos of Karen at the Halloween party she hosted along with Glenn and Stephanie, though you can see a photo of myself and my husband in Star Trek costumes here. I believe she came as a witch, having rejected the idea of coming as Madonna because our friend Suzy already had the bustier.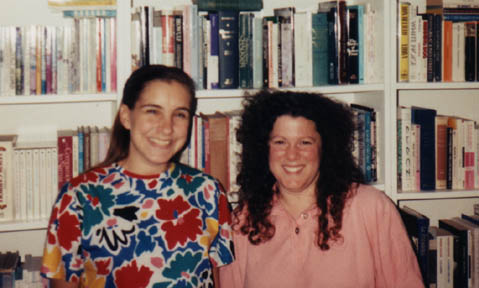 I look terrible in this photo taken in my apartment in Chicago, but Karen looks adorable so I'm posting it anyway. Karen always had a smile and looked upbeat even when she was bone-tired from work or from her illness. Some of my nicest memories of her include going to the 1992 Grateful Dead concert in Chicago, seeing Hamlet with her, eating huge amounts of Thai food and hanging out at U of C coffeeshops discussing literature that was not exactly on our department's approved reading lists -- Karen never laughed at me for reading Femme Fatales and I never laughed at her for reading Cosmo.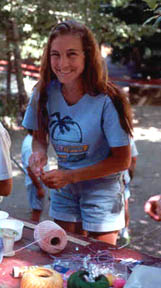 This photo is from the Cystic Fibrosis Information and Support List page. You can learn more about the organization here.