Rock Creek Park Day 2005


Rock Creek Park Day at Rock Creek National Park, a big park within DC that encompasses a nature center, planetarium, stables, hiking trails, gardens and a Civil War fort. We stayed in the vicinity of the former since that was where most of the activities were and we were particularly interested in seeing Reptiles Alive and the Raptor Conservancy of Virginia, which had brought snakes, turtles, frogs & toads and falcons, hawks & owls respectively to the park's 115th birthday festival.
There was also a climbing wall and a local fitness group was giving out stepometers, which pleased the kids. In the evening they were planning astronomy programs on using the night sky as an Underground Railroad compass and a look at Andromeda, but the skies were overcast so we didn't stick around. The Reptiles Alive show was targeted more for younger children than ours, though ours are always happy to see snakes, toads and turtles even when the woman in charge is encouraging everyone to say "EWWW!" when she announces what some of them eat, but the kids were particularly excited by the raptors which we saw among a very small group of people because the guy in charge was rather dry and talking much more for the adults in the audience than the kids. The Raptor Conservancy's traveling birds are all disabled, which is why they are kept in captivity, and the great horned owl is under the impression that the speaker is her significant other, and it was fascinating to see them up close. It was a very gray, drizzly day and I was not all that close to the birds and using my little camera to avoid getting the big one wet, so all these pictures had to be photoshopped to brighten them and they still need work...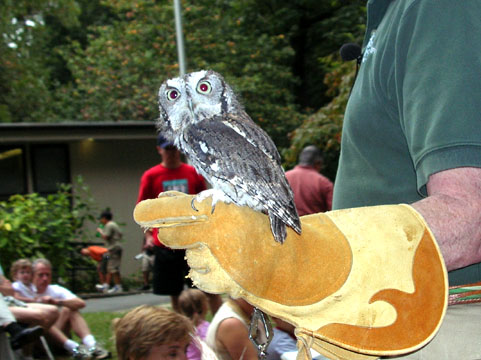 This is Smoke, a screech owl nearly blinded in a car accident. The speaker said that he does not realize he is only a little bitty owl and tends to posture and play to crowds.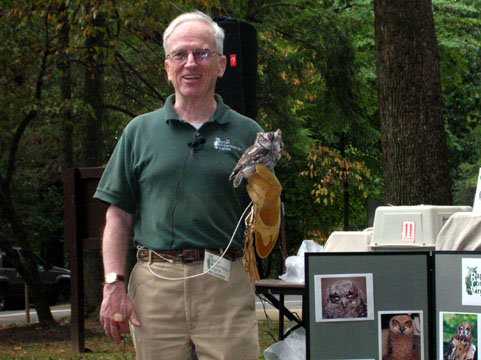 Here he is from a distance to put his size into perspective. This is as big as he's going to get.

Big Girl, a red-tailed hawk who is also nearly blind after a car accident.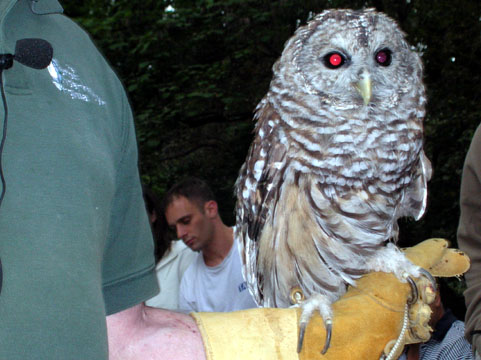 Hipster, a barred owl whose hip was crushed in a car accident.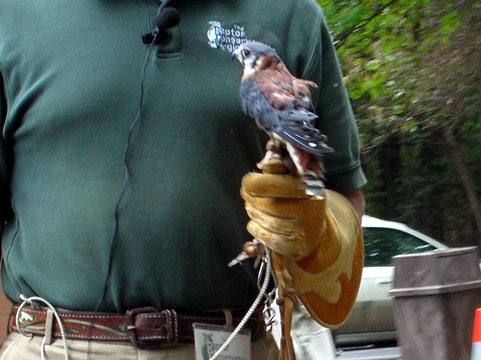 Nipper, a kestrel. This bird has permanent damage to its wings after being hit by a car.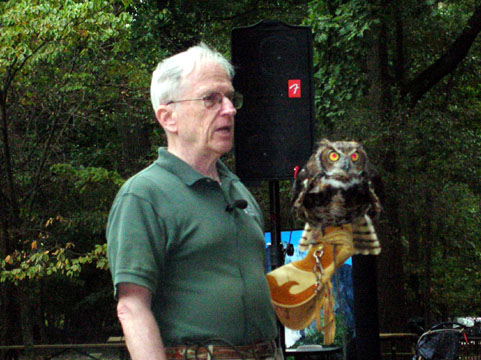 I didn't catch the name, but this is a female great horned owl that had been kept as a pet and released into the wild. She was then found trying to steal hot dogs from children. She is considered unsafe for release, as she wants nothing to do with other owls and gets close enough to human civilization to do serious damage to people with her very strong talons.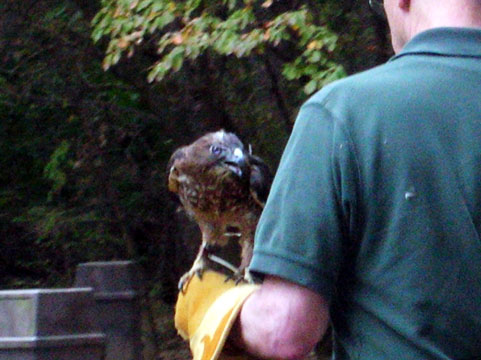 Another bird whose name I didn't catch, this broad-winged hawk is yet another accident victim. He is newer to "public speaking" and was somewhat skittish, trying to flap away, so I didn't use a flash, hence all the photos are blurry.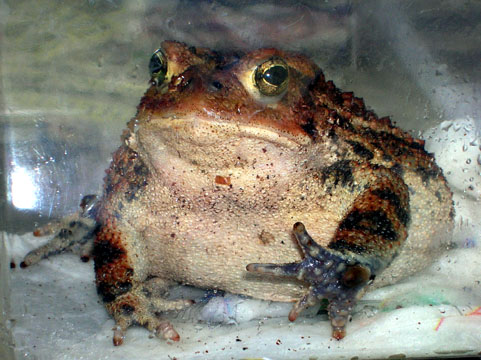 This is an amphibian but none of the audience for Reptiles Alive seemed to mind, as it did lots of jumping in its carrier.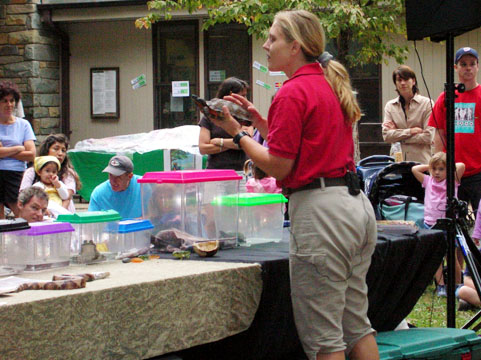 A painted turtle got some show time. Note the other turtles in the carriers and the really cool big bullfrog, too.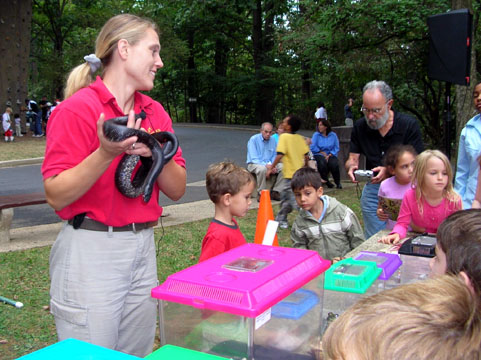 Afterward the kids mobbed the carriers to see the animals inside.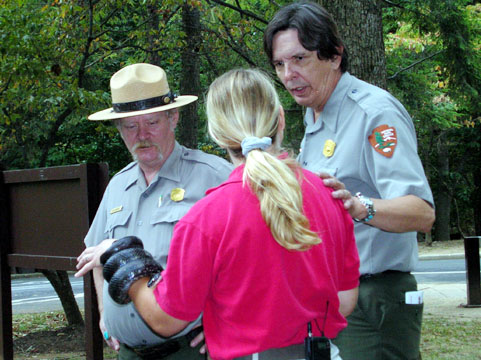 Park rangers admired the "bracelet" worn by the Reptiles Alive speaker...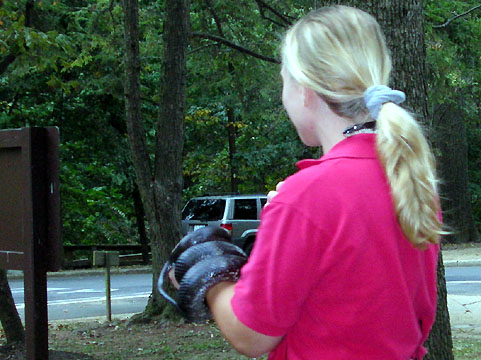 ...before it slithered up her chest and beneath her ponytail to become a necklace.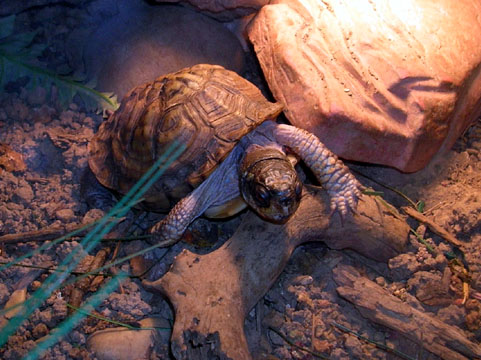 Inside the nature center after the shows, we also met one of the permanent residents. Rock Creek Park has many such specimens living in the surrounding woods.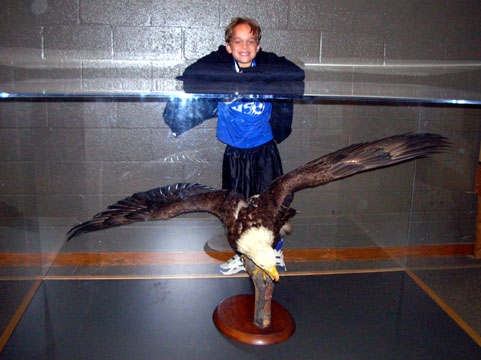 Here is Adam with one of the displays.