Maryland Renaissance Festival 2005


We spent a glorious Saturday at the Maryland Renaissance Festival where we had spectacular weather, saw everything we wanted to see despite enormous crowds (some of the people in the shows said it was the most crowded day at the Faire they had ever seen), ate extremely well and finally managed to meet my friend Kat the squire! We sat in traffic for a full hour after coming off the highway to Annapolis, but once we made it into the parking lot (later than we had planned -- too late to see Maggie Sansone onstage though we got lucky as she was playing the hammered dulcimer in White Stag Grove where we had lunch and chocolate covered cheesecake on a stick. We went to see the royal court where Princess Mary was trying to return to her father Henry VIII's good graces, then to Macbeth in 20 Minutes by Shakespeare's Skum which was utterly hilarious and featured several Star Trek jokes (because how can you do the Scottish play without a memorial tribute to Scotty, really?)
From there we made our way to the Human Chess Game, mostly to be certain that we would have decent seats for the joust on this extremely crowded Faire day. We stopped in a number of shoppes along the way and my kids are now the proud owners of wooden daggers...plus younger son found a small stuffed dragon that looks like the one from The Dragon in the Clock Box but is yellow like a banana slug, so of course it is named Banana Slug. I am rather clueless about who won the Human Chess Game, which always features more swordplay and Wrestlemania-style fighting than I can follow -- it was whoever was Red, which I think may have been Queen Jane's cousin's color, but I don't swear to anything! Then we saw the Free Lancers joust. The arena at the Maryland faire is smaller than the one in Pennsylvania and the stage is not nearly as impressive for court theatrics, but the emphasis is more on riding and skill here and because the arena is smaller, every seat is so much closer to the horses, which are huge! The joust was fantastic (though again I am not positive that the knight from my cheering section won) and now I have met several squires in person. Insert "Does your wife, squire..." joke here, as it leads in nicely to...
...Fight School, which we then went to see. Same show as last year ("Reloaded"), still hilarious -- lirpa battle, numerous jokes from Monty Python, The Princess Bride, beer commercials, etc. (Macbeth had mysteriously acquired a reference to saving a bunch of money on his car insurance), interspersed with some slow motion and "fight speed" demonstrations of the battle axe, belaying pin, cutlass, kitana, dagger and old-fashioned bar room brawl where the priority is not to spill the beer while knocking your enemies down. At this point the kids were hungry so we made a loop past the maze and games of skill (kids tried firing crossbows) back to the food booths, where several of us had soup in bread bowls and others had smoked turkey legs. I was well-behaved and the only thing I bought was some wonderful smelling spice creme in a handmade jug.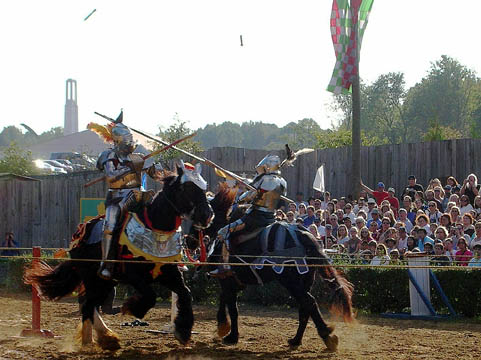 Knights break lances and send pieces of wood flying into the air during the 4 p.m. joust at the arena. I was shooting directly into the sun, so the colors are blasted out on all my field photos -- sorry!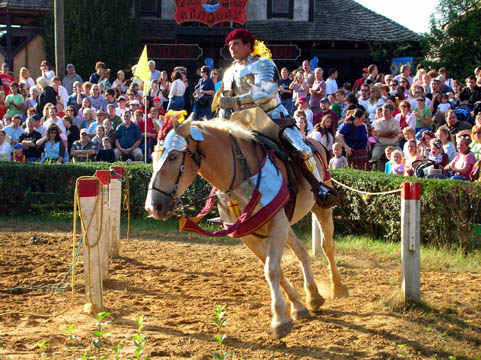 Don Martino Fernandez, a hot knight on a hot horse.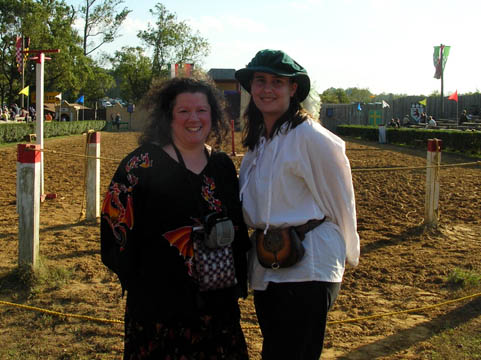 Me and Kat after the joust.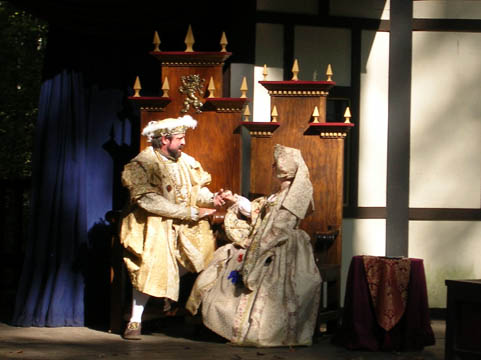 Henry VIII and Jane Seymour share a private moment before Princess Mary comes to request to return to her father's court...an event interrupted by Jane's announcement of her pregnancy. (I thought it was her pregnancy that precipitated Henry having Anne Boleyn's head chopped off, so he could remarry quickly and make the potential heir legitimate, which would have been before Mary's return to court...)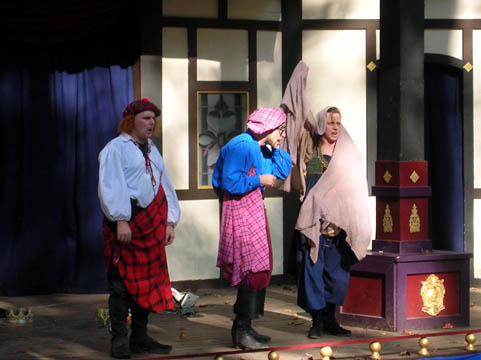 The Scottish Play. Believe it or not, these are Macbeth, Banquo and the three witches. Don't worry, it works. *g*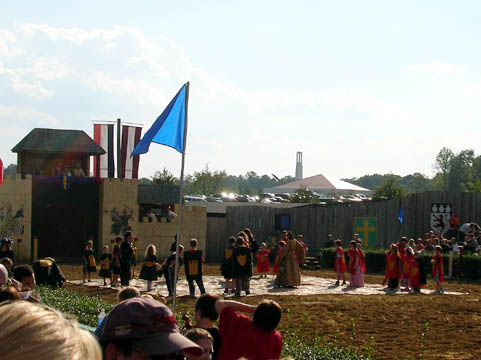 The Human Chess Game. This was apparently a competition to determine the rightful sheriff of some shire or other.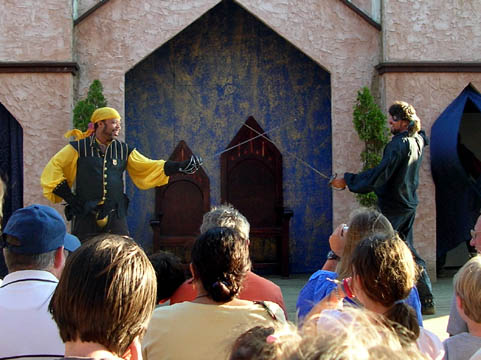 Fight School! These two soon tossed aside their foils in favor of the lirpa.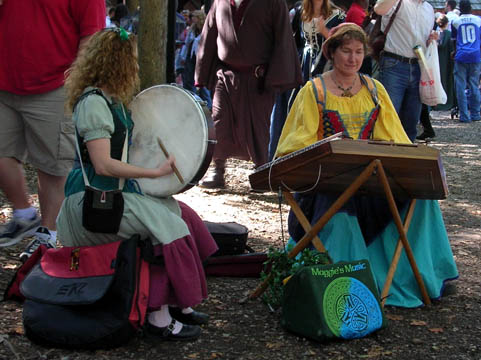 Maggie Sansone plays the hammered dulcimer in front of a musical shoppe.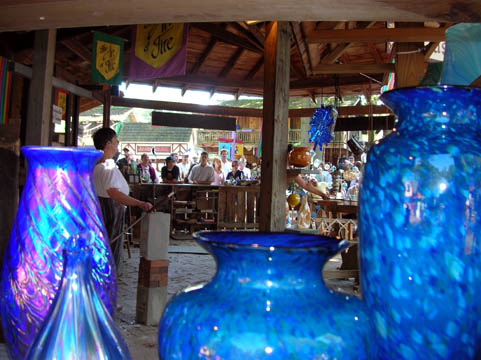 Glassblowing demonstration seen between some of the lovely wares.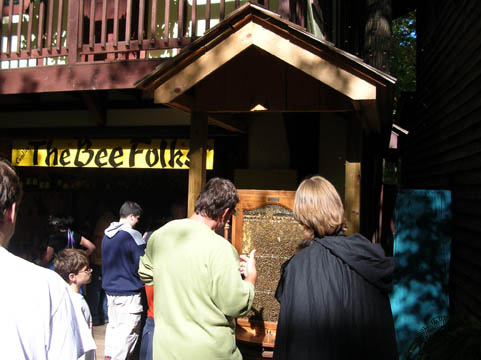 This vendor produces candles and beauty products from the labor of those hardworking critters in the hive. At least they get their afternoon in the sun! See upper right corner of the hive awning!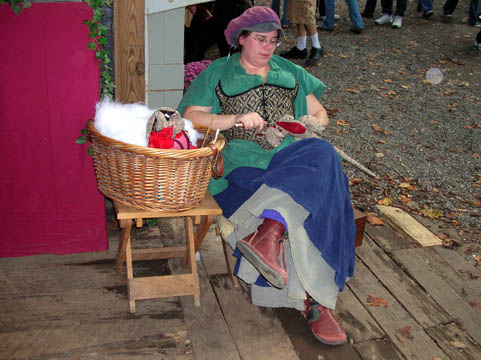 This is the woman who made Adam's banana slug dragon, though she is stuffing a different dragon in this photo.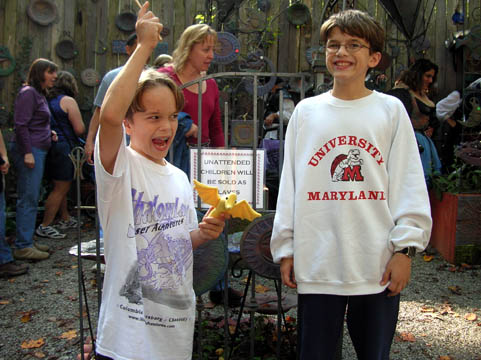 And here is the aforementioned banana slug dragon, held in front of a favorite vendor sign at a ceramics stall.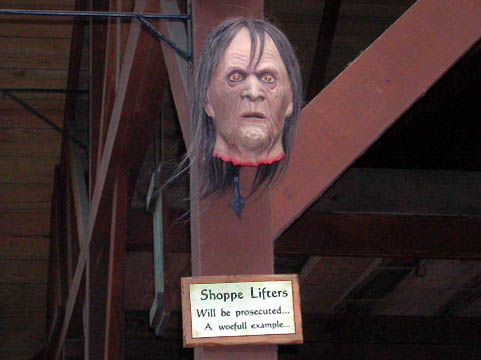 Another favorite sign, a warning to shoplifters.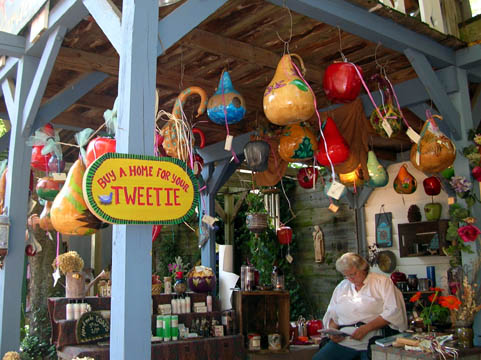 Wood and gourd birdhouses -- homes for your tweetie!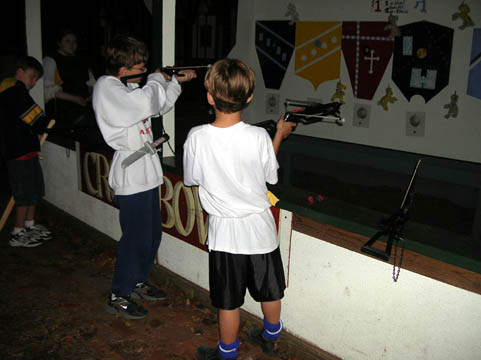 Practicing with crossbows.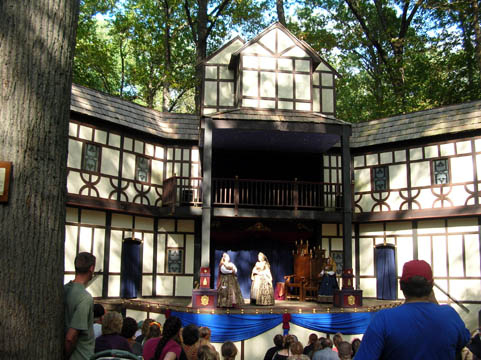 The Globe Theatre is considerably smaller than the original in London...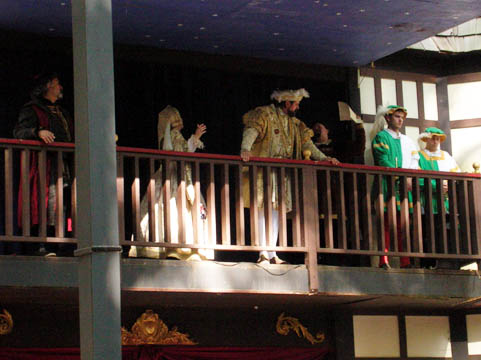 ...but has a painted firmament (see stars above Henry VIII's head).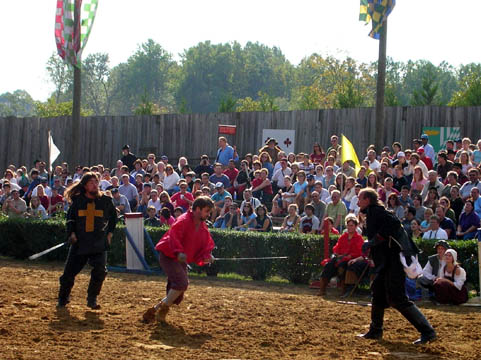 The jousting arena serves between jousts for swordfights and human chess games.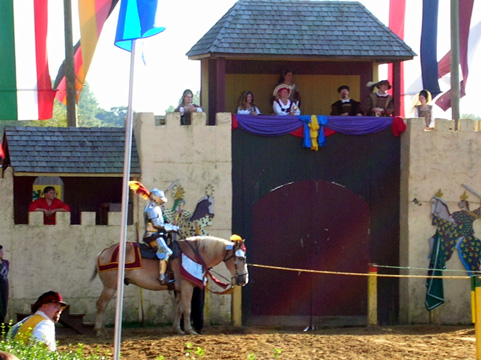 It also hosts the royal court (or in this case a pirate queen) to witness the events.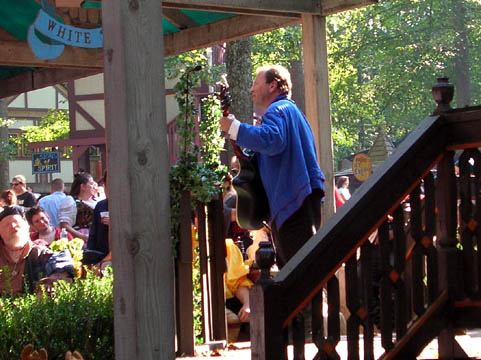 Musicians perform on the White Hart Tavern stage all afternoon. We missed the Pyrates Royale this year.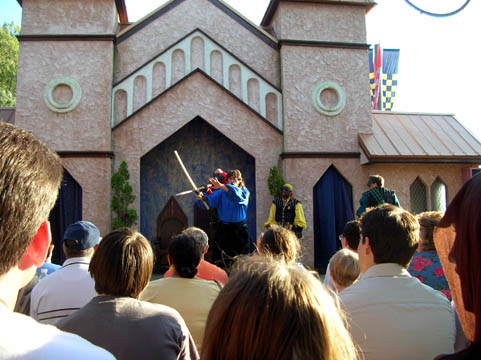 Fight School (and Fight School II) moved to the Market Stage this year.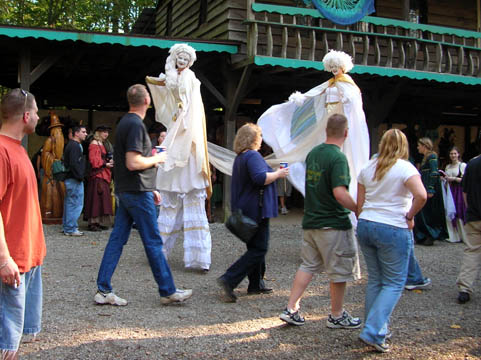 But of course, at a Renaissance Faire, all the world's a stage!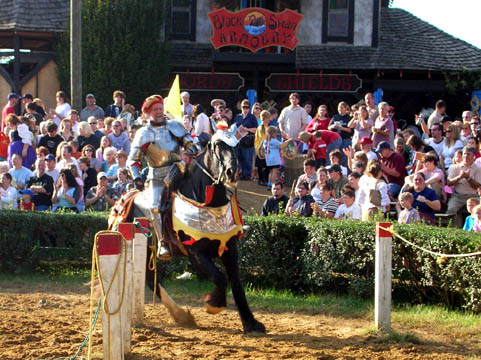 As you can see, there is an armory just beyond the jousting arena. Unlike the Pennsylvania Renaissance Faire where visitors are allowed to bring weapons so long as they are "peace tied" into their scabbards, only wooden swords are allowed off the stages at the Maryland Renaissance Festival.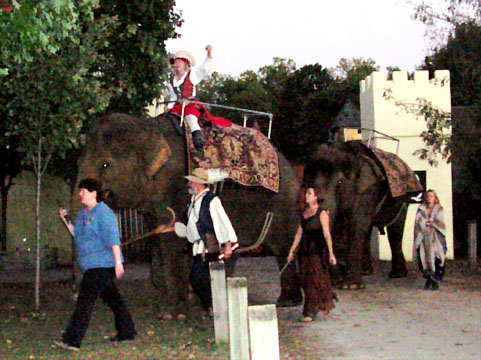 In the RenFaire parking lot, elephants parade out for the evening to wherever they sleep during the Faire.