Pennsylvania Renaissance Faire 2004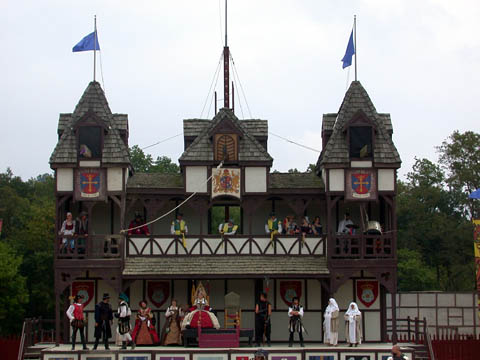 We had absolutely perfect overcast high 70s weather at the Pennsylvania Renaissance Faire, where they had the best jousting I've seen. And they had crab cakes! Not to mention fried Oreos, pina coladas in those giant plastic skinny cups with enormous straws, and a place with a chocolate fondue fountain. Here are the Queen and the court at the tournament grounds. Scotland defeated England in the early competition and Her Majesty was not amused.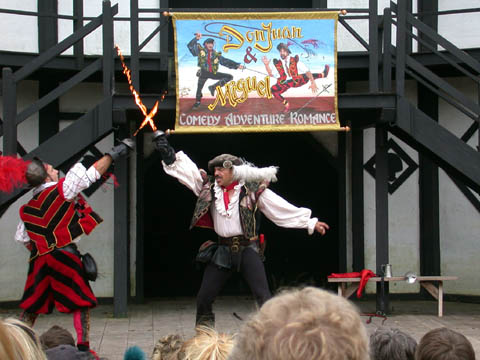 In the Globe Theatre, the flaming swords of Don Juan and Miguel. (Yes, of course there were jokes about that.) Miguel also got hot dog fingers so Don Juan could slice them off, which was not as funny as when he got a balloon wiener -- at least according to my kids, the expert arbiters of taste in my family.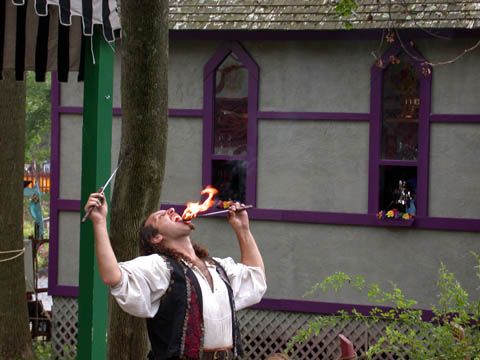 This guy, swallowing flames on the Rose Stage, did my kids' favorite schtick of the entire fair. He stands on a ball and juggles flaming torches, which he has members of the audience toss to him. One woman tossed hers early and he said she would be talking to her friends: "'What did you do at the fair?' 'Oh, I had a beer and watched some jousting. What did you do?' 'I killed a juggler! Hah!'"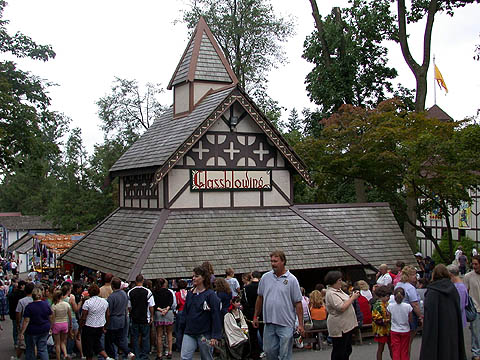 The glassblowing demonstration building and crowd around it...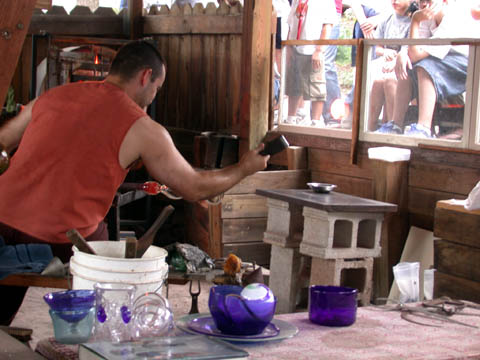 ...and the glassblower, making an hourglass. (He assured us repeatedly that he was doomed because the base was too thick. It worked out anyway.) We were also pleased to discover that one of the armories was located inside a pirate ship.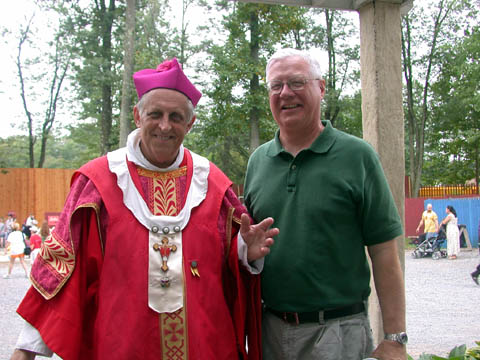 Paul's father is a Lutheran pastor. Here he is with the Bishop outside the church, making both his job and his outfit anachronistic.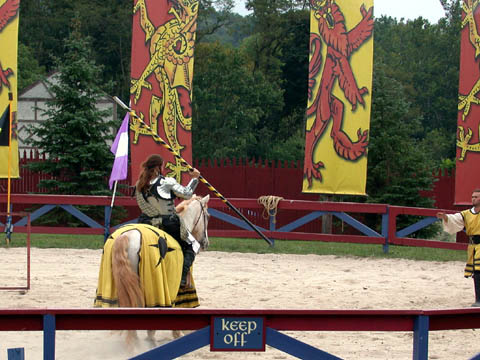 This was the hottest guy on horseback. Unfortunately I did not get a single photo where you can see his face!