Giant Pandas, National Zoo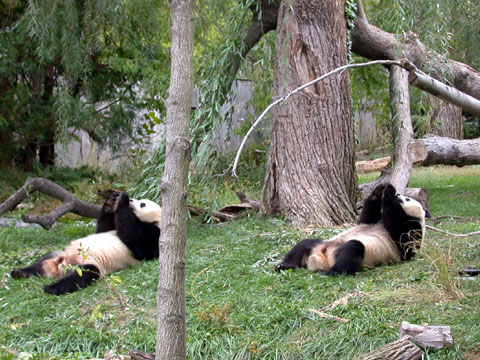 Mei Xiang and Tian Tian eating bamboo, 2003.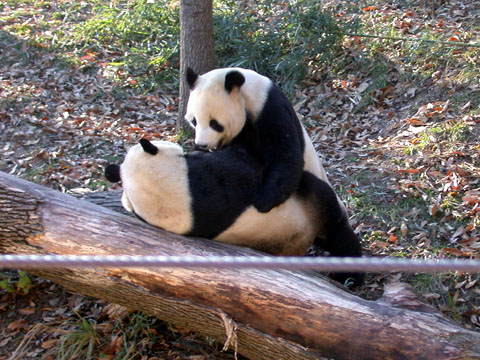 The giant pandas, a gift from China to the U.S., spent time in 2004 wrestling...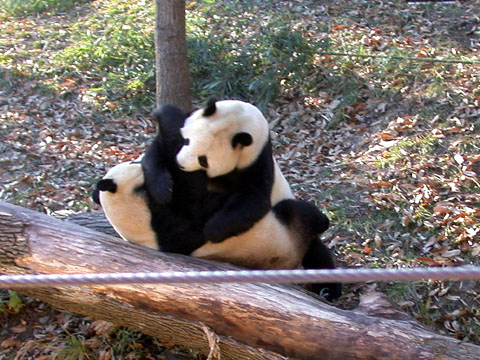 ...which the staff assured us they do for quite some time each day...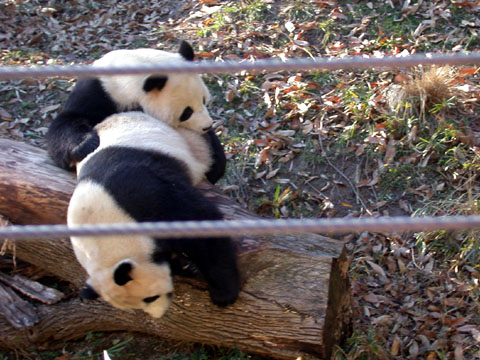 ...and one of them was winning but I can't tell the male from the female!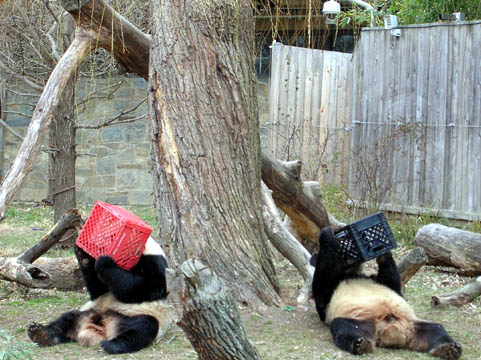 In early 2005, they tried to lick honey out of milk crates. The zookeepers explained that this is an activity designed to keep them engaged, instead of, you know, plotting to tear down their enclosure and head for the White House or something.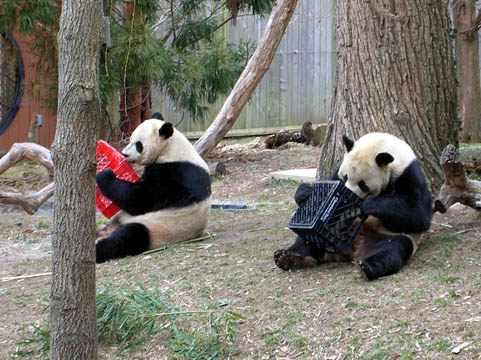 They are so utterly adorable that it is easy to forgive them for failing to take an active interest in politics and their own liberation. But that's why pandas don't rule the world.
---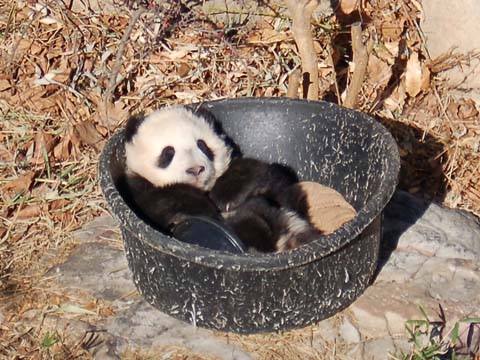 Tai Shan, which means "peaceful mountain" in Chinese, was born on July 9, 2005.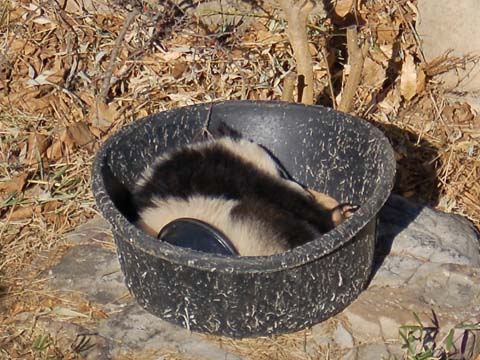 The National Zoo web site says that this black tub is his favorite place to play (scroll to article dated December 27, 2005).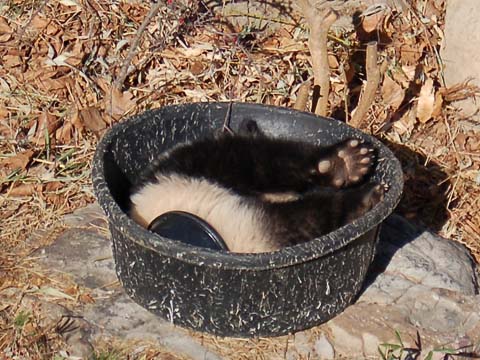 When we arrived at the panda enclosure, he was fast asleep curled up inside. Then he stretched, and you would have thought the Redskins had just made the playoffs or something from the cheers.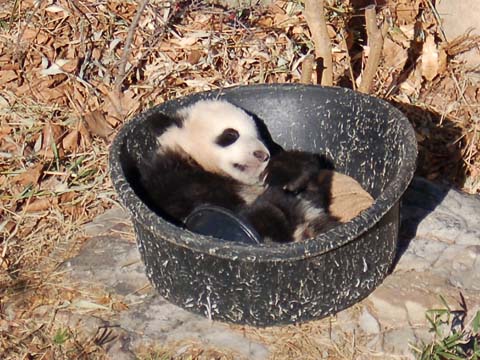 And then he lifted his sleepy panda head and smiled...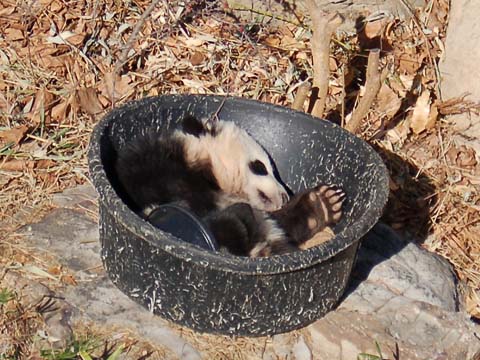 ...before curling up and going back to sleep in a different position!
---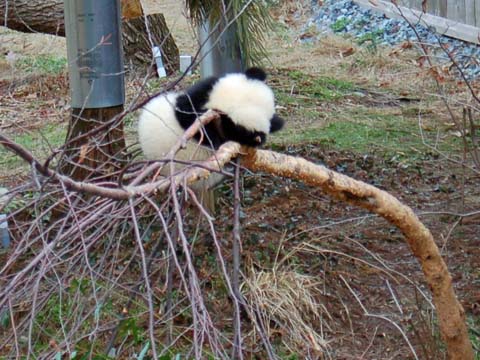 The baby panda was bigger by the end of February! And still sleeping a lot, up in a tree now...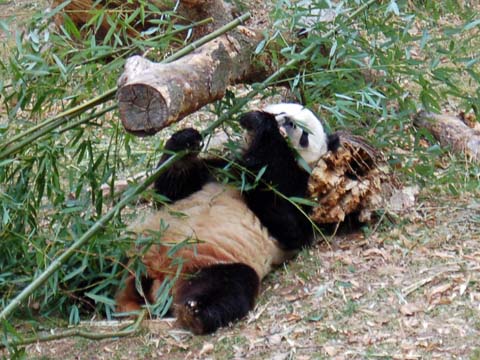 ...while Papa Bear eats...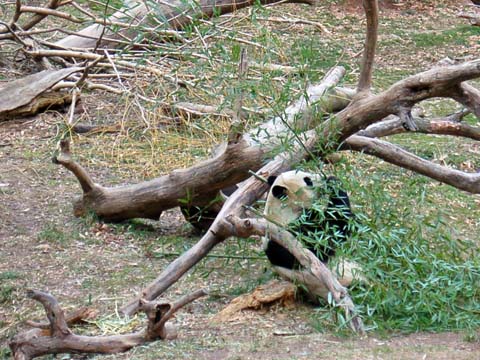 ...and Mama Bear eats!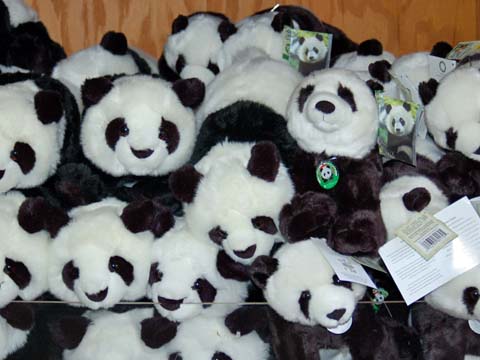 And Goldilocks can get her own little panda.
---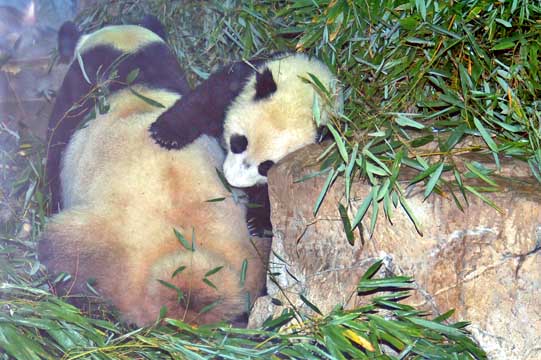 Indoors in early May, Tai Shan climbs over Mei Xiang, who appeared just to want to eat bamboo in peace but her little monster was demanding attention! (Sorry all these pictures have glare off the glass; I had blur when I went without flash and half the time you could see other people's flashes in the images anyway.)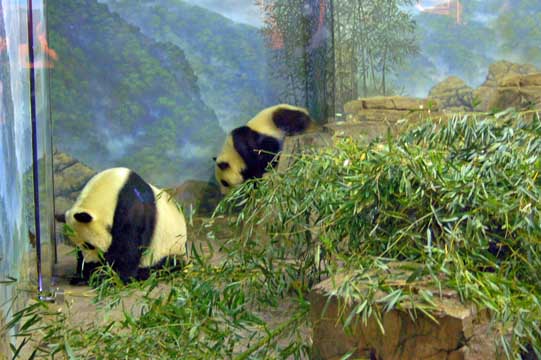 The little guy dutifully followed his mother everywhere, getting in her face whenever she sat down to munch.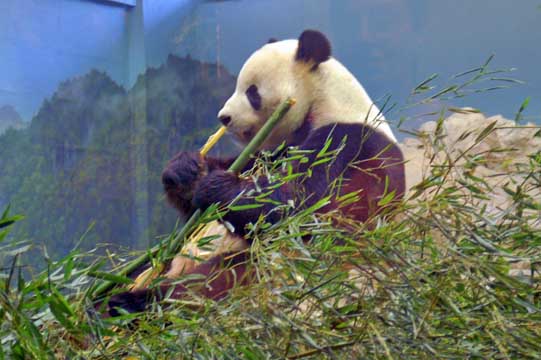 Here is the father, Tian Tian, who only sees his offspring through glass. It's hard to tell whether he resents getting less attention or is just as happy to eat in peace.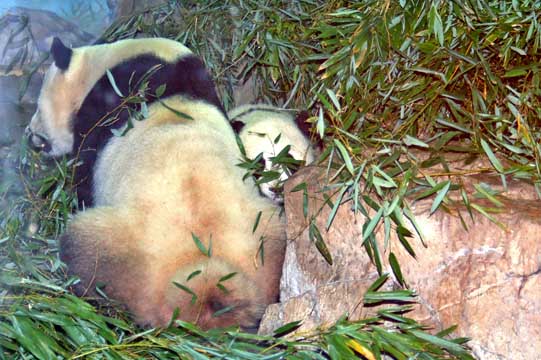 But really, is there anything cuter than that peeking face?
---

Tai Shan as a one-year-old, rolling around on logs and climbing trees.

One September morning he wakes up on top of the log where he's been sleeping...

..checks to see whether his mother is awake...

...climbs down from the log...

...stretches and rolls...

...climbs a tree...

...makes himself comfortable, and is soon napping again! In a few months Tai Shan will be separated from Mei Xiang so the zoo can attempt to breed her and Tian Tian again. The Chinese government could ask that Tai Shan be sent to China for breeding any time after he turns two.