Mystic 2006


A beluga whale plays with a trainer at Mystic Aquarium.

Like the penguin contact program, they have a whale contact program where people can help take care of the animals.

The whales did lots of swimming the length of their enclosure...

...and spraying by tourists when they surfaced.

"Beluga" means "white" in Russian, I'm told. Aren't they lovely?

Mystic Aquarium also has several sea lions.

They spend a lot of the day outdoors in this enclosure...

And some of them appear in the sea lion show several times a day.

Here, several hundred pounds of the biggest one (Kodiak I think?) drags himself across the floor by the audience before diving back into the pool.

The sea lions also do a trick where they are all given fish and are supposed to wait till a signal before eating them. Here is the very definition of patience.

A big crawling underwater hermit crab...

...and another in the Mystic Aquarium Sunlit Seas...

...share this tank full of anemones, sea stars, sunflower stars, urchins and other tide pool visitors.

Here are poison dart frogs behind glass in the rainforest exhibit...

...and little frogs, some still with tails, outside in the wetlands.

Close-up of JFK's PT boat, salvaged by Robert Ballard, at the Mystic Aquarium's Institute for Exploration.

The tall ships of Mystic Seaport from the overlook on the highway.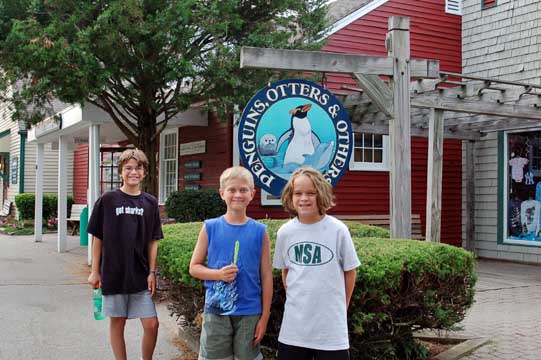 Adam's favorite store in the Olde Mistick Village shops. Not because he liked the clothes inside -- it was, in fact, closed -- but because of the penguin on the sign.

Ducks in the pond by the old sawmill.

In the parking lot, the Blue Peter, a 23-foot sloop built locally in 1942.

Across the parking lot, an old caboose and a bunch of chickens that started fighting when I walked over to take closer pictures.

This is just here because I like the sign. I liked the store a lot, too, though I can't afford much scrimshaw!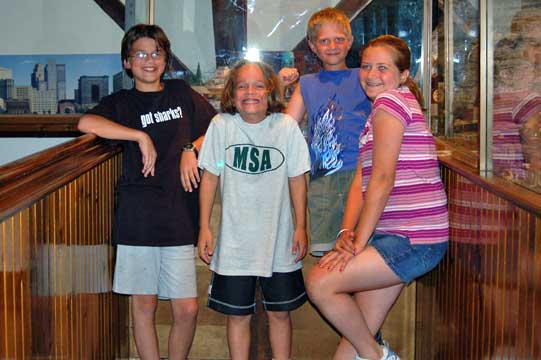 After the aquarium and shops, we went out to dinner at Old Saybrook Pizza Works with my friend Laurie and her children.