Mount Vernon 2005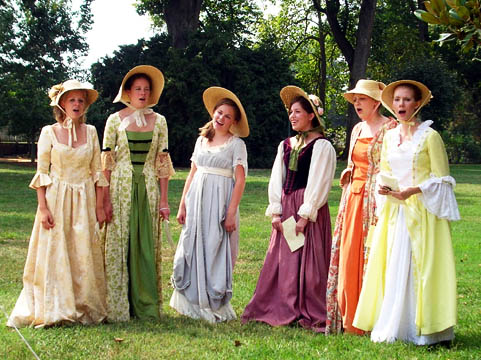 The West Potomac Colonial Singers perform on the lawn in front of the mansion house at 18th Century Craft Fair at Mount Vernon.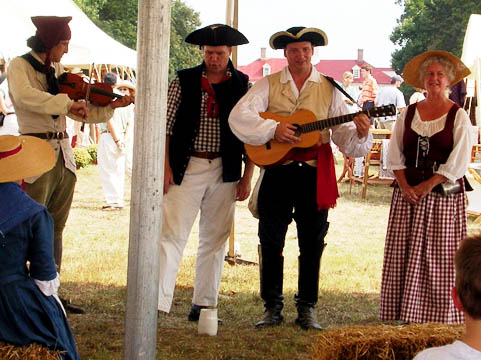 The Chanteymen of Ship's Company perform with the mansion in the background in the main tent in the marketplace; today the emphasis was in principle on colonial songs but they sang some sailor's songs as well, and Adam (who plays the violin) gets a kick out of the fiddle player who holds his instrument cradled in his armpit.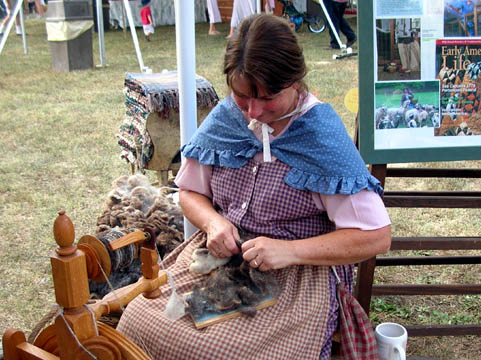 One of the craft specialists demonstrates carding and spinning.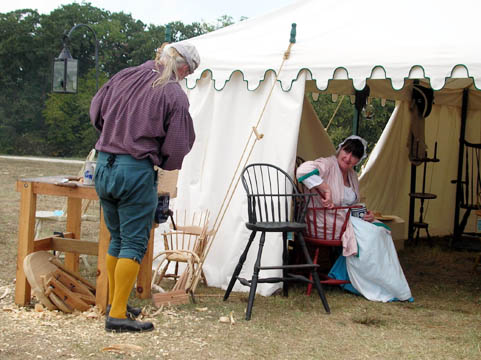 A furniture maker works on the seat of a chair.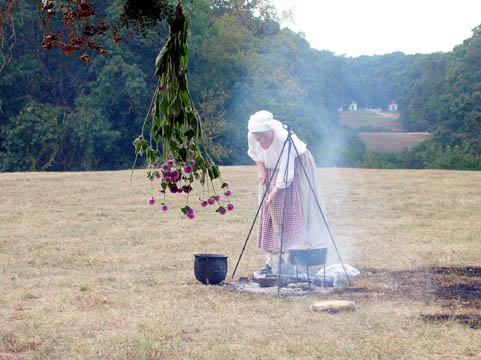 Seen beyond the hanging herbs in the tent where the botanicals and medicines are made, a woman boils a peppery potion.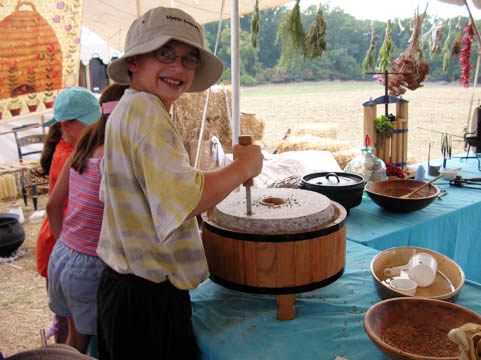 Daniel tries grinding wheat.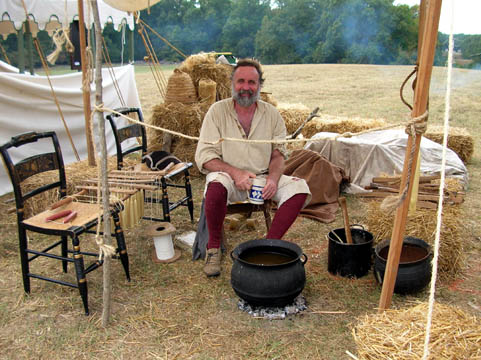 The chandler takes a break between hand-dipping candles.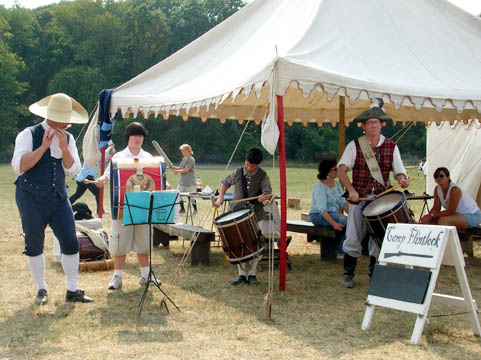 Camp Flintlock teaches kids, school groups, families and reenactors the details of Colonial American life. Here you can see a fife and drum corps in training while behind the tent kids practice with wooden swords.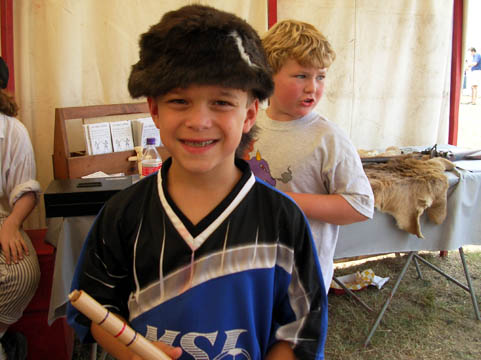 Adam tries on a racoon skin cap.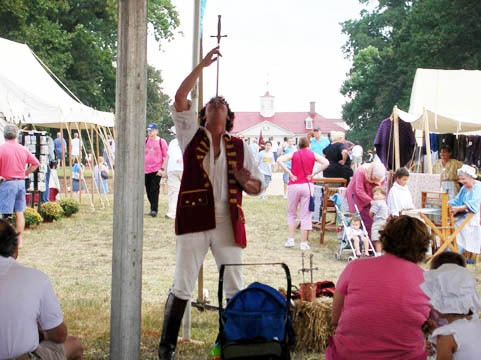 Otto the Sword Swallower begins a demonstration of his skills. Otto was playing for a juvenile crowd so he was pretty goofy and couldn't make the obvious dirty jokes, but he did a very impressive routine of fire-eating, fireball-breathing and sword-swallowing.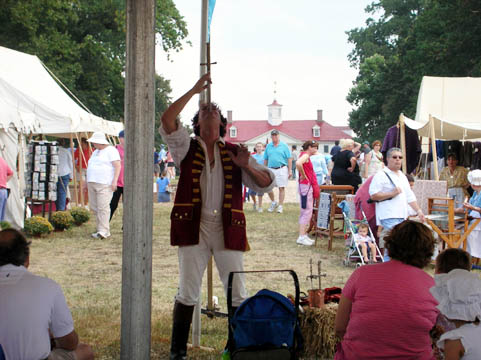 Before beginning, he has a member of the audience examine the sword to demonstrate that there are no tricks, then tilts his head, moves his adam's apple a great deal...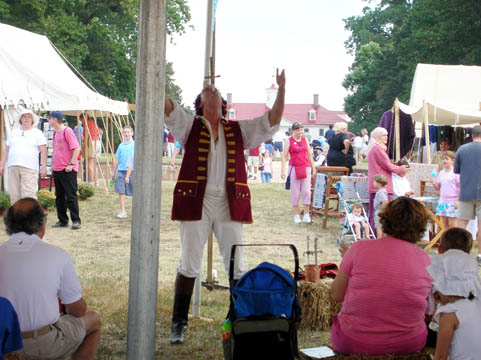 ...and gets an impressive number of inches down his throat. This is a fairly skinny sword but later in the show he did three at once.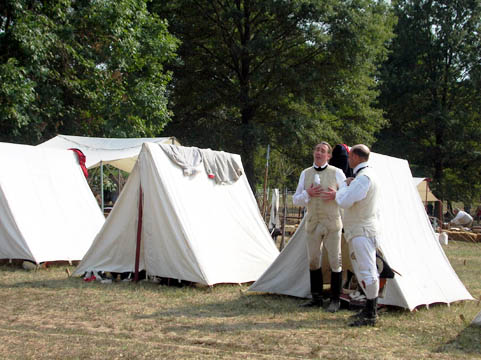 Here are reenactors from the First Virginia Regiment of the Continental Line in front of the tents where they were living for the weekend...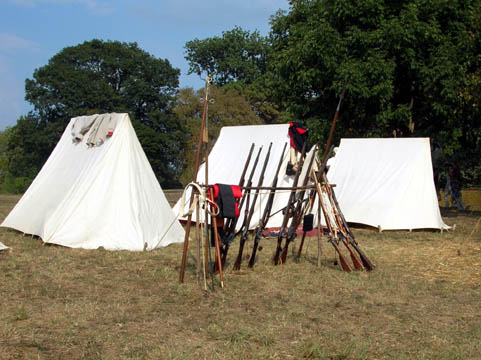 ...and here are their weapons...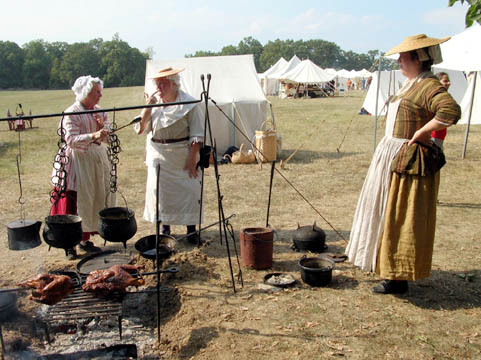 ...and their women cooking their chickens.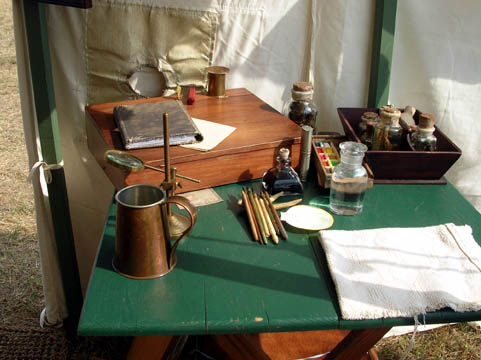 A table in the 18th Century Naturalist's tent.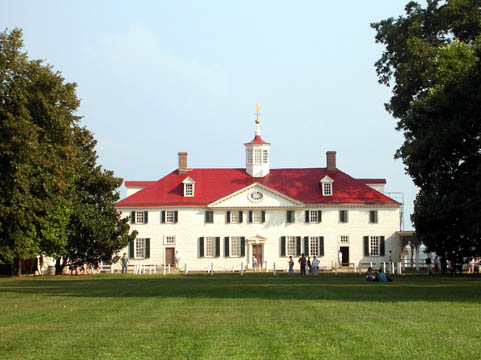 The front of the mansion at Mount Vernon, the second most visited house in America after the White House.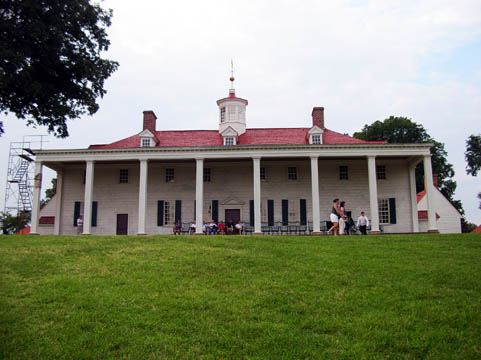 The rear of the mansion, with the grand porch and its row of chairs...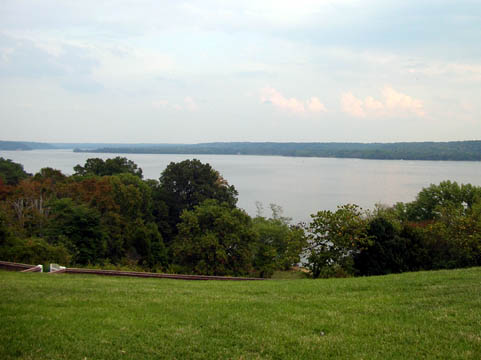 ...overlooking this magnificent view of the Potomac River.