Brandywine River Museum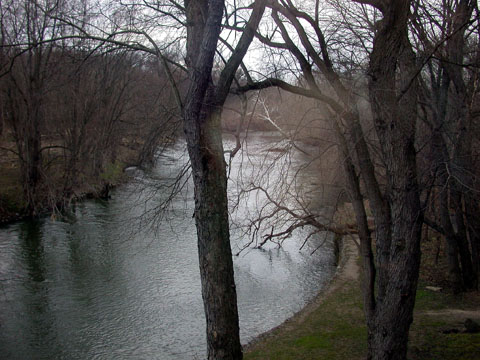 Here is the view from the the big panoramic windows encircling the Brandywine River Museum cafe, where we had excellent tomato bisque to warm up on this cold day. If you look, you can see my reflection in the glass -- my eye is very distinct. Every floor of the museum has a gorgeous view out over the river and railroad bridge, and there were many Christmas decorations, including an enormous model train display. The Wyeth daughters' doll collection includes some lovely dollhouse windows painted by Andrew Wyeth as a 12-year-old.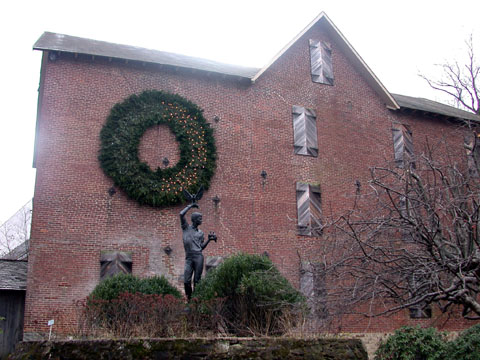 Here is the approach to the museum, built in an old grist mill right on the river in Pennsylvania near Winterthur. This museum exhibits mostly American artists of the region, including three generations of Wyeths. I must admit that while I admire his technique, Andrew is my least favorite to look at; all the muted tones leave me cold, his people seem quite needlessly bleak at times, and the nudes almost annoy me. Paul and I were having a conversation about how an artist's painting of a naked woman is really so much more about the artist than the woman as we walked upstairs to see James Wyeth's more recent work, and I started to giggle, standing amidst the images of Nureyev, Warhol and assorted other barely-dressed male models...it doesn't say so anywhere in the museum and I don't really know anything about him but Jamie Wyeth has got to be gay. My favorite of the Wyeths, though, is N.C., who is probably the least famous except among aficionados of children's book art, and they have many of the original paintings from his King Arthur and Treasure Island editions, plus some from a book on the Wars of the Roses that I had not seen the last time we were in this museum.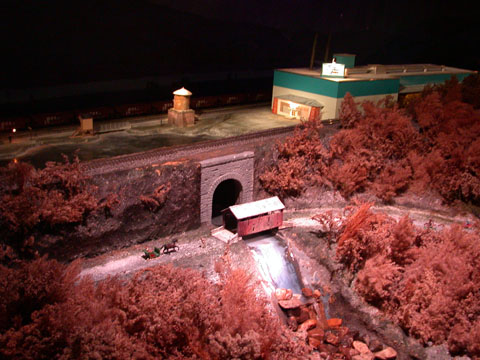 The Brandywine River Valley -- no relation to the Brandywine River in Tolkien's Shire, I'm afraid, though equally scenic -- as envisioned by one of the model train layout designers. The waterfall really flows. There are no photos allowed in the art galleries, but photos were allowed in this room...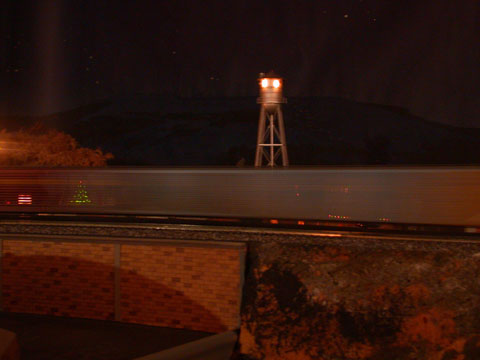 ...here's one taken without a flash as a train was going past a miniature Christmas display.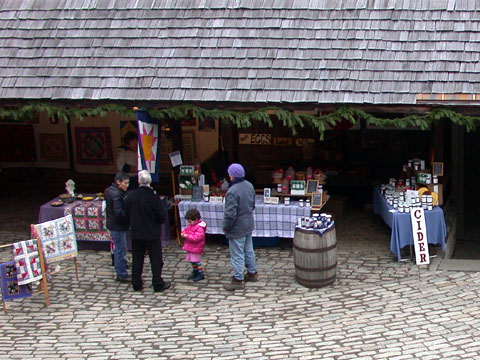 And this is part of the market outside the gallery but inside the museum grounds, where we bought cider and honey and looked at sweaters and quilts we couldn't afford. While we were visiting the exhibitions included American cartoons (political, New Yorker, Hirschfeld, Peanuts, lots of others) and another on local landscape painting.