Adam's Bar Mitzvah


My penguin is now a man -- well, according to Jewish social convention, anyway -- and I am very happy, though also overstuffed and overtired! After getting up insanely early to take photos, the ceremony went very well, with both kids giving nice speeches. Son tells me he screwed up the eighth line of his Torah portion, but I doubt that anyone besides the rabbi had any idea; I certainly didn't. The rabbi's sermon was mercifully brief, about personal responsibility and loyalty to one's principles, with a tribute to Officer Stephen T. Johns.
The food at the Melting Pot was terrific and the restaurant staff was very helpful and easy to work with -- we had to make room for two poker tables and a caricaturist and turn up the lights for our photographer, and keep turning the music on and off so we could say a blessing, greet people and all that. We got to see out-of-town relatives, hang out with friends, listen to kids shriek with glee at their dessert fondue, give out blackjack prizes, and play with squishy penguins at the reception. These are photos snapped with my camera and my mother-in-law's camera, so nothing like official...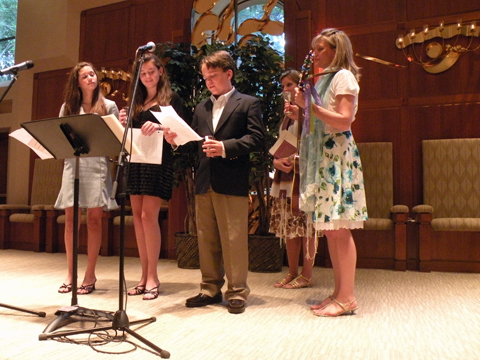 Adam and the weekend's other B'nai Mitzvah receiving kiddush cups at the service on Friday night in the small sanctuary.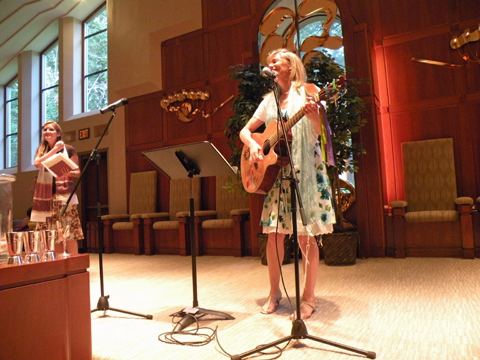 As you can see, Rabbi Hessel and Audrey Katz were dressed informally, and the men took their ties off. The rabbi talked about Dr. Tiller and the importance of his work with women, as well as about the tragedy at the Holocaust Museum, without ever saying the words "abortion," "shooting," or "Holocaust" for an audience with many children.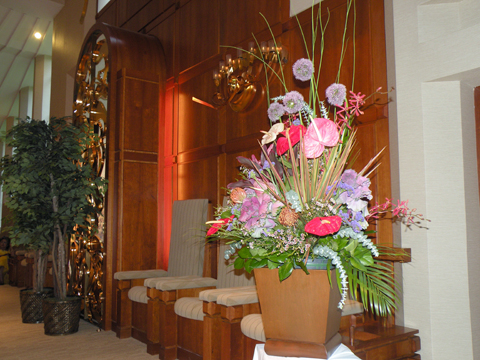 The service was planned to be held in back of the synagogue near Rock Creek Park, but heat and mud took us into the air conditioning. Plants were brought in to try to bring the outdoors in, and the windows give a lovely view of the park out back.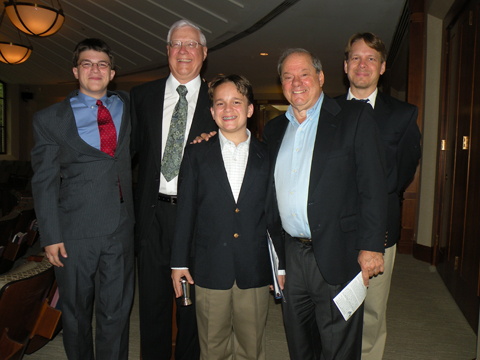 Here is Paul with our sons and our fathers.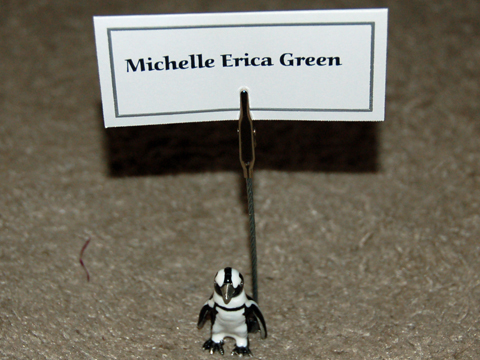 This is what our placecards will look like with pewter penguin card holders.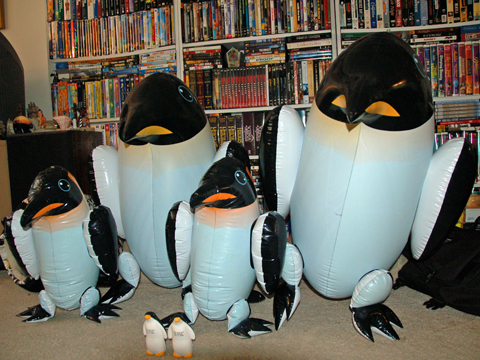 There will be large inflatable and stuffed penguins as decorations on the restaurant's deep shelves.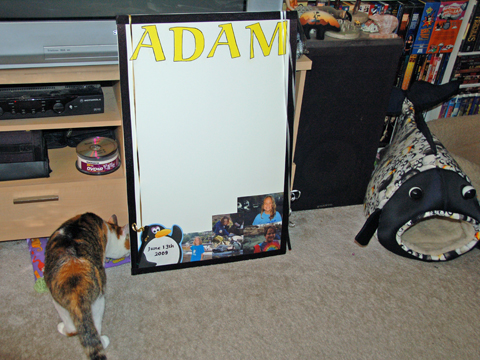 Here is the sign board Heather saved my life and put together for me!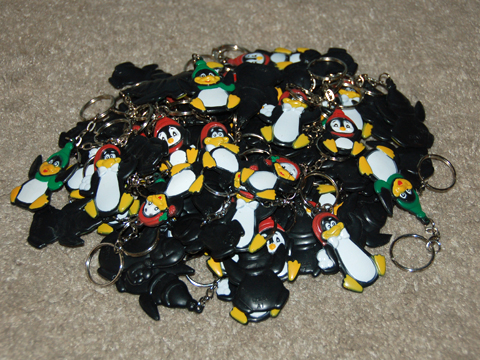 The souvenirs will include little puzzles and keychains...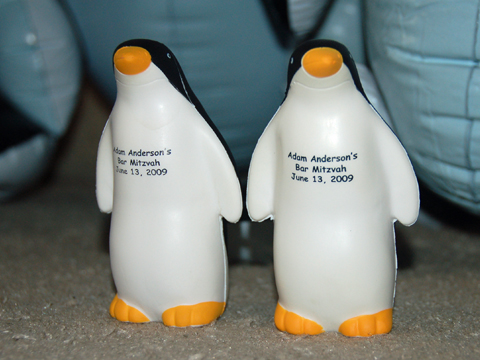 ...as well as monogrammed squishy penguins. Speaking of penguins, clearly Pittsburgh knew what Adam wanted for his Bar Mitzvah as they delivered a gift a night early by winning the Stanley Cup!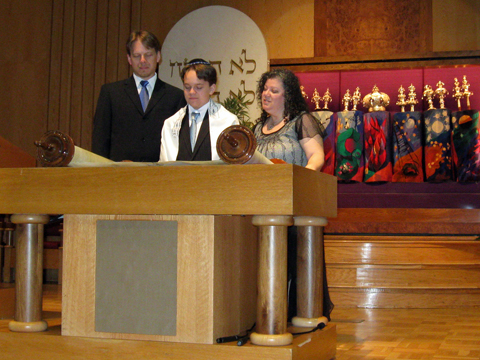 Here are me, Paul and Adam on the bima during the photo hour before services on Saturday morning.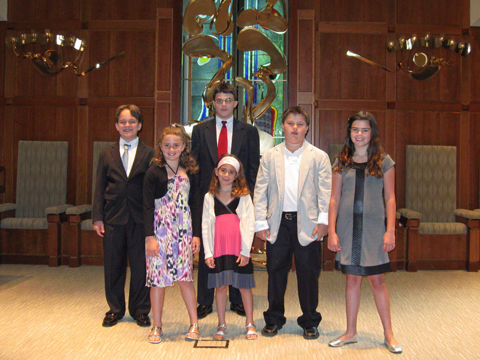 My kids, my sister's kids and my uncle's son in the small sanctuary.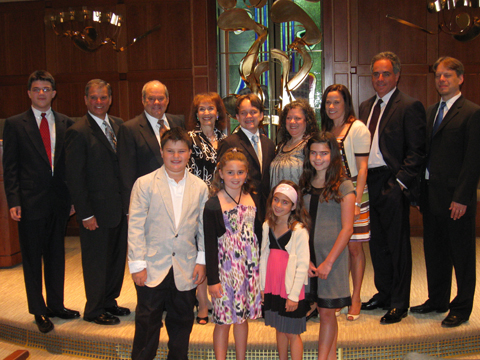 My parents, kids, sister and various other family members in the small sanctuary.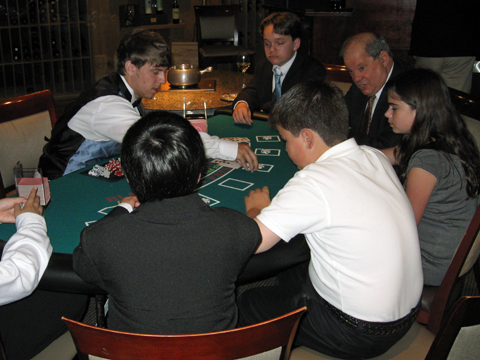 My son, father, niece, cousin, and a friend playing poker at the reception.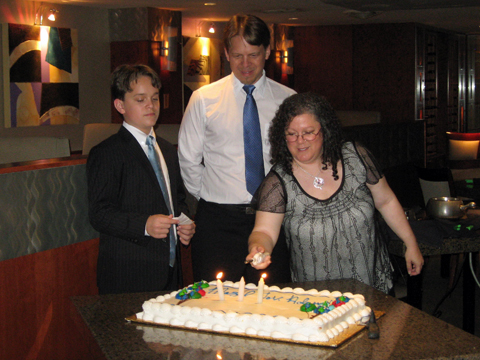 Me, Paul and Adam at the candlelighting.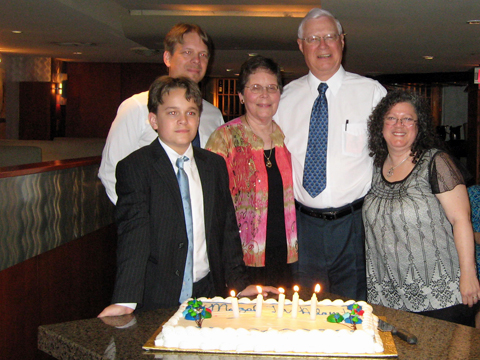 My family and in-laws at the candlelighting.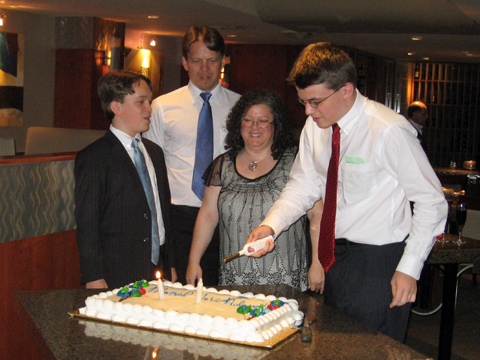 Me, Paul and Adam with Daniel at the candlelighting.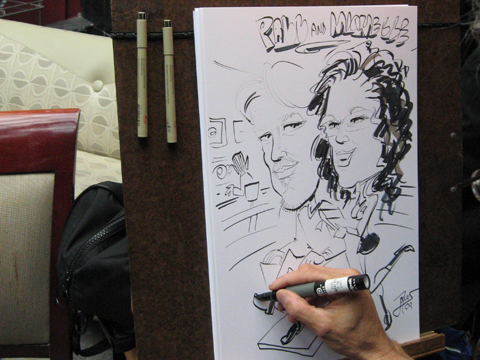 The caricature of me and Paul sketched at the reception.